My Journey to Motherhood: Part III - My Baby
June 29th, 2018 | 4 min. read
By Stephanie G.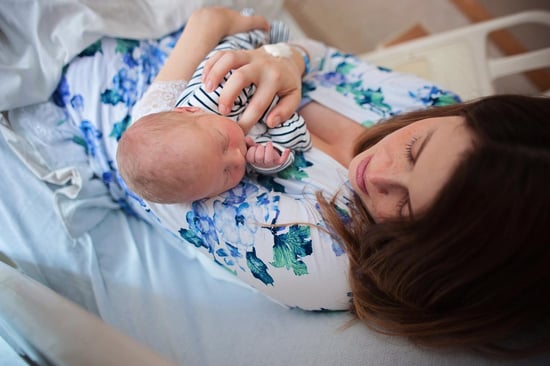 A note from RMACT: We are happy to present the third and final installment of Stephanie G.'s journey to motherhood. We are so thankful to Stephanie for sharing her story with us and we hope it encourages all the moms to be to begin their own path to parenthood. If you have any questions about where to get started, please do not hesitate to reach out to us by calling (203) 956-2265 or visit our website specifically dedicated to single moms to be.
It's crazy how fast life can change in a year... one minute I'm thinking about becoming a mom and the next minute, it's happening. My pregnancy seemed to fly by and before I knew it, my water broke at 39 ½ weeks. After 12 hours of labor, 2 ½ hours of pushing, and an incredible amount of support from my sisters, my son was born. It was such a breathtaking experience. Adding to that, was the fact that I was able to cut the umbilical cord myself - talk about empowering! When I received my son's birth certificate with my name listed as his sole parent, I couldn't help but get emotional. I made my dream of becoming a mom a reality; having my son was the best gift I could have ever received.
I enjoyed a brief, but blissful maternity leave and returned to work when my son was 2 weeks old. Because I work for my family's business, I was able to bring my son to work with me, which was incredibly helpful because I didn't have to worry about paying for a babysitter or daycare program. Getting my work done, however, was no easy task, especially during the first few months when he required so much of me. Now, it is so much easier because he naps twice a day!
From the minute my son was born, my life changed for the better. The love I have for him is beyond words; it truly is like nothing I have ever experienced before. I remember the day my son said his first word - Mama - my heart stopped. It felt like I had just jumped out of an airplane, the rush was unreal. He even reserves a special smile just for me. Whenever we are separated in a room and someone else is holding him, they always tell me that he watched me the entire time we were apart. He says "hi" a hundred times a day, and it gets cuter every single time! I particularly love it when he converses with the babies on diaper boxes as we walk down that aisle- it always makes me giggle! He is my little travel buddy and has already been on six airplane rides. During the last trip, when he was ten months old, I had a fellow passenger tell me I was "the best mom" she'd ever seen. Although a bit dramatic, it was said in front a group of my friends and family -I glowed for a week!
My son is every bit of me that is good, kind and gentle and I can't help but feel buoyed by his love and the special bond we share.
Being a mom is amazing, but it doesn't come without worry. I often think about whether I'll reach out to the parents of the donor siblings, or if that will even be an option. I believe it's going to depend on my son's attitude and curiosity and my decision to try and get pregnant again. I have also thought a lot about what to do when he starts asking about his father, who we refer to simply as his "donor". Do I embrace this process with him or sweep it under the rug? Personally, I am planning on embracing it. I even occasionally play the donor's audio interview for my son. He's too young to comprehend any of it now, but I hope he'll make a subconscious connection to the voice and find comfort there. What's most important to me is making sure my son always knows that he was wanted, that he was brought into a home filled with love, and that every family looks different. He has a fantastic Grandpa, wonderful uncles, and other great male role models in his life so hopefully he'll never feel like he's missing out on having a father.
While raising my son alone has not been impossible, there have been a few lessons, both good and bad, that I've had to learn. One of the best parts about becoming a mom is that I no longer feel pressured to find someone because of my biological clock. In fact, I actually feel a sense of strength in knowing that I can take my time in finding a partner who truly deserves me because I have learned I am capable of living a happy life on my own. However, I have encountered plenty of overly opinionated and nosy people, and although their comments can sting, I am thankful no one has ever shown my son anything but love and respect. On the flipside, though, there have been so many people who have supported and praised my decision. They would say things like, "I wish I had done that when I was young", or "I could never do that", or quite commonly, "I really wish I could do that". Because of these remarks, I decided to reach out to RMACT to ask if I could write this blog in order to make the path to single motherhood a more common and socially accepted avenue for women. I want my son to grow up in a world where there isn't a stigma about sperm donation and single mothers. But most importantly, I want to tell other women, "YOU can do this...YOU have it in you...YOU deserve to find the happiness that only maternal love brings, even without a partner."
Over the past two years, I have met many different people who know my story, and they'll say, "I am single, and I want to do what you did" - and they can...YOU can, too! Don't be afraid. You are stronger than you think, and more capable than you realize. If you are worried about what the people in your life will think, talk to them. If they can't be understanding, are they even worth being in your life? At the end of the day, you have to be happy with your decisions. YOU have the power to flip the script and lead the way to your own path to motherhood.
Stephanie lives in Massachusetts and is the mother of an almost one year old little boy and an 8 year old dog. She loves to travel and has found so does her son, who has already been on six plane rides. She has a passion for photography and has recently started her own little side business photographing for friends and family. She works for her family business and enjoys running and listening to audiobooks during her free time.