Castle Connolly Top Doctors 2020
January 8th, 2020 | 5 min. read

We're delighted to announce that all 6 of the RMA of Connecticut fertility physicians have ranked as Castle Connolly Top Doctors again. Since 1991, the renowned publishing company Castle Connolly has compiled the list of America's Top Doctors® each year. Every doctor on the list is nominated by peer doctors in their specific field and assessed by a physician-led research team.
Meet our Top Doctors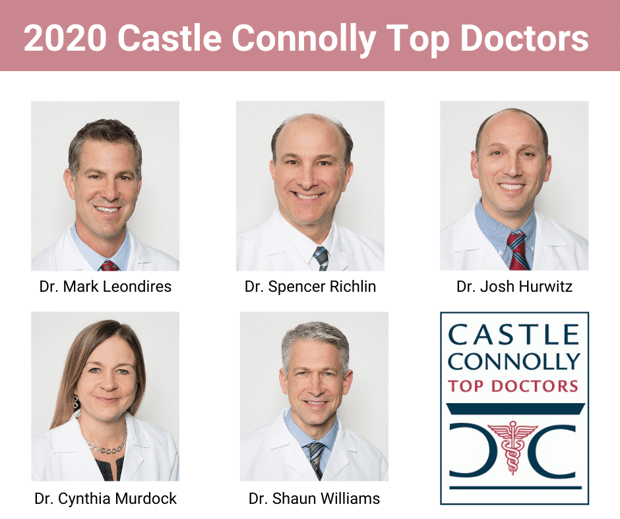 Congratulations to Dr. Mark Leondires, Dr. Spencer Richlin, Dr. Joshua Hurwitz, Dr. Cynthia Murdock, Dr. Shaun Williams and Dr. Ilana Ressler for receiving Castle Connolly Top Doctors for the 2020 year.
What does the Top Doctor designation means for you?
We want you to feel connected with your fertility clinic and to have access to board-certified Reproductive Endocrinologists (a doctor with special training in infertility) that not only have a proven track record (positive patient reviews, high success rates, etc.), but they are recognized amongst their peers as the top options in the industry.
Why does all this matter? Because high-quality care like this gives you the best chance to build the family of your dreams.The Top Doctor award is a stamp of approval, assuring you that what you're getting is the best in business. And frankly, when it comes to infertility, you shouldn't settle for anything less.
Our Top Doctors are all humbled and honored to receive their award this year. They love what they do, and as a fertility specialist team, it's nice to be recognized for all their hard work with people just like you, every day. In fact, they have helped individuals and couples bring home 7,500 babies over the past 15 years. That's more than one baby a day!
Choose Your Fertility Physician With Care
How exclusive is this Top Doctor club, anyway? Is it really that important to choose a clinic with Top Doctors?
Castle Connolly's research methodology is designed to identify doctors who will achieve the best possible health outcomes. This is not a popularity contest or a buy-out - it's a peer selection process plus rigorous evaluation by the governing body. Specifically, Top Doctors are selected from among a total population of 700,100 physicians (including the 1,269 board certified Reproductive Endocrinologists) in practice in the United States. Not only must a doctor be well known for their practice, but they must prove they are the best choice with industry-specific data. For a Reproductive Endocrinologist, that translates to successful fertility treatment cycles (IUI and IVF), resulting in pregnancies and babies.
So when you are in the process of choosing your fertility doctor and clinic, it's important to consider this differentiation. We welcome you to download our free ebook for more information on how to choose the right fertility doctor for you.
Here at RMA of Connecticut, we feel very lucky to have Top Doctors on our staff. This highly respected designation means that no matter which fertility specialist you work with here, your physician will have the most up-to-date knowledge and skills in the field of Reproductive Endocrinology and Infertility.
Our Top Fertility Doctors
Our fertility doctors were already at the top of their field before they earned the Top Doctor recognition. To put it simply, board certification in Reproductive Endocrinology and Infertility (REI) is the gold standard for fertility doctors. It requires medical residency and examination in obstetrics and gynecology, followed by another three years of training in REI and additional oral and written examinations. Our fertility doctors also continuously update their knowledge with published research and collaboration with other physicians.
The Top Doctors designation is one significant and important way to help you choose a fertility program that offers integrity, clinical excellence, compassion and passion.
Levels of Fertility Excellence
RMA of Connecticut is one of just 4 In Vitro Fertilization (IVF) partner centers nationwide chosen by In Vitro Sciences from their Centers of Excellence program. The Center of Excellence distinction indicates that RMA of Connecticut meets the highest national standards for clinical fertility and laboratory services. Our selection into this exclusive group is based on key measures of success that evaluate a center's experience level, its overall live birth rate and its low triplets-or-higher birth rate. As an additional benefit to you, some insurance companies require that fertility patients seek treatment only from a center of excellence.
Our IVF laboratory is accredited by the College of American Pathologists and meets standards established by the Clinical Laboratory Improvement Act. While fertility clinics are not required to seek accreditation, RMA of Connecticut is accredited by the Accreditation Association for Ambulatory Health Care, and the surgical suite is licensed by the State of Connecticut.
RMA of Connecticut offers specialized programs, including FertiFamilia, Integrated Fertility and Wellness Program (practitioners specially trained in fertility aspects, include specially nutritionists, acupuncturists, fertility counselors, yoga teachers) ,and Gay Parents To Be program.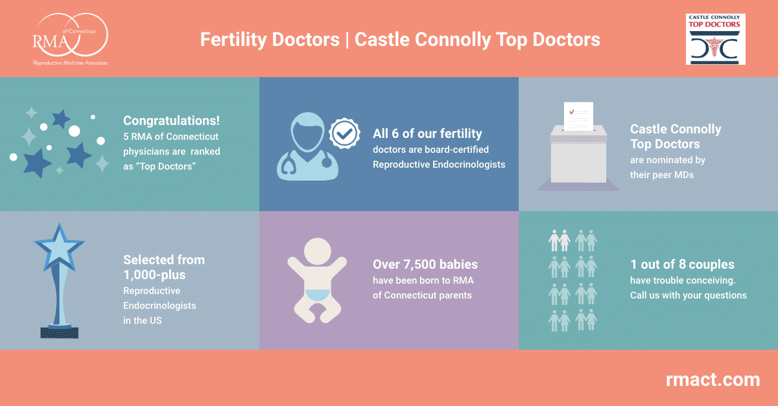 Why Choosing a Fertility Physician Matters
We are proud of our service, affiliations, designations and recognitions, but we don't list them just to brag. They demonstrate the value our fertility specialists offer as you strive to build your family, and at the end of the day, we want what you want: for you to have a healthy baby.
As you decide which fertility doctor to choose for your treatment, we know you will be unable to find a fertility clinic with better credentials, larger hearts, or a more professional and compassionate team to take care of you on your path to building your family.
When you're ready, we're here to help.
This is the time for your baby – and the time to contact RMA of Connecticut. Call us at (203) 956-2256 and a new patient liaison will answer your question and help you schedule your first visit.