Choosing Single Motherhood | Kaitlyn's Story
March 4th, 2022 | 9 min. read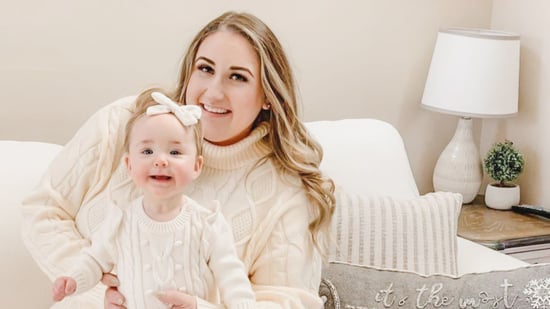 Choosing to become a parent is a big decision. Choosing to pursue single parenthood can add even more responsibility and potential challenges. Whether you become a single parent by choice or by chance, it is a huge undertaking - but can also be one of the most rewarding experiences of your life.
Read on to hear about Kaitlyn's journey to parenthood as a single mother by choice and everything she learned along the way to bringing home her daughter Scarlett.
Skip to a section:
Meet Kaitlyn
While many people wait to find "the one" before deciding to become parents, there are many others who make the choice to pursue parenthood when the time feels right to them. "For me, it wasn't a matter of not finding the right person," Kaitlyn says. "I enjoy being on my own and wasn't interested in being in a relationship, but I wanted to be a mother more than anything...in fact, a mother is the only thing I've ever really wanted to be."
In the summer of 2018, at the age of 31, Kaitlyn realized she was ready to start the process. "I made the decision to stop thinking and dreaming about having a baby and start taking the steps to actually make it happen," she says. "Because of science and the support of the people who love me, I didn't need to wait until I maybe one day changed my mind and found someone to have a baby with - I could do it on my own and I could do it now."
Kaitlyn says it was the best choice she's ever made.
January 2019: Researching Her Options
"It felt like the right time for me to start the process," Kaitlyn remembers. "In the meantime, I did a lot of research, because having a baby alone on purpose is a huge decision - having a baby ever is a huge decision!"
Kaitlyn wasn't sure where to begin to find answers, but figured her OB/GYN would be the best place to start. While her OB/GYN wasn't well-versed in the world of single moms by choice and the specifics of the process, she felt confident referring Kaitlyn to Dr. Josh Hurwitz at Illume Fertility.
"She said that if her daughter needed fertility treatment, she would send her to Dr. Hurwitz at Illume Fertility," Kaitlyn remembers. "That was the most ringing endorsement I could imagine, so I went home and made the call that day!"
💡Pro Tip: Not quite ready to take the leap to single parenthood but want to preserve your future fertility? Explore your egg freezing options online or schedule a consult!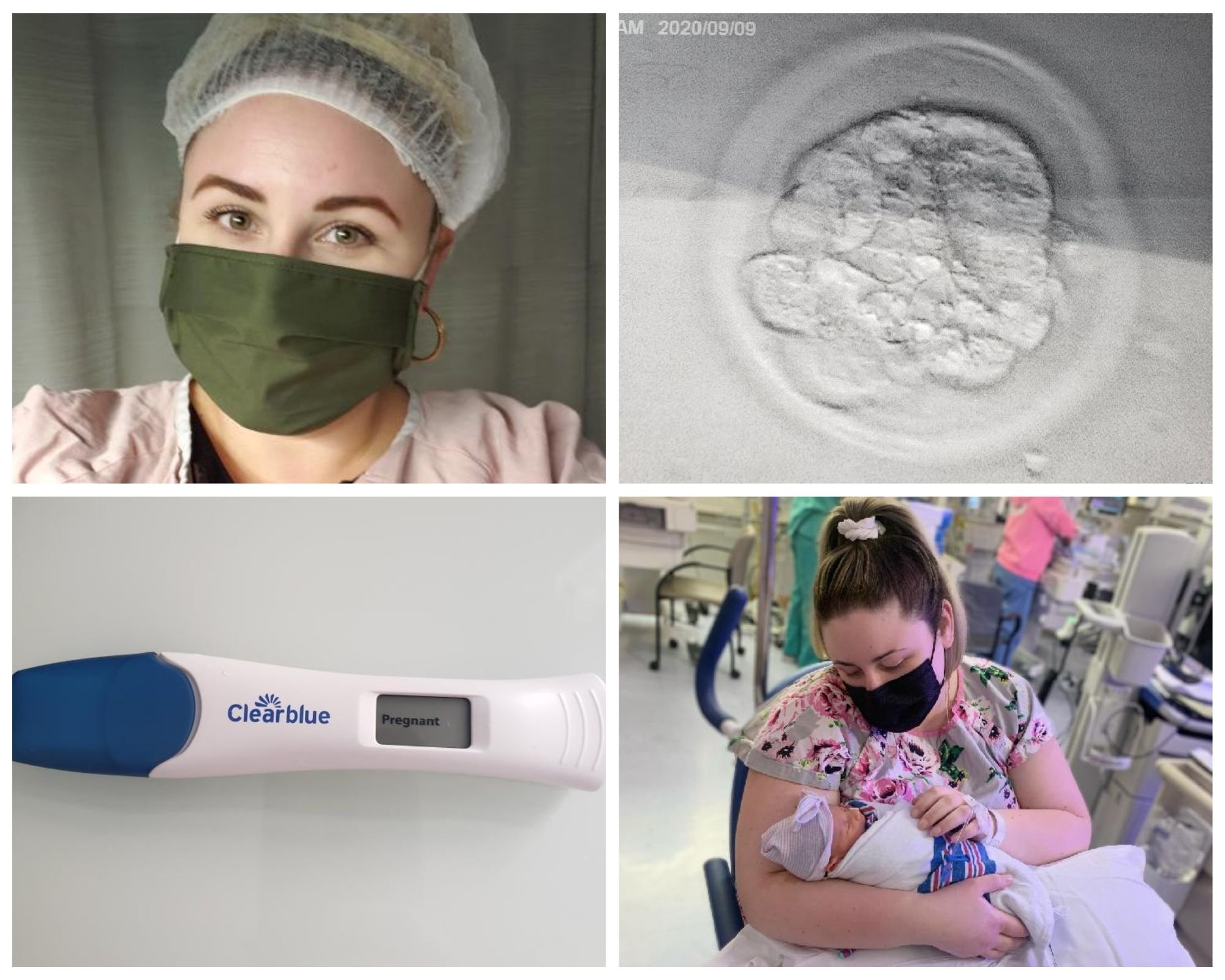 Photos: Embryo transfer day, positive pregnancy test & Scarlett in the NICU.
Taking the First Steps with Illume Fertility
"Everyone I spoke to at Illume Fertility was so kind," Kaitlyn says. "They did everything in their power to make the experience as easy as possible." Her first visit was in January of 2019, and her sister came with her to the appointment. "We both adored Dr. Hurwitz from the very first moment," Kaitlyn says.
---
Feeling nervous about your first appointment?
---
Even though her nearest Illume Fertility location was about an hour from home, she knew right away that it was where she was meant to be. "Dr. Hurwitz was funny and knowledgeable and explained everything in such a kind way," Kaitlyn says. "I was so grateful for that and so comfortable that I knew the drive would be worth it!"
May 2019: Starting IUI Treatment
As she began her first IUI cycle, Kaitlyn was optimistic. "You know what the odds are, but you can't help but think 'Well, why shouldn't it work the very first time?'" Unfortunately, Kaitlyn's first IUI cycle was unsuccessful, as were the three IUI cycles that followed.
"I was on my last vial of donor sperm, so Dr. Hurwitz and I decided to move on to In Vitro Fertilization (IVF) treatment to improve my chances," Kaitlyn says.
January 2020: First IVF Cycle
Kaitlyn waited to start IVF treatment until January 2020, when insurance would cover IVF in the state of New York, where she lived. Her egg retrieval was performed on January 30, 2020 and because Kaitlyn has PCOS, her egg retrieval was very successful. "That's the one good thing PCOS has ever done for me," jokes Kaitlyn.
She had a fresh embryo transfer five days later and sadly, it was also unsuccessful. "I thought the failed IUIs were hard, but this felt so much more like a loss," Kaitlyn says. "It was like there was a baby inside of me one day and then...there just wasn't."
➡️ Related: Why You Should Have Hope After Failed IVF
Despite the heartache and disappointment, Kaitlyn had developed a process for coping with unsuccessful cycles at this point: "I let myself feel the pain, let it in and wallow in it for a day or two, and then wipe the tears away and keep going." While that may not be the best strategy for everyone, Kaitlyn admits, for her it was the best way to get through it.
"I'm very much an introvert, so joining support groups or going to counseling felt very daunting to me," Kaitlyn says. "But I found that following Illume Fertility and other fertility accounts on social media, so I could see others' experiences and know I wasn't alone was helpful."
She also credits her incredible support system without whom, she says, she wouldn't have been able to do any of this.
March 2020: Pandemic Setbacks
When the COVID-19 pandemic began, it forced Kaitlyn and her team to put everything on hold for a few months.
Once they were able to resume IVF treatment, Kaitlyn was excited to get back to it, but struggled through several cycles where her uterine lining simply wouldn't grow enough to encourage successful embryo implantation.
---
What can impact implantation rates? Read:
---
September 2020: Risk & Reward
Finally, in September of 2020, Dr. Hurwitz and Kaitlyn decided that even though her lining still wasn't quite where they wanted it to be, it was close enough that they both felt comfortable going forward with another frozen embryo transfer.
"I'm so glad we took that chance," says Kaitlyn, "because after the dreaded two week wait, one of the incredible nurses called to give me the best news I could ever have received: I was pregnant!"
➡️ Related: How to Cope with the Two Week Wait: FAQs, Symptoms & More
Fast forward 36 weeks later, and Kaitlyn's daughter Scarlett finally arrived. "She was born via emergency C-section after I was hospitalized with preeclampsia," says Kaitlyn. "She was a tiny little thing, at just 4 pounds 9 ounces, but she was healthy and perfect!"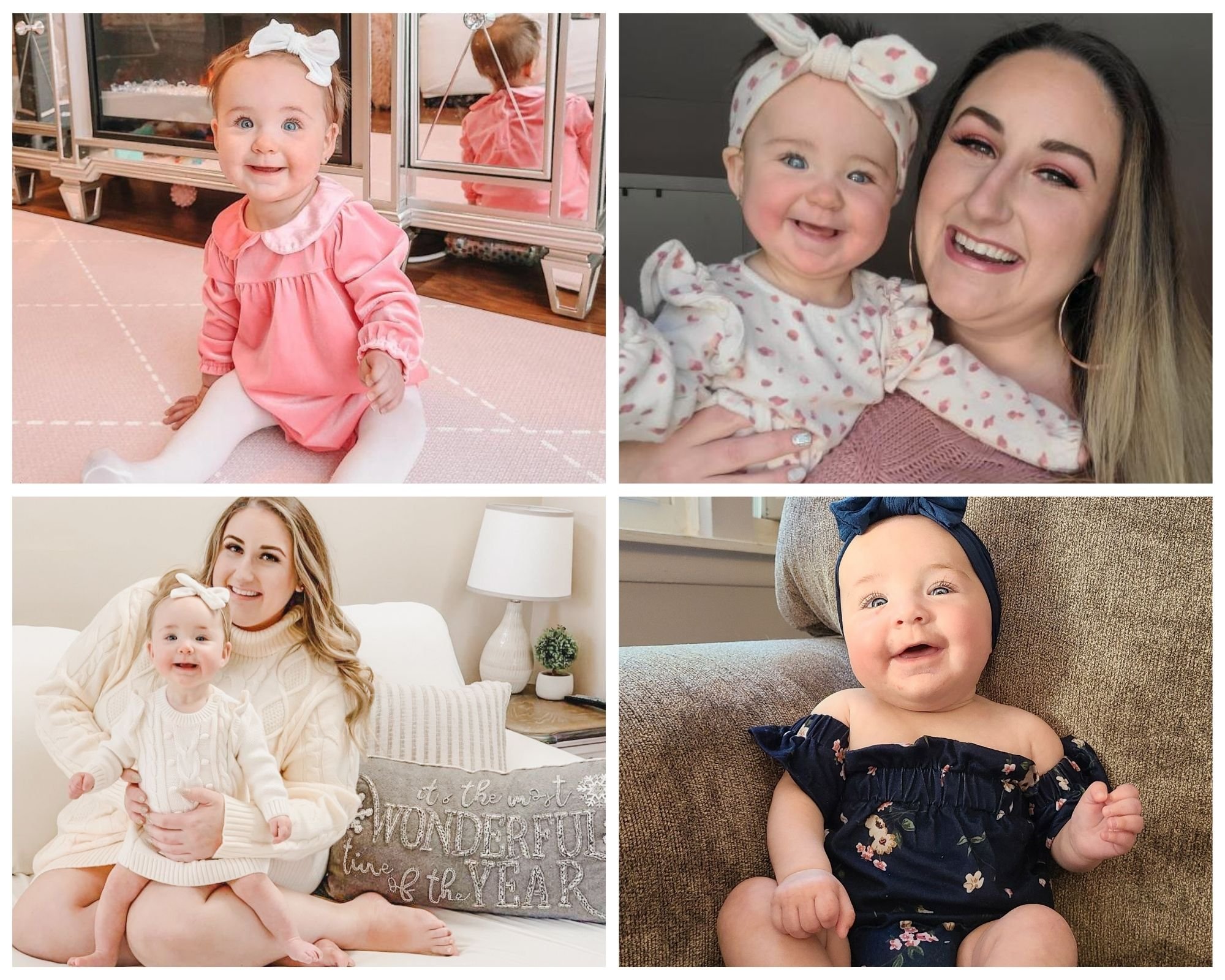 Photos: Kaitlyn with Scarlett during her first year of life.
On Becoming a Single Mom by Choice
Through Kaitlyn's journey to motherhood, she has learned some valuable lessons, and gained confidence in her decisions that she hopes to impart to others considering pursuing single parenthood.
"If you're considering becoming a single mom by choice, and you have the support and resources, I say do it," Kaitlyn says. "Call your doctor, make that appointment - you don't have to wait!"
"I was 31 when I started the process, which is younger than many women who choose to become mothers without a partner," Kaitlyn says. But she felt that she didn't need to (or want to) wait to find 'the right person' to settle down with before becoming a mother.
As an independent person who wasn't looking for a relationship, Kaitlyn knew her desire to become a parent outweighed the pressure to fit into any societal "norms."
---
Watch this Instagram Live for more:
---
Will people support your choices?
While not everyone will understand your decision to pursue parenthood as a single person, there will be those who support you throughout the process. "I've always been open about my choice and the majority of people were wonderful and excited for me," Kaitlyn says. "There were of course a few people who didn't understand, people who I hoped would be supportive but had outdated opinions or said ignorant things or just didn't get it."
But that's okay, Kaitlyn says, because they didn't have to get it. It wasn't for them to understand. "I knew what was right for me and you know what's right for you," she says.
"From sitting down with my sister and some wine while we went through donor profiles to this very moment, watching Scarlett play at eight months old - every disappointment, every cry on the drive home, every time I was so angry with my body for just not doing what it's supposed to do...every single second of this journey has been worth it."
Kaitlyn is grateful she made the decisions she did, and is loving parenthood. "Scarlett is the best thing that I have ever done and I will always be grateful to Illume Fertility for everything they did to help give her to me - and to myself for having the guts to make that first phone call."
More Resources
Sierra Dehmler is Illume Fertility's Content Marketing Manager - and also a fertility patient herself. Combining empathy gained on her personal journey with her professional experience in marketing and content creation, she aims to empower and support other fertility patients by demystifying the fertility treatment process.