Top 5 Takeaways from ASRM 2019
October 21st, 2019 | 7 min. read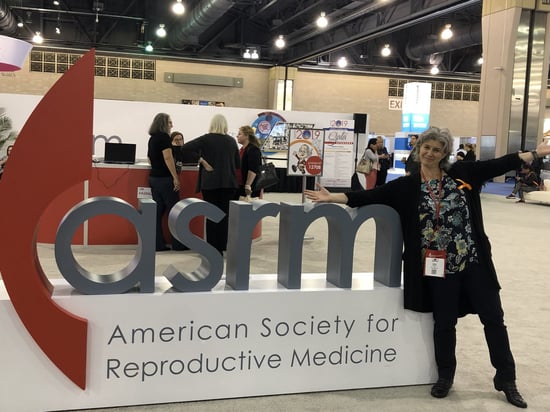 Attending an American Society for Reproductive Medicine (ASRM) Scientific Congress and Expo is humbling. With over 9,000 attendees, the scope of expertise and level of knowledge in the science, medical, technological, mental health fields and more is way over a layperson's head.
Certainly, it was over mine! I was honored to have been there this year.
WHAT IS ASRM?
ASRM is a non-profit organization that is devoted to research, education, and advocacy in infertility and reproductive medicine. They share knowledge, new trends, and groundbreaking studies that are changing the industry and helping both patients and health professionals all over the US.
ASRM CONFERENCE TAKEAWAYS
One reason that I attended the conference was for you. As I moved through the conference, I wondered what you would be interested in, what you would want to know more about, what would make you stop and think. I tried to see the conference through your eyes.
With that in mind, I came away with five things I wanted to share with you.
1. Scientific and medical advancements
From A to… what seemed like infinity, the various types of presentations, roundtables, abstracts, and plenary (conference-wide) sessions covered aspects of fertility treatment that I've never even dreamed existed. Just one example was the presentation to the entire conference on AI (Artificial Intelligence) and how it applies to ART (Assisted Reproductive Technology).
The presenters held over 9,000 ASRM participants spellbound. It was reassuring for me as a layperson to hear how carefully researched and thought-through these new techniques are, from the scientific procedures used, the instruments, the training that will be needed, the methodology being considered, and the complex and layered issues about the ethics involved. The learning objectives of the AI session gives a broad overview of what was presented in the session:
Identify the potential of AI applications in ART.
Describe the novel concepts and future development of AI application in ART.
Explain basic AI concepts and recognize different platforms of AI applications.
Robotic surgery, which relies more on technology and slightly less on the clinician or surgeon, has become an accepted part of the medical and patient culture. It will be interesting to see in what areas of fertility treatment and reproductive medicine AI is incorporated and how the patient community accepts or even embraces it.
If you're interested, you can see all the topics covered at ASRM this year, including the abstracts (synopses), just click here.
2. Patient-Centered care
This was inescapable, in the best way! Whether it was about embryo culture (not typically thought of in terms of patient-centered care) or speaking the same language, patient care was a strong emphasis throughout the conference, and continuing into the exhibit hall.
One example, another conference session, chosen by the outgoing ASRM President, Peter Schlegel, MD, was about speaking the same language literally, yes, but more about the intergenerational language—are we communicating in the right ways, via email or phone when patients want a text.
Do we get to the point fast enough? "Speaking the same language" involves more than just the actual words – it's about style, timing, and mode. There was an eye-opening presentation by Ryan Jenkins on the communication (or lack of!) between the baby boomers, gen x, millennials, and gen z. How do we get on the same page?
Here's the synopsis of the presentation we all heard:
"Over 50% of workers say they are least likely to get along with someone from another generation. More than 60% of Generation Z (the generation after Millennials) anticipate challenges working with Baby Boomers and Generation X. Soon, Millennials and members of Generation Z will become the majority of the labor force, and these two generations have widely divergent perspectives on a number of topics, including communication, work and leadership. Not surprisingly, understanding of cross-generational interacting, influencing, and working was recently identified by ASRM as an important educational need. This session will review the generational gap in depth, discuss strategies to close the gap, summarize ways to interact with young patients, and give examples of organizations intent on closing the generational gap to improve patient care. This session is designed for physicians, embryologists, administrators, nurses, mental health professionals, counselors, fellows, and residents involved in patient care."
In addition to communication studies, there were also insightful medical studies that centered around a patient's desire for twins versus the clinical reality of safety. The research study was on twins, elective single embryo transfer, and live births and was highlighted by ASRM as an important advancement. ASRM Past President Christos Coutifaris, MD, PhD said, "This study shows that single embryo transfer works very well in this age range.
Despite some patients' wish to have twins we must advise them that SET is safer and therefore more practical. We are very pleased to see evidence that the embryo transfer recommendations are being implemented at a national level."
3. Advocacy
RESOLVE: The National Infertility Association and ASRM are collaborating even more closely than ever before. ASRM and RESOLVE's mission, together is to "promote pro-family legislation in all 50 states and to fight anti-family legislation."
Here's why a partnership like this works. There was a lot of excitement at the conference as the news that the headquarters of ASRM will be moving from Alabama to Washington DC. No one is disparaging Alabama, but for a few reasons, it's a better fit for ASRM. First, it's obviously where federal legislation is discussed, debated, and voted upon. Second, it's an acknowledgment that Alabama is a state where reproductive rights (especially women's) and reproductive autonomy, including IVF and embryos are not respected nor are they protected by the law.
Please note, ASRM will maintain an office in Alabama, but the main headquarters will be in Washington DC in 2020. As Peter Schlegal, MD, President of ASRM stated in ASRM's press release:
"We cannot sit idly by as politicians in Alabama deny access to medically necessary, constitutionally protected procedures. While we will be maintaining some administrative functions in our Birmingham office, we are immediately changing our official headquarters to Washington and will be evaluating our continued presence in Alabama. In addition, we are committed to taking whatever steps are necessary to ensure that our employees remaining in Birmingham will have access to all needed reproductive health procedures."
4. What RMA of Connecticut contributed to the conference
Dr. Mark Leondires was busy! He headed a round table session, discussing "Opening Your Door to Same Sex Male Couples and a Process for Your Practice." He also has been named/elected chair of the Special Interest Group (SIG) LGBTQ. Dr. Leondires also oversaw a series of oral abstracts that were presented, including one by Lisa Schuman, LCSW, Director of Mental Health at RMA of Connecticut called, "The Burden of Family Building as a Gay Male Couple: The Majority of Gay Male Couples Seen at a Large Reproductive Medicine Practice Desire a Child With Each of Their Genetics."
Oral abstracts were ten minutes long, with five minutes of questions afterward. Ms. Schuman's research confirmed that in most gay male couples (98%) each desired a genetic connection to a child, leading to a greater desire for a twin pregnancy, but with sensitive and thoughtful counseling, could be helped to see why an ESET (elective single embryo transfer) was a healthier decision in family building.
Ms. Schuman's presentation was well received, with relevant questions asked afterwards, answered thoughtfully by Ms. Schuman.
The following study on Fertile Yoga was presented at ASRM as a poster, "Does Fertile Yoga Class Reduce Stress and Sadness and Provide Hope for Infertile Patients in Treatment in a Private Fertility Practice?" This study, based on data from Fertile Yoga classes (founded and taught by Lisa Rosenthal, Patient Advocate at RMA of Connecticut) showed there was statistical relevance in a decrease in stress and sadness and an increase in hopefulness for students attending class. (Big thank you to Robin Mangieri and Dr. Spencer Richlin for co-authoring this study with me and for supporting the research effort.)
Kaylyn F, a fertility nurse from RMA of Connecticut attended several courses and roundtables, furthering her scope and understanding of nursing in the fertility field, something she will bring back to all RMA of Connecticut team members.
Last, but not least, Maria Doukakis, RMA of Connecticut's Manager of Andrology attended and is excited to share innovations that she learned about with the Andrology team.
5. Community
Professionals representing all aspects of the infertility field, clinicians, mental health professionals, embryologists, andrologists, laboratory directors, scientists, researchers, physicians, pharmaceutical companies, pharmacies, advocates, not-for-profit patient organizations.... (I could go on.)
They were all in attendance.
Having a community of caring individuals and teams show up to learn, share, and grow is why this conference is so emotionally and professionally stimulating.
Speaking of being emotional, our community was on artistic display at the ART of Infertility's exhibit of words and images. I can confidently say that all who witnessed the exhibit were moved.
There was a common theme to every speech, round table, and presentation: to share ideas, research, and to promote a better understanding of how to take care of the patients. You.
You were the reason that we were there. And that message came through loud and clear.
---
If you didn't catch our Instagram Takeover from ASRM, check out the videos below!
With 30+ years experience in the fertility field, as well as navigating her own infertility, Lisa has dedicated her life to advocating for and supporting those struggling to grow their families. Her work includes serving as Illume Fertility's Patient Advocate, Strategic Content Lead, and founder of Fertile Yoga, as well as advocating for those with infertility at RESOLVE and other organizations.