Dispelling Myths Surrounding Fertility and Women of Color
A fertility doctor explores four common myths about fertility and women of color, and how they can negatively impact the care they receive.
February 23rd, 2023 | 6 min. read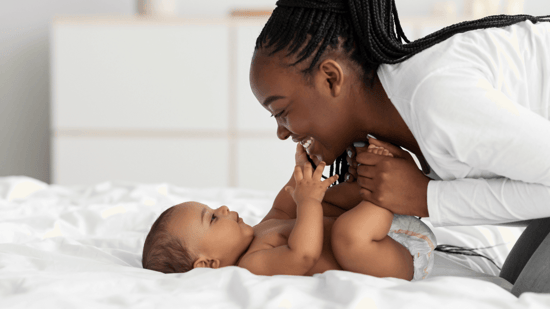 The world of fertility can be overwhelming to navigate, and this holds especially true for many women of color. Harmful stereotypes, a lack of representation, and injustices in the healthcare system can cause women of color, especially Black women, to feel isolated from the conversation and discouraged from seeking fertility support.
Here at RMA of CT, we're committed to changing the narrative surrounding fertility treatment and advocating for a more inclusive environment for all women. As a start, we're dispelling some of the most damaging myths surrounding women of color and fertility.
In this article:
The Relationship Between Race & Fertility
In the words of advocate Regina Townsend, founder of The Broken Brown Egg, "Trying to decide if you can emotionally afford the cost of building a black or brown family in a world that is concurrently showing you how low they are valued adds additional weight to an already heavy situation.
She emphasizes the importance of recognizing the lived experiences of women of color, going on to say, "Infertility doesn't see color, but my color impacts my perspective and experience of it."
Shiraine, an Illume Fertility patient and mom through IVF, says she felt isolated in her experience due to cultural stigma: "As a person of color, especially being Caribbean, we don't speak about infertility. No one from either of our families knew we were doing IVF while we were in the process, except for my cousin, who happens to be a medical student - she was the only person I felt would understand because of how taboo it is to discuss things like this openly in most Caribbean households."
With all of this in mind, let's debunk four of the most pervasive myths surrounding fertility and women of color, and how they can cause harm to those seeking to grow their families.
Myth #1: Black women are less likely to experience infertility
One of the most common misconceptions that we encounter is that infertility is mainly a "White" issue. In reality, Black women are almost twice as likely to experience fertility issues as their White counterparts, but only 8% of Black women seek medical help, when compared to 15% of White women.
Historically, cultural images have portrayed Black women as hyper-fertile. This damaging stereotype (that Black women are more fertile than other women) can cause those that do struggle with infertility to experience a great deal of shame and inadequacy.
In addition to the emotional impact, this myth causes many Black women to delay seeking the help of a fertility specialist, which can seriously affect their chances of achieving their family-building goals as they continue to age.
The myth of the "hyper-fertile" Black woman also still exists within the medical community, leading to a lack of timely referrals and support for Black women from their healthcare providers.
Myth #2: Only White women get IVF treatments
When the conversation surrounding fertility is not inclusive of all those that it touches, many people are left to struggle in silence. If women of color do not see themselves represented in advertising, media, or in waiting rooms, they can easily feel discouraged from seeking the fertility treatments they may desperately need.
In fact, seeing IVF depicted as a solely a White woman's experience can even lead to doctors internalizing this stereotype, again affecting referrals to reproductive specialists, as well as medical research and outreach to particular populations.
Deeply problematic societal messaging and the subsequent lack of information can ultimately lead women of color to feel completely isolated and misunderstood in the fertility community. However, we are starting to see this narrative shift as more people are coming forward to share their stories and speak up about their experiences.
High-profile Black women like Michelle Obama have publicly shared their IVF stories, creating national conversations surrounding women of color and fertility struggles. "I think it's the worst thing that we do to each other as women, not share the truth about our bodies and how they work," Obama shared during an appearance on Good Morning America.
Myth #3: Racism doesn't exist in the healthcare system
When looking at why women of color are less likely to seek fertility assistance, one must acknowledge the extensive racial bias and resulting injustices that still exist in our healthcare system. It is also important to recognize that mistrust of the medical community is prevalent in the Black community, due to rampant instances of racial discrimination throughout history.
After decades of being victimized and mistreated by the medical system, it's understandable that these communities feel less comfortable turning to their doctors for fertility help.
According to research, Black women are 50 percent more likely than White women to say they felt uncomfortable talking to their doctors about fertility.
Myth #4: Fertility treatment is only for wealthy people
Women of color are already experiencing economic and medical disparities, so cost is usually cited as the greatest obstacle in seeking fertility treatment. However, many women have successfully undergone fertility treatments with the help of financial assistance (like grants, loans, and scholarships) and their insurance providers.
According to the CDC, around 13% of women who utilize fertility treatments live below the poverty line. The cost of IVF or other fertility treatments vary depending on many factors, and there are resources available to help people of color achieve their goals.
Organizations like The Cade Foundation and Fertility for Colored Girls have made it their mission to award grants to women who cannot afford treatment, and an increasing number of states in the U.S. now have infertility mandates that require insurance providers to cover fertility treatment to some extent.
Curious if your insurance covers the treatment you need? Your HR person or employee benefits administrator can confirm whether fertility is covered, and, if so, what portion of care will be covered.
All Patients Deserve Equal Opportunities
While harmful stereotypes and racial disparities remain a challenge for women of color, we are seeing progress in the discourse around these topics, as well as increased media representation of more diverse ranges of people seeking fertility care.
Here at Illume Fertility, we remain dedicated to providing exceptional fertility care for all those who want to build a family, regardless of ethnicity, gender, or sexual identity. It is our commitment to do everything we can to remove barriers to accessing this care and ensure that all of our patients feel supported.
Together, we can help to amplify these important conversations in order to improve fertility care for women of color. Infertility does not discriminate, and it is our job to create an environment that is inclusive and supportive of all communities.
Dr. Ilana Ressler is a board-certified OB/GYN and reproductive endocrinologist who joined the Illume Fertility team in 2017. Dr. Ressler has a special interest in treating patients with PCOS and advocating for ovarian and breast cancer awareness in the Jewish community through her advocacy work.