Fertility Treatment Grants & Resources to Support Your Journey
Explore the top organizations offering grants, resources, and support to members of the loss and infertility communities.
November 29th, 2023 | 13 min. read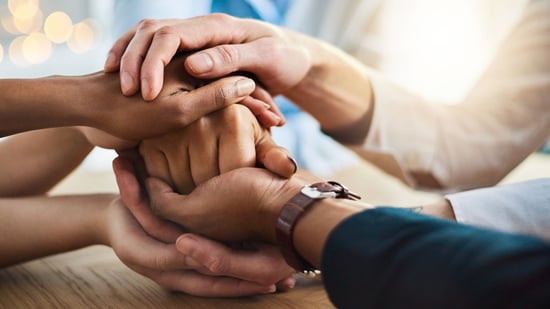 Struggling to build your family can leave you feeling isolated. We're here to remind you that no matter what stage of the journey you're in, there is a warm, welcoming community and an extensive network of resources ready to embrace and support you.
Skip to a section:
The Fertility Community is Strong
You probably know the saying: "Worst club, best members."
No one wants to go through infertility or struggle to build a family, but those who have to join this club are some of the strongest, bravest, kindest souls around.
Many of these organizations were founded or are run by fellow fertility warriors - meaning they don't just talk the talk, they've actually walked the (very difficult) walk too. They offer everything from financial grants for fertility treatment to tailored support for those experiencing heartbreaking losses.
While this is by no means an exhaustive list, we want to introduce you to some of our favorite organizations and advocacy groups and highlight the amazing work they do to support the fertility and family-building community.
15 Organizations Offering Support & Resources
When Erica McAfee went through a stillbirth, then miscarriage, she went looking for a community of Black women sharing experiences around miscarriage and infertility. After realizing it didn't exist yet, she started Sisters In Loss.
Offering support via bereavement doulas, online infant and pregnancy loss support groups, a podcast, and more, Sisters In Loss works to ensure that no parent goes through loss or infertility alone.
Their mission: To help Black women replace silence with storytelling around pregnancy and infant loss and infertility.
Website | Instagram | Facebook | Podcast | Donate
After experiencing a stillbirth and tragically losing their son Benjamin, Emily Clare and Jonathan Cafasso turned their pain into action by creating Benjamin's Gift. By pouring their broken hearts into serving other parents in need, the Cafassos have been able to give purpose to their seemingly unbearable loss.
Their mission: To provide financial support to bereaved parents for medical and hospital costs associated with stillbirth.
Looking for financial grants for IVF treatment? The Nest Egg Foundation is a great place to turn. This not-for-profit foundation is a collaborative effort between medical and financial professionals, attorneys and others who care about building families and want to help those who cannot afford fertility treatments.
Their mission: To give opportunities to those struggling with infertility via education and access to treatment.
One of our favorite LGBTQ+ organizations is Family Equality, which was founded in 1979 with the goal to create a world where everyone can experience the unconditional love, safety, and belonging of family.
To accomplish that beautiful goal, the team at Family Equality serve as outspoken changemakers, working to create an equitable LGBTQ+ family narrative, through advocacy, community, and education.
Through resources like free virtual support groups and events, book list recommendations, educational content about LGBTQ+ fertility and family building, and much more, Family Equality is an exceptional leader in the space.
Their mission: To ensure that everyone has the freedom to find, form, and sustain their families by advancing equality for the LGBTQ+ community.
Website | Instagram | Facebook | Donate
If you've been in the infertility world for even a short while, you'll have heard about Resolve New England. This organization is an amazing resource for anyone going through fertility challenges.
From peer support groups to educational opportunities like their annual conferences and ongoing advocacy work, Resolve New England is a great place to turn for support.
Fun fact: Illume Fertility's Patient Advocate Lisa Rosenthal is Resolve New England's treasurer, and an active Resolve member and advocate!
Their mission: To provide education, support, and advocacy for all in New England (and beyond) as they try to grow their families.
Website | Instagram | Facebook | Donate
Cozy Warrior was founded by Anna and Jeremy, a couple who dealt with infertility for over eight years.
After going through ovulation induction, IUI cycles, egg retrievals, IVF, infertility surgeries, biopsies, Eastern Medicine, Western Medicine, and a 5-week miscarriage largely on their own, they decided to start speaking up about infertility and formed a non-profit organization to support individuals and couples who are struggling to conceive a child.
Their mission: To spread positivity and gratitude, to connect and encourage, and to get a pair of cozy, warm, you-got-this socks to every woman on a fertility journey.
Website | Instagram | Facebook | Donate
Co-founded by fertility warriors and fierce advocates Davina Fankhauser and Sandra O'Keefe, Fertility Within Reach is passionate about helping policymakers and others understand the importance of comprehensive fertility care and benefits. Their work has been instrumental in passing legislation that allows more people to access fertility care and treatment.
You can check out their list of financial grants and resources here.
Their mission: To increase access to health benefits for fertility treatment and preservation. Fertility Within Reach works hard to alleviate emotional, physical and financial stressors as individuals strive to build their family.
Website | Instagram | Facebook | Donate
Sharsheret is one of the nation's leading Jewish cancer organizations. Their expansive support network helps those who are facing a breast cancer or ovarian cancer diagnosis with one-on-one support, as well as a peer support network.
Sharsheret also offers financial assistance, resources, and connections for families of those recently diagnosed, and can facilitate genetic conversations for those who are looking to find out more about their heritage and potential connection to familial cancers.
Their mission: To improve the lives of Jewish women and families living with or at increased genetic risk for breast or ovarian cancer through personalized support, as well as working to save lives through educational outreach.
Fun fact: Illume's Dr. Ilana Ressler is a proud supporter of Sharsheret, dedicating time and energy every November to leading their Westchester Pies for Prevention initiative!
Website | Instagram | Facebook | Donate
Another wonderful resource is Baby Quest Foundation, also founded by two women who went through infertility themselves.
Baby Quest provides financial assistance through fertility grants to those who cannot afford the high costs of procedures such as IVF (in vitro fertilization), gestational surrogacy, egg and sperm donation, egg freezing, and embryo donation.
Their mission: To ensure that the high cost of fertility treatments doesn't come in the way of becoming a parent.
Website | Instagram | Facebook | Donate
The Tinina Q Cade Foundation has a fascinating origin story!
It is named for founders' Drs. Jason and Camille Hammond's mother, who carried their triplets at the age of 55 after the Hammonds' discovered they were dealing with infertility. They now work tirelessly to support, empower, and encourage families going through similar struggles.
Their mission: To provide information, support, and financial assistance to help families overcome infertility.
Website | Instagram | Facebook | Donate
Awarding financial grants ranging from $250 to $5,000, The Hope for Fertility Foundation offers a light at the end of the tunnel for people unable to access needed fertility treatment and care. Keep an eye out for their next application window!
Their mission: To offer financial assistance for infertility treatments, surrogacy or adoption to people all across the United States.
Website | Instagram | Facebook | Donate
Established in 1974, RESOLVE is dedicated to improving access to fertility and family-building care, advocacy for increased insurance coverage, providing access to support, community, and education, and ensuring each hopeful parent has full awareness of all of their family-building options.
Their mission: To inspire all people challenged in their family-building journey to take action with knowledge, community support, and advocacy.
Website | Instagram | Facebook | Donate
Yesh Tikva, Hebrew for "There is Hope," was established to end the silence and create a Jewish community of support for all Jewish people facing infertility.
This amazing organization offers free professional psychosocial services, resources and tools to those struggling with infertility, while simultaneously raising awareness and sensitivity on the subject throughout the Jewish community.
Illume Fertility frequently partners with Yesh Tikva for virtual events, such as Instagram Lives.
Their mission: To provide those thrown into the world of infertility with navigational tools to cope emotionally and practically along this journey. Resources include support groups, platforms for sharing personal stories, educational guides and events.
Website | Instagram | Facebook | Donate
International nonprofit Men Having Babies (MHB) provides educational and financial support for gay men who want to become dads through gestational surrogacy.
The organization also helps establish relationships between hopeful dads, fertility clinics, surrogacy agencies, and other surrogacy experts through the hosting of multiple conferences held worldwide.
Their mission: To provide education, connections, and financial assistance to help make gay parenthood more widely accessible, including for men who cannot afford surrogacy on their own.
Website | Instagram | Facebook | Donate
The Sister Girl Foundation is a non-profit organization geared towards providing awareness, education, support and advocacy for individuals with endometriosis, infertility, breast, and ovarian cancers.
They also remain committed to helping individuals who are suffering in silence find their voices and advocate for the healthcare they deserve - fighting for health equity on all levels. The Sister Girl Foundation offers support groups, events and meetups, resources, workshops, classes and other advocacy tools.
Their mission: To provide awareness, education, and advocacy for those suffering from chronic, debilitating, and painful diseases, particularly within the Black community.
Website | Facebook | Instagram | Donate
You're Never Alone
Financial support isn't the only resource that's crucial on your fertility journey. We encourage you to seek out community and make connections as you navigate this difficult road.
Reach out to your Care Team for help finding one-on-one counseling and mental health support whenever you need it. The health of your brain is important too!
Look into support groups in your area, either offered by your clinic or in the community.

Not up for in-person groups?

There are lots of virtual offerings - including Illume Fertility's weekly and monthly support groups.
Talk to a trusted friend or family member and let them know how you're really doing.
If you're fortunate enough to be on the other side of infertility, or simply want to give back to the fertility community, consider donating or volunteering at any of the charitable organizations we mentioned above.
It takes courage to reach out, but the benefits of creating your own personal network of mental, emotional and physical support are immeasurable. No matter what you're going through, know that there are plenty of resources available to help you make it through this often challenging journey.
Sierra Dehmler is Illume Fertility's Content Marketing Manager - and also a fertility patient herself. Combining empathy gained on her personal journey with her professional experience in marketing and content creation, she aims to empower and support other fertility patients by demystifying the fertility treatment process.