Understanding Your Fertility Coverage & How to Use It
November 18th, 2021 | 11 min. read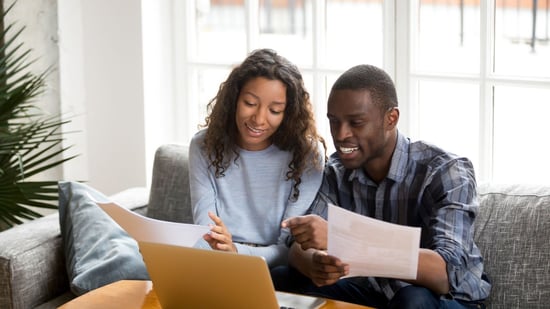 If you need to pursue fertility treatment, your next question is likely "How in the world am I going to pay for this?" Hopefully, your answer is your insurance provider! The first step is to figure out if your insurance policy includes fertility coverage and will help pay for the infertility treatments, tests, or other procedures your doctor may recommend.
Learn how to explore your plan's coverage and get the most out of your insurance with our detailed guide below.
Skip to a section:
Understanding Your Fertility Benefits
Maybe your insurance coverage includes a lifetime monetary stipend to use towards fertility treatment, or maybe it designates a set amount of IUI and IVF cycles.
Maybe it includes only testing. Maybe your insurance plan doesn't cover infertility at all. Just as every family is different, so is the insurance coverage for each of those families—or at least it seems that way. That's why it's so important to understand your unique plan.
Keep in mind, your policy and the fertility coverage offered will vary by state, by employer and by cost.
In this in-depth guide, you will learn about the different insurance opportunities to look for, the places you can find answers about affordability and other methods of paying for fertility treatment when insurance won't cover everything you need. Ready to dive in?
Step 1: Read your insurance policy
This is admittedly time consuming and, well, not fun. But, much like other financial hurdles, it's very important. Insurance policies are packed with information, medical and legal jargon, and fine print, so our best advice is to take your time.
Look up terms as you read (Google will be your best friend)
Review with your partner, if you have one
Write down notes about your policy in a way you understand so you can reference them later
Write down all the questions that popped into your head that are still unanswered, and if you have employer-based insurance, ask your human resources representative for help
💡Pro Tip: Before you even consider calling a provider or looking up your coverage, call the 800 number on the back of your insurance card and ask, "Do I have fertility coverage? What does that entail?" Knowing that your initial consultation is covered can make calling a new practice a little less overwhelming.
What Does My Insurance Actually Cover?
Step 2: Find out what testing and treatment is covered.
As previously mentioned, there are many variations of fertility insurance coverage, and your personal coverage (if there is any) will be listed in your policy explanation. Unfortunately, there are still many policies out there that don't cover fertility treatments, but hopefully, you have a plan that recognizes that infertility is a disease, just like any other.
If you have a policy that covers fertility treatment, congratulations! There may still be limitations, so do your due diligence to find out exactly what treatments and procedures your insurance will cover.
Some policies cover procedures like in-vitro fertilization (IVF), but may not pay for medications, which are a critical (and often costly) component of treatment.
Some policies cover a limited number of procedures - for example, 3 IUIs (intrauterine inseminations) and 1 round of IVF.
Be aware of caps on coverage, whether they're annual or over a lifetime. For instance, a policy might say, "Here's a $25,000 lifetime spending limit on fertility care." ($25,000 sounds like a lot, but one IVF cycle can run you anywhere between $12,850 and $24,250.)
Some policies also cover the use of donor egg and/or sperm, should you need it.
What if I don't have comprehensive fertility insurance coverage?
Some policies may cover some, but not all, of your fertility treatment. For instance, a policy may only cover a consultation and tests like a hysterosalpinogram (HSG), vaginal ultrasound, saline sonogram, and hormone bloodwork. Additionally, those may cover a sperm analysis as well. (Here's what to expect from a semen analysis!)
You might be able to purchase "riders" to supplement your coverage. These are special insurance add-ons for, say, IVF treatment, that would pay for the treatment at a lower cost than an IVF cycle.
And then the bottom level of fertility coverage is no coverage at all. Unfortunately, many insurance plans fall under this category.
---
No fertility coverage? There's still hope! Read this:
---
Here's more good news! There is a wave of state mandates sweeping the country, making it mandatory for insurers in those states to cover parts of fertility care. Check to see if your state has any mandated coverage. See below for an overview of the New York and Connecticut fertility mandates.
Connecticut State Infertility Mandate
Connecticut law requires most insurance companies to cover infertility diagnosis and treatment, including up to four cycles of ovulation induction, a maximum of three intrauterine insemination (IUI) cycles, and up to two in-vitro fertilization (IVF) treatments.
Note: the Connecticut State Mandate requirements do not apply to employees in self-funded insured plans, or to employees who work for certain religious groups.
New York State Infertility Mandate
New York requires private group health insurance plans that are issued or delivered in the state, and that provide coverage for hospital care or surgical and medical care, to also cover the diagnosis and treatment of infertility for patients.
They must be between the ages of 21 and 44, and have been covered under the policy for at least 12 months. The mandate provides up to 3 rounds of IVF, medically necessary fertility preservation, expanded drug coverage, and prohibits discrimination based on age, sex, sexual orientation, marital status, or gender identity.
💡Pro Tip:

Be sure to reference our handy guides to the

New York

and

Connecticut

state mandates for fertility coverage.
You now have a better grasp of state laws and the different levels of fertility coverage, but, as you probably assumed, there are still more layers to all of this...
Not Every Fertility Clinic is Covered
Step 3: Choose the right fertility clinic.
This is another piece of the insurance puzzle – the fertility clinic. Some insurance carriers will work only with fertility clinics that meet certain criteria.
What accreditations and experience should I look for?
Your insurance may require the fertility clinic to be a center of excellence. A "center of excellence" is a fertility clinic that is recognized as a trusted, high-performing center that often gets preferential coverage by many insurers.
💡Pro Tip: Those centers are also more likely to report to the Society for Assisted Reproduction Technology. SART is an independent, unbiased organization that lists the annual pregnancy success rates of participating fertility clinics across the country.
Other accreditations and licenses may be required, such as the College of American Pathologists stamp of approval for laboratories.
It may be obvious, but it's also really important that you like your doctor. And part of liking your doctor is feeling confident in the experience and training that they have gained during their years of practicing medicine. Don't settle for less than a board-certified Reproductive Endocrinologist, the highest possible standard.
---
Need help choosing the best fertility clinic?
---
What to Do When You Have Exhausted Your Insurance Options
No insurance coverage possibilities at all? You might feel like you've hit a dead end.
But you haven't, and rest assured - you are NOT alone! There are other ways to afford fertility treatment if insurance doesn't cover all (or any) of your expenses. Let's explore what some of those options are.
Where can I look for financial help with fertility treatment?
Step 4: Explore other ways to afford treatment.
The first thing to examine is your own income. Take advantage of your pre-tax savings options which all allow you to put money away tax-free to pay for medical procedures:
The second option you should check out are nonprofit and government agencies offering grants that could cover some procedures.
In Connecticut, for example, the Nest Egg Foundation provides grants of up to $10,000 for patients undergoing IVF, if they can prove financial need and meet specific clinical criteria.
In New York, the state earmarks nearly $1 million annually for residents who earn less than $195,000 per year and who are good candidates for in-vitro fertilization. Eligible clinics all perform more than 100 IVF cycles annually and achieve at least a 30% success rate. The fertility clinics select the patients who will get the grants.
💡Pro Tip: In addition, financing is available from several institutions, including many fertility clinics. When you visit a clinic, ask the staff how they might help you understand your insurance and find more money to pay for treatment.
What is Open Enrollment?
Open enrollment is the time of year you can change health insurance plans to make them more beneficial for you and your specific situation.
If you find yourself dissatisfied with your insurance options, explore changes you might be able to put into place during this period, whether through your employer or the individual marketplace.
The opportunity to make changes in the individual marketplace for 2022 began on November 1 and ends December 15, but you should also check with your employer, as their employer-based insurance open-enrollment dates may differ slightly.
Also, note that the window for open enrollment officially ends January 15, 2022, but if you want any insurance changes in effect on January 1, 2022, you will need to meet the deadline of December 15, 2021!
➡️ Related: Open Enrollment Tips – Is Your Infertility Treatment Covered in 2022?
Paying for fertility treatment is one of the biggest stressors in the entire process. For many, it can be a huge weight on your shoulders, and we want you to know that we're here to help. Now is great time to act if you're interested in using your insurance for fertility coverage or switching to a more all-inclusive plan.
On a personal note, we all know that you want to reach your goals as soon as possible. In addition to the many grants, loans, and payment plans that are available to you, we want to offer you the best information possible so you can make these decisions for yourself.
We're here to answer any lingering questions you may have, so reach out to us on social if you want more help!
---
Ready to create a financial plan for fertility treatment?
---
Feeling overwhelmed?
We recognize that we covered a lot here, and the financial planning aspect of infertility can be incredibly stressful. Take your time, ask questions, and reach out for support.
By learning as much as you can and taking action now, you'll be setting yourself up for fertility treatment success in the new year!
More Fertility Coverage Resources
Sierra Dehmler is Illume Fertility's Content Marketing Manager - and also a fertility patient herself. Combining empathy gained on her personal journey with her professional experience in marketing and content creation, she aims to empower and support other fertility patients by demystifying the fertility treatment process.