Why Fertility Testing is Essential to Family-Building Success
October 29th, 2021 | 7 min. read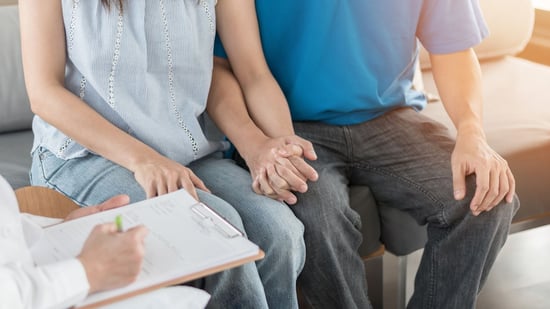 When you decide you're ready to have a baby, you always hope that the process will be easy - that you'll get pregnant quickly, have a problem-free pregnancy, and of course, a healthy baby at the end. But what do you do when things aren't so simple?
If you're having trouble getting pregnant, one of the first steps towards family-building success is fertility testing. Let's explore six reasons why these diagnostic tests are so important, and how they can help you achieve your goal of a healthy pregnancy and baby.
#1 Establish a Baseline
When you first seek out the help of a fertility specialist, they will carefully examine your medical history and perform a full fertility work-up in order to better understand what potential roadblocks might be getting in the way of you achieving a healthy pregnancy.
By establishing a "fertility baseline," you and your doctor can better understand where you are now and what needs to happen to get you where you want to be.
Here are some common diagnostic tests you might undergo at a fertility clinic and what information they can provide (click through for full explanations of each one):
Note: You'll quickly learn how important each part of your cycle is once you become a fertility patient! By checking your hormone levels and monitoring you at specific points in your menstrual cycle (i.e. "Day 3" or "Day 21"), we can get the best read on what's happening inside your body.
---
Short on time? We've got you covered.

---
#2 Uncover Other Diagnoses
Here's an unfortunate truth: many people live years and years before being properly diagnosed with conditions like PCOS, endometriosis or thyroid disease. These conditions are all common contributors to fertility struggles, and can actually prevent you from getting (and staying) pregnant if they are not well managed.
Remember the saying "You don't know what you don't know?" Well, it's true!
Diagnostic testing can help bring any underlying health conditions to light so you and your doctor can find the best way to manage your symptoms and find the proper course of treatment for your specific situation.
With the correct diagnosis, your chances of becoming pregnant increase significantly!
➡️ Related: Explore PCOS Resources & Support
#3 Achieve Your Goals Sooner
This is one of the most important reasons for diagnostic testing. Who wants to wait longer than they have to and endure the heartache of continued fertility struggles?
Unfortunately, without proper (and complete) diagnostic testing, it typically takes much longer to get an accurate diagnosis and begin the correct treatment protocol. Save yourself time, money and emotional turmoil by being proactive and completing your fertility testing before launching into treatment. It's worth it!
Even if you think you know what's preventing you from getting (or staying) pregnant, it's essential to get a full evaluation performed to rule out as many issues as possible.
Note: Here at Illume Fertility, all of our patients undergo diagnostic testing before formulating a plan of action with their doctor. While other fertility clinics may let you "skip a step" or dive right in, we know how important it is to thoroughly evaluate you (and your partner, if applicable) to be sure you have the best chance of success!
#4 Understand Your Options
Timed intercourse, medicated cycles, IUI, IVF...it's a lot to take in!
While it may feel daunting at first, it's important to understand which fertility treatment methods are right for you - and diagnostic testing is a huge piece of the puzzle when it comes to finding the best fit.
For example, you may assume that IUI is all the assistance you will need to conceive, but discover (after your HSG) that your fallopian tubes are blocked, which could be preventing you from becoming pregnant.
Your fertility doctor and care team will be your best resources as you navigate your fertility treatment options and decide on a course of action. By having as much information as possible about your fertility and any potential roadblocks ahead of time, you can choose the methods and timeline that feel right to you.
---
Get ALL your questions answered:

---
#5 Get the Right Support
Discovering you need the help of a fertility specialist in order to have a baby can be stressful and overwhelming. But once you get connected with the right team of experts and start uncovering the reasons you may be having trouble conceiving, everything often begins to feel more manageable (or at least - more hopeful).
Reaching out for support - not just from a fertility clinic but from friends, family or the fertility community - is an act of courage. We know it feels scary to talk about these things, and not everyone is comfortable discussing sensitive matters like fertility struggles.
But once you complete your diagnostic testing and know what lies ahead, you can connect with others walking the same path. Pssst...did you know we offer free weekly support groups, an Integrated Fertility & Wellness program and more right here at Illume Fertility?
➡️ Related: Grab our FREE 90-Day Preconception Guide
Checking diagnostic testing off your to do list is a huge accomplishment, and a big part of you figuring out what support you need (both physically and emotionally) to reach your goals. Be proud of yourself for getting this far!
---
Wondering when you should see a fertility specialist? Watch this video:
---
#6 Feel More Empowered
Finally, diagnostic testing can help you feel more empowered and informed on your fertility journey. As the saying goes, knowledge is power! These tests give you and your fertility care team as many answers as possible, which in turn informs your fertility treatment choices and overall care.
During an experience that often leaves patients feeling out of control, it's important to take every opportunity to arm yourself with information that will help guide your fertility journey from start to finish. Completing your diagnostic testing is the first big step towards accomplishing your end goal: having a healthy baby!
More Fertility Testing Resources
---
Ready to get started with fertility testing & treatment?

---
Sierra Dehmler is Illume Fertility's Content Marketing Manager - and also a fertility patient herself. Combining empathy gained on her personal journey with her professional experience in marketing and content creation, she aims to empower and support other fertility patients by demystifying the fertility treatment process.