How Much Does Egg Freezing Cost?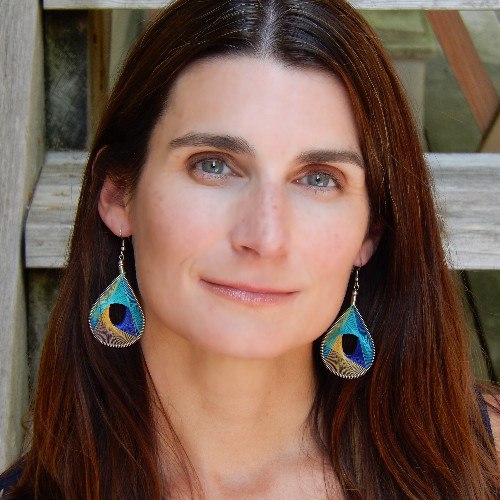 Shandley McMurray is a writer and editor specializing in health and wellness topics. In addition to creating articles for magazines and websites across the globe, Shandley has penned multiple books including: Managing Stress & Anxiety (Belvoir Media Group), Hey Baby! What's Your Name? A Canadian Guide to Naming Your Baby (John Wiley & Sons Canada, Ltd), and the children's titles, On The Reef and Under Your Nose (Firefly Books).
Hey there, forward thinker! Whether you're contemplating egg freezing for personal, professional, or health reasons, you've made family planning a priority. Now you're hoping to find out how much it will cost.
Let's not beat around the proverbial bush. Egg freezing will set you back about as much as a one-week luxury holiday in Maui. That's nothing compared to the cost of waiting for years to have IVF only to find out you need to try multiple rounds before succeeding.
While egg freezing isn't an insurance policy (or even a guarantee) that you'll have a successful pregnancy, it does boost your odds of having a healthy baby later in life.
Here's everything you need to know before making your decision.
What is Egg Freezing?
By now, you're probably familiar with the term oocyte. If you aren't, it's the scientific name for a woman's egg. By the time a woman reaches puberty, she has only 200,000 eggs – we say "only," because at birth, a woman has 6 million. The older we get, the lesser the quality (and number) of eggs, which can lead to difficulty conceiving.
Egg freezing allows your eggs to exist in a permanent state of youth; being literally frozen in time the moment they're vitrified (flash-frozen in liquid nitrogen). Medication is used to help you produce more eggs during each cycle, which is best done in your early to mid-30s.
The more eggs you freeze, the greater the chance of a successful pregnancy.
Once you decide to use the eggs, they're thawed and fertilized (each with a single sperm) through an intracytoplasmic sperm injection (ICSI). Between 3 and 5 days after fertilization, the egg is ready to be moved to the uterus.
What's the Cost of Egg Freezing?
Egg freezing is a big decision often made when you're too young to know when (or if) you'll need to make use of it. Freezing eggs can cause strain on both your pocket book and your emotions, so you need to weigh your decision well.
We spend time factoring things like college, cars, and houses into our budgets. It makes sense that we should include building our families into our financial plans.
So, how much are you looking at? Egg freezing costs depend on a few different factors, including:
Where you live – Certain cities (like New York) are more expensive than others (like Boston and San Francisco)
Your age – Those over 37 need more cycles of egg freezing to garner the same number of viable eggs as healthy, younger women.
Your health – Costs may be lower if you're freezing eggs due to a medical condition (i.e. cancer, endometriosis or a family history of early menopause).
The clinic – Prices vary between fertility practices.
Your insurance – Each company has a different policy, so check yours carefully.
On average, one cycle of egg freezing will cost around $11,000. Keep in mind that there is a direct correlation between age and the quantity & quality of eggs expected at retrieval. It's quite possible that women in their late 30's will have to undergo multiple cycles in order to achieve a desired result.
Here's a breakdown of the cost of egg freezing: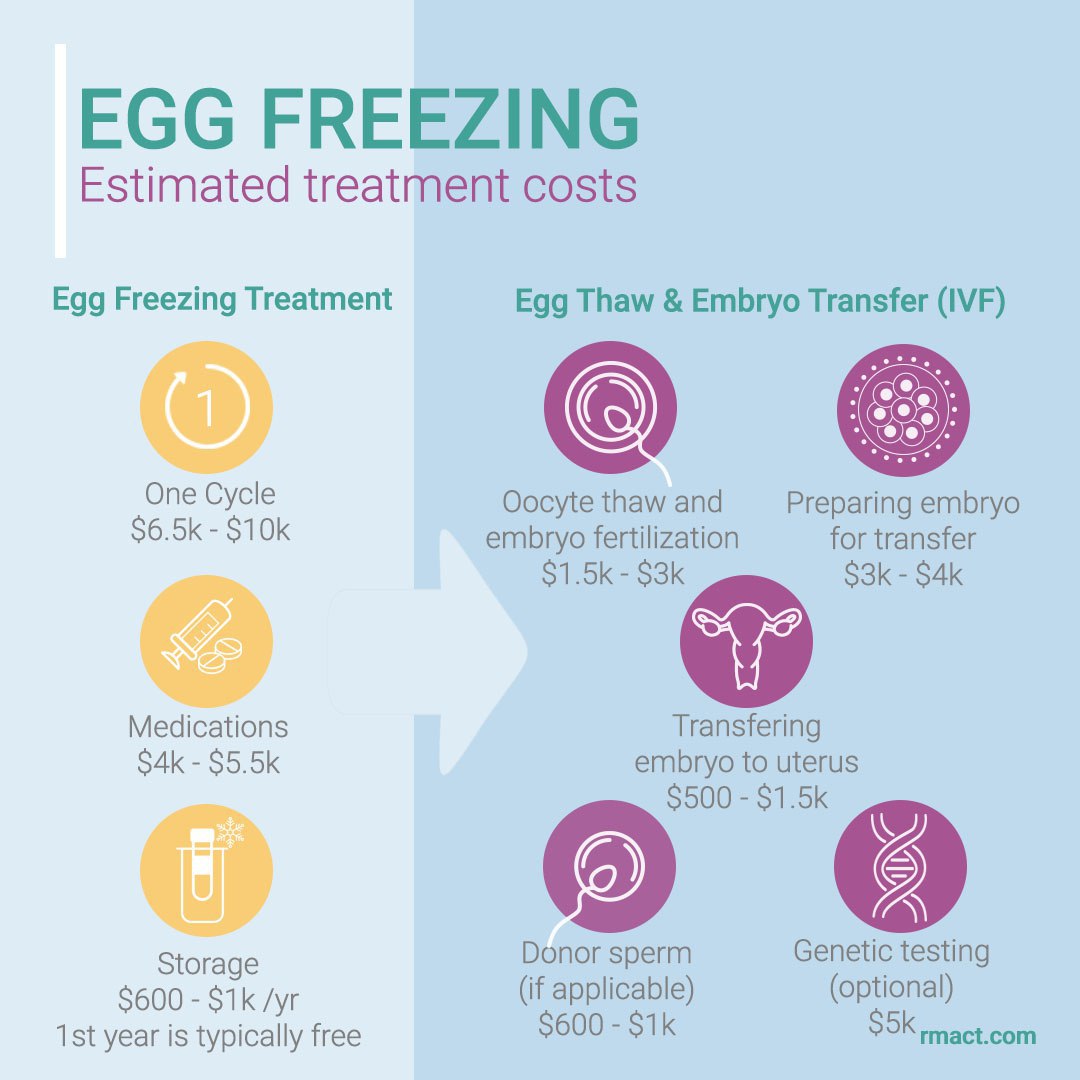 What Does the Cost of Egg Freezing Include?
Wondering what your money will get you? Here's what's included:
An initial consultation
Hormonal and/or medical stimulation
Monitoring of hormone levels
Surgical retrieval of eggs
Egg storage
Does My Insurance Pay for Egg Freezing?
Each insurance company has a different policy.
The one thing most agree on – they won't cover egg freezing. Often, however, they'll include diagnostic testing, the initial consultation, and sometimes medication.
How Do I Pay for Egg Freezing?
Here are a few helpful options:
Speak with a financial advisor to determine what you can afford.
Price shop. Ask each clinic for a detailed list of what's included. See if they have payment packages or guarantees (some offer a 100% money-back guarantee if the pregnancy doesn't take).
Look for deals on fertility medications. Talk to different pharmacies and your doctor for special rates.
Save. Set up a regular automatic debit from your checking account into savings.
Ask friends or family to help. This could be a great birthday or holiday gift.
Set up a GoFundMe page to accumulate donations.
Use a flexible spending account (if you have one).
Pay with a rewards credit card. You'll get cash back, travel, or other rewards in return for your spending.
Read carefully through your employee benefits. Some companies cover egg freezing.
Are There Cost Packages Available?
Many treatment centers offer cost packages to help offset the expense of egg freezing. A select few include medication.
At Reproductive Medicine Associates of Connecticut, you can expect to pay about $10,000 for one cycle of egg freezing and $500 a year for storage. Our Egg Freezing Opportunity Plan is the only all-inclusive egg freezing treatment plan in the Tri-State Connecticut Region that also includes medications.
Am I the Right Age for Egg Freezing?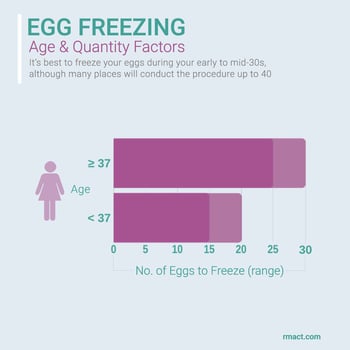 It's best to freeze your eggs during your early to mid-30s, although many places will conduct the procedure up to 40. Those under 37 should freeze 15 to 20 eggs while older women need 25 to 30.
One Woman's Story About Egg Freezing
Valerie Landis froze her eggs twice – at 33 and again at 35.
Knowing for years that she would pursue egg freezing, Valerie had plenty of time to save, plan for, and choose the perfect doctor and clinic to perform the procedure. Having worked in the women's health and fertility industry for over a decade, she also had the bonus of being well-informed about her choice. In addition to boosting her chances of having a successful pregnancy later in life, Valerie knew she'd save cash by choosing to freeze her eggs. "I saw egg freezing kind of like a savings plan or 401K, that I would actually save money in the long run by being my own egg donor," she explains.
After her first course of freezing, Valerie felt so emotional that she decided to document her journey. "I saw why this was a hard decision for others both emotionally and financially," she says. "I decided it was my duty to help educate others to be as prepared as possible and ease those fears by demystifying what to expect."
Now a well-known patient advocate, Valerie founded Eggsperience.com and became host of the Eggology Club podcast to help share her vast knowledge of egg freezing and other fertility-related topics. "Egg freezing isn't all fun and games," she says. "It can be kind of hard."
For now, Valerie is dedicated to her job as a patient advocate and she's coaching others on their fertility journeys. If she doesn't find the right person to start a family with, Valerie will use her eggs to become a single mom. Thankfully, she can rest easy knowing they're ready and waiting for the moment she's ready.
Learn more about Valerie Landis and her egg freezing experience.
What Else Do I Need to Know About Egg Freezing Costs?
You now know how much egg freezing costs, who's paying for egg freezing (you – unless you can get your others to help), and what the treatment includes. Below are six other factors to take into consideration:
You may require multiple egg freezing cycles. Most women need two cycles in order to gain the recommended number of eggs. Those over 37 may need three or four.
Don't freeze your eggs when you're too young, or too old. At 20, your eggs are of better quality and you'll get a lot more of them in one cycle. Being so young, though, means you won't have a good idea of whether you'll need them later. You could be throwing away money if you get pregnant naturally. By 30, you're closer to the age at which you'll use the eggs and will have a better idea of whether you'll need them.
Choose your clinic carefully. Do your research before freezing your eggs and choose a clinic with plenty of experience and high success rates.
Eggs can't be stored forever. While most say eggs can be stored indefinitely, certain countries (like the UK) won't allow them to be stored for more than 10 years.
Prepare to lose eggs. Freezing won't guarantee success. There's still a chance some eggs won't survive the freeze or thaw, and others won't fertilize correctly.
Be prepared for failure. According to some sources, the live birth rate associated with egg freezing is a mere 20 percent for those who froze eggs at the age of 36. Other sources, namely fertility clinics, but the live birth rate as high as 70 to 80% for younger women and 65 to 75% for 38 to 40 year-olds. Older women also have a higher risk of pregnancy and birth complications.
Learn more about egg freezing and determine if The Egg Freezing Opportunity Plan at RMACT is right for you.