Illume Fertility Team | Lab Procedures | IVF
A Day in the Life of an Embryologist: Behind the Scenes of IVF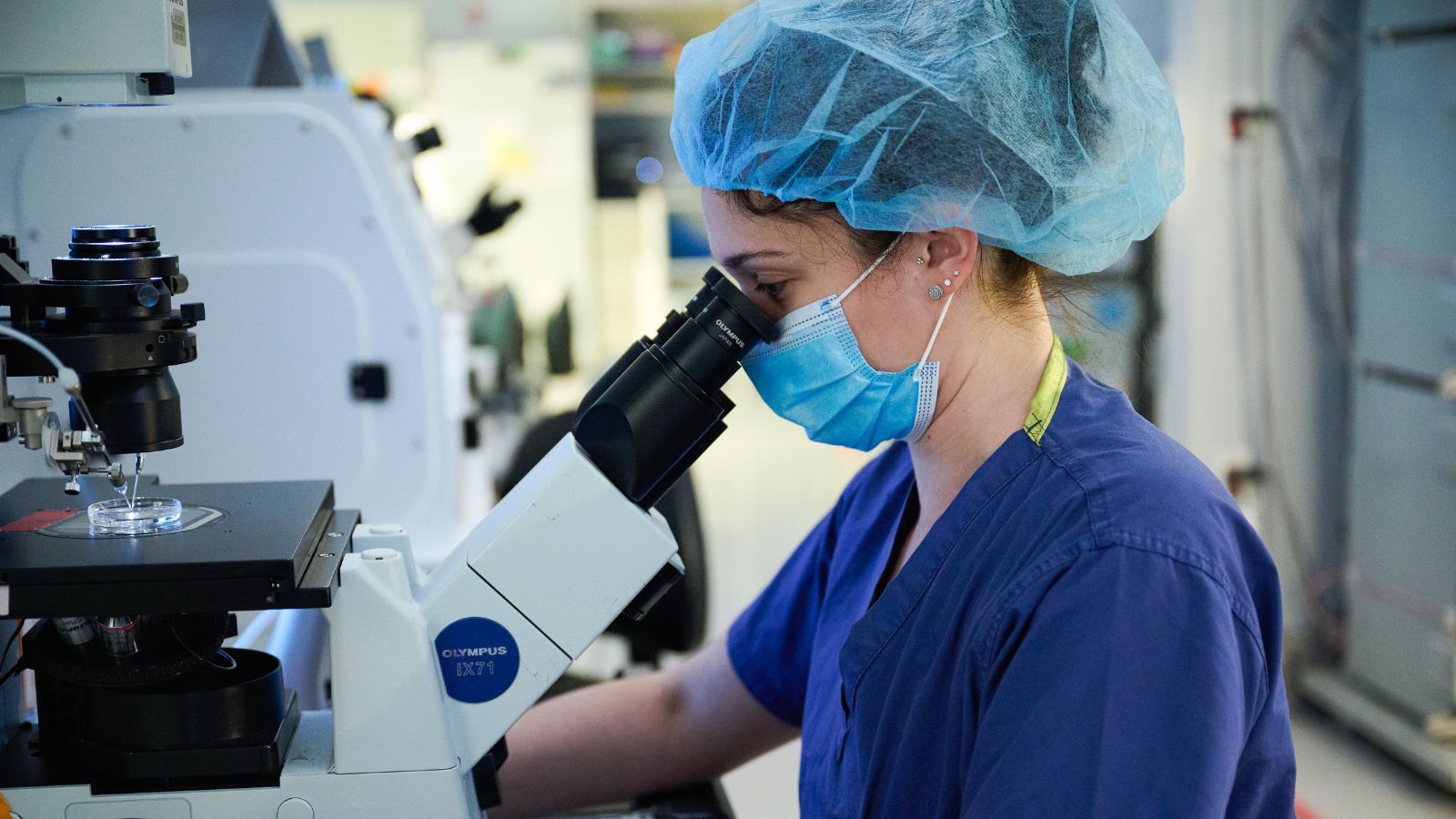 Sierra Dehmler is Illume Fertility's Content Marketing Manager - and also a fertility patient herself. Combining empathy gained on her personal journey with her professional experience in marketing and content creation, she aims to empower and support other fertility patients by demystifying the fertility treatment process.
Ever wondered what goes on behind the scenes at an IVF clinic? Illume Fertility embryologist Erin DiPietro shares what a typical day looks like and answers some frequently asked questions about life in the lab!
In this article:
---
What does an embryologist do?
As you'll soon learn from Erin, the daily responsibilities of an embryologist vary, and each member of the team rotates through different tasks each day. However, here are just a few of their important duties:
Portioning media and preparing culture dishes
Intra-cytoplasmic Sperm Injection (ICSI) Insemination
IVF vs ICSI: In IVF, the egg and (many) sperm are left in a laboratory dish to fertilize on their own. With ICSI, the selected sperm is directly injected into the egg. ICSI is used more often with male factor fertility issues.
Fertilization checks
Embryo grading
Embryo verification and embryo transfer prep
Preparing IVF instruments
Recording and reporting laboratory results
Lab equipment maintenance
Assisted hatching
Embryo vitrification and warming
Oocyte vitrification and warming
Wait, what is vitrification? It is an ultra-rapid freezing process used to cryopreserve eggs, sperm or embryos in a lab. Vitrification helps preserve each specimen at the highest level of quality for future use.
---
How does IVF work? A nurse explains:
---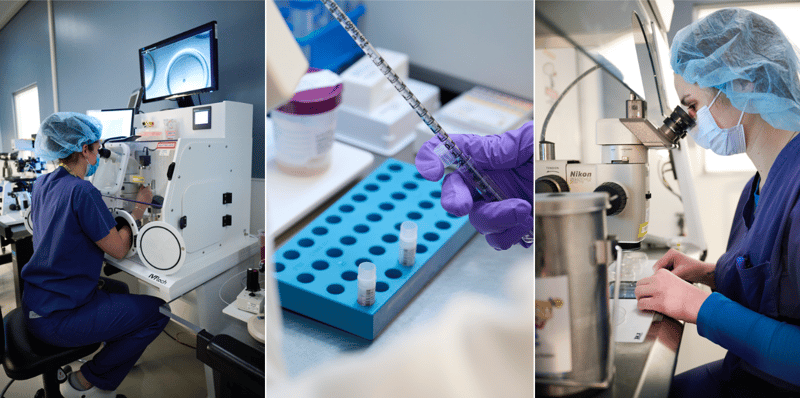 A Day in the Life of an Embryologist
Curious about what Illume Fertility's embryologists do each day in the lab? Keep reading to hear Erin's take on a typical workday, what she loves most about embryology, and some surprising facts you may not know!
Meet Erin
I started my career in embryology as a medical secretary for an embryology lab. It was there that I began to learn the ins and outs of the laboratory and I fell in love with it. I began the transition into training as an embryologist and here I am now, over five years later!
I have a Bachelor of Science in Biology from Sacred Heart University. While that is the main degree-required credential for our field, our career requires rigorous on-the-job training and technical application. We are constantly learning and adapting to improve our patients' outcomes!
Personally, I am very interested in what is on the cutting edge of Assisted Reproductive Technology, so just for fun, I decided to get a Master of Science in Bioinformatics, and as of recently I am a PhD student in Healthcare Genetics. As I said, our field is always adapting to innovations, and I am personally very interested in being at the forefront of those advancements.
What is the first thing you do every morning?
We wash our hands! After changing into our fresh scrubs, hair nets and shoe covers, the very first thing we do after we open the door into the laboratory is head straight to the sink. Sterility and cleanliness are integral to success of our patients!
Who do you work with throughout the day?
We have a super tight network of team members! We all work together, from the front desk staff all the way to the laboratory, to ensure the very best outcome for each patient.
While embryologists don't get to interact with patients face-to-face as much as andrologists and other team members at Illume, what you may not realize is that we're right on the other side of the wall each time you have an egg retrieval or embryo transfer! We're evaluating and counting eggs as the doctor retrieves them or preparing and verifying embryos before carefully handing them off to your doctor, for example.
Fun fact: At Illume Fertility's Norwalk, CT location, we have both an Embryology Lab and an Andrology Lab!
---
Learn about our unique approach:
---
What types of procedures do embryologists perform?
It's worth mentioning that we all rotate and share responsibilities, so no one day is the same for us.
I can perform any laboratory-specific procedure offered when a patient is coming through for IVF. It's very hard to list them all! However, they range from procedures like oocyte (egg) retrievals and embryo transfers, thawing or freezing oocytes or embryos, all the way to Intracytoplasmic Sperm Injection (ICSI) and embryo biopsy.
While your doctor may be the one interacting directly with you during a procedure like an egg retrieval or embryo transfer, us embryologists work very closely with them throughout the entire process!
How often do embryologists interact with fertility patients?
There are two types of procedures where we meet and interact with our patients: the oocyte (egg) retrieval, and the transfer of embryos. At both times, we are primarily meeting the patients for identification and verification of the procedure we are doing.
Is being an embryologist stressful?
Being an embryologist is very high stress! It is not a position to be taken lightly.
Calmness comes with time and practice. Going along with this, I would say the hardest part of our work is finding the delicate balance between stress and calm. Stress reminds us how important our job really is, but calmness and steadiness are necessary to perform procedures well.
---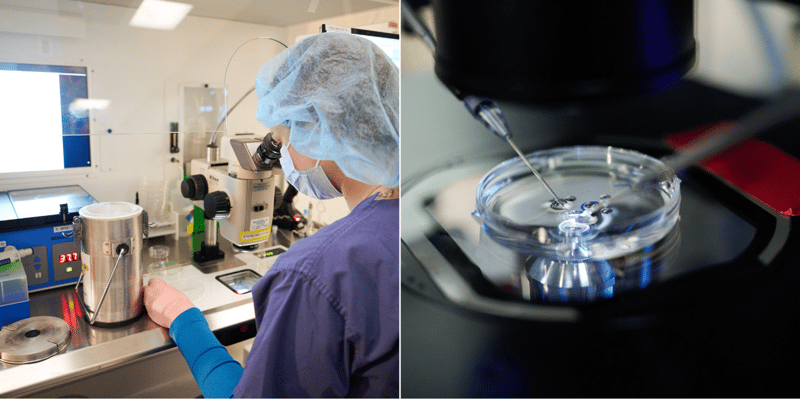 Embryologists prepare specimen and perform IVF procedures in Illume Fertility's lab.
---
What is your favorite thing about being an embryologist?
Seeing patients have successful outcomes - whether it ends with them freezing their eggs, having a baby, or whatever their goals may be, it keeps me grounded and reminds me of how important what I do is. It is easily the very BEST part of my job!
Want to learn more about egg freezing? Go here!
Do you perform lab checks at specific

times?

Most definitely! Each procedure happens in a specific sequence of time, particularly on the very first day of retrieval or thawing. Oocytes (eggs) are very sensitive, so we take extra care with timing each step to optimize a patient's cycle and give them the best chance of success.
---
Read about a real IVF journey:
---
What is the coolest part of your work?
We have the unique opportunity to share a small glimpse of what we see every day with our patients at the embryo transfer. We extend our display of the microscope view to the patient awaiting transfer, and this is when they get to verify their embryo and see their embryo being loaded into the catheter in real time, as we do it.
In my opinion this is one of the coolest, most unique experiences that we share with our patients.
What is the last thing you do at the end of the day?
The last thing we do is check that every incubator is closed. As an added safety measure, we also gently tap the outside or run our fingers along the doors to make sure that each one is 100% closed before we leave the lab.
Did you know? Illume Fertility's on-site storage facility and lab have an extremely sensitive 24/7 monitoring system to ensure all of the eggs, sperm and embryos stay safe every hour of the day.
Embryologists Truly Care About Your Success
Even though embryologists don't have the opportunity to meet every single patient since they work behind the scenes, Erin says she wants fertility patients to know that each time she and her team perform a procedure, it's personal: "We are always looking for those positive outcomes and love seeing the results of our laboratory procedures come full circle," she says. "Though we work to help many different patients each day, we recognize you, and we are always rooting for you!"
A huge thank you to our entire Embryology Team for their hard work and dedication, and to Erin for giving us a glimpse behind the scenes of a typical day in the IVF lab. Pretty incredible, right?!
More IVF Resources
Want to learn more about fertility treatment and preservation? We've got you covered!