Will IVF Be Impacted Post-Roe v. Wade? A Fertility Doctor Explains
July 1st, 2022 | 14 min. read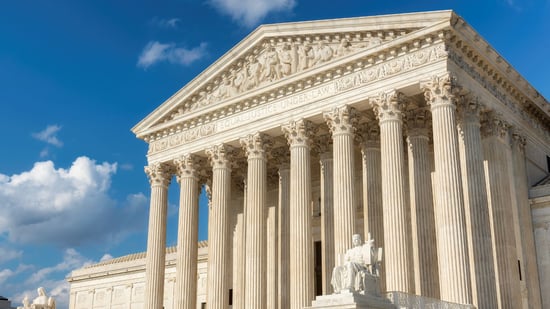 In the aftermath of the United States' Supreme Court ruling on June 24, 2022, many questions have been raised about reproductive rights and the impact of this decision on fertility treatment. As a fertility doctor, I echo my patients' concerns and want to offer some clarity.
Let's talk about what we do (and don't) know regarding the overturning of Roe v. Wade and its implications for fertility and family-building care like IVF.
In this article:
---
TW: This article has mentions of abortion, miscarriage & other sensitive topics
What does the overturn of Roe v. Wade mean for IVF?
Making the decision to seek fertility and family-building care is a very personal one, and any fertility journey requires a high level of commitment - physically, emotionally, and financially. So if you're feeling disheartened, anxious, upset, or confused about the U.S. Supreme Court's recent decision to overturn Roe v. Wade (and what that decision might mean for you), you're not alone.
We're hearing many different concerns from our patients here at Illume Fertility, and rightly so. There is a lot of confusion about how this decision might impact your rights and access to fertility treatment. I'm here to provide answers about what we know, what we need more answers on, and what comes next for our practice here in Connecticut and New York.
Note: While this article and many others frequently mention the direct impact of the Supreme Court's ruling on abortion, the effects of overturning Roe v. Wade reach far beyond this one procedure. There are a cascading number of fertility care issues that follow, the effects of which will be felt in various ways.
---
Get answers to your most important questions:
---
Will fertility patients in CT or NY be impacted?
Thankfully, both Connecticut and New York have strong laws in place that protect reproductive freedom, which includes the use of assisted reproductive technologies (like IVF). In short, the answer is no - we anticipate no impact to your rights as a fertility patient in CT or NY after the Supreme Court's decision.
If you are a patient at Illume Fertility, your fertility testing, fertility treatment and fertility preservation options will remain safely in place. We are closely monitoring ongoing developments across the country and staying vigilant and active in the fight for access to fertility and family-building care.
Presently, there is no federal statute or legislation addressing IVF, frozen embryos, storage, or disposition of these samples. We cannot know what the future holds, but it is unlikely there will be any type of federal legislation especially since the SCOTUS said abortion will be handled by the state governments (and CT and NY have protections in place).
Should anything change in the future, we will of course communicate that to you directly, but we do not anticipate any challenges to fertility care or treatment in CT or NY at this time.
Reproductive Rights in Connecticut
In May 2022, Connecticut signed a piece of productive legislation that expanded access to reproductive healthcare, and the right to choose has been codified into Connecticut state law.
CT governor Ned Lamont and other representatives have issued statements reiterating Connecticut's support of and continued protection of reproductive rights. The state is set to become a "safe harbor" state on July 1, 2022 for those in other states in need of essential fertility care.
"I am grateful to live in Connecticut, where our laws make it clear that women have a right to choose. As long as I am governor, reproductive rights will be protected in Connecticut and I will do everything in my power to block laws from being passed that restrict those rights." - Governor Ned Lamont
Reproductive Rights in New York
Abortion has been legal under New York State law since 1970 – three years before the Roe v. Wade decision legalized abortion throughout the country. Because the right is codified in New York State law, federal decisions like the 2022 overturning of Roe v. Wade to limit access to abortion will not impact New York State.
However, these protections extend beyond abortion, and the state of New York is actively working to expand access to reproductive healthcare and strengthen the laws that protect reproductive rights.
"I have three messages regarding the persistent assault on women's rights, and a woman's right to determine and make her own decisions about her own body. And they are simple messages: Not here. Not now. Not ever." - Governor Kathy Hochul
FAQs from Real Fertility Patients
We asked our Illume Fertility patients what their biggest questions were in the aftermath of SCOTUS' decision to overturn Roe v. Wade. These were a few of their most common concerns:
Where are my embryos stored? Are they safe?
Your embryos are safe and sound! All of Illume Fertility's patients' embryos (as well as sperm and eggs) are stored in Connecticut, presently at our Norwalk location. They will continue to be closely monitored by our skilled teams.
The offsite storage biorepository we work with is located in New York. Both states have vowed to protect reproductive autonomy, so there are no anticipated changes to any of our processes.
---
Want more mental health tips?
---
Is a miscarriage considered an abortion?
When it comes to the medical definition of miscarriage, it is often referred to as a "spontaneous abortion." This terminology can feel incredibly upsetting for many patients experiencing a loss.
In the wake of the overturn of Roe v. Wade, trigger laws in some states may challenge whether a person is experiencing a "spontaneous abortion" (miscarriage) or an "induced abortion" (a true abortion), which would undoubtedly complicate access to care and vital treatment.
There is a lot of grey area when it comes to this topic, but in Connecticut and New York, the ability for patients to access care for either a "spontaneous" or "induced" abortion will not be impacted.
Related: Navigating Pregnancy & Infant Loss
What does personhood mean?
Fertility treatment (both access and oversight) as well as the storage and disposal of frozen embryos, have been linked to many abortion laws throughout the country. These laws, as well as so-called "personhood" laws which look to define when "life begins," often mention IVF or fertility treatments.
Some states like Oklahoma and Arizona are determining that a fertilized egg be considered the equivalent of a human being, entitling this fertilized egg to the same protections under the law as a person. This would put embryo disposition and discard (among other things) into question in those states. There has been an increase in proposed personhood laws across the country, most commonly in states that already had trigger laws in place in the event that Roe v. Wade was overturned.
Can I transfer my embryos to Illume Fertility?
Unfortunately, we cannot accept embryos from non-patients and outside fertility clinics at this time, and are only able to work with Illume Fertility patients. If you have additional questions, please reach out to us.
What cryopreservation storage options do you recommend?
There are several very reputable long-term storage facilities that can take frozen specimens like Reprotech and California Cryobank, which provide secure options for those looking to transfer their embryos to a safe state for cryopreservation storage.
Is it a bad idea to grow my family right now?
This is a fair question - and ultimately, what feels right to you is what's best for your family. However, I can assure you that our physician team anticipates no changes to the excellent fertility and family-building care we're able to provide here at Illume Fertility, and are unwavering in our support of growing families. If you're ready to learn more about your options or want to ask us questions, our team is ready to help.
---
Explore your options with a fertility expert:
---
How will this affect LGBTQ+ family building?
This is a big question, with some answers still to be determined. However, what I can say is that yes, the LGBTQ+ community will be greatly affected by the overturning of Roe v. Wade, especially given their need for assistance growing their families (through surrogacy, IVF, IUI, and other means). It's difficult to say exactly what the impact will be, given the developing laws across the United States.
There is also significant (and warranted) concern that other LGBTQ+ rights may affected next. We recommend following organizations like the Human Rights Campaign and Family Equality Council for updates and resources.
Want dedicated LGBTQ+ family-building support? Visit Gay Parents To Be to learn more.
Will certain demographics be affected more than others?
Yes, lower-income populations and people of color will be impacted most by these changes. These communities already face barriers to accessing basic health care services, and the overturn of Roe v. Wade will now increase this lack of accessibility to reproductive care.
The inability to take time off from work (or afford) to travel to a state where they can receive the care they need, an already elevated maternal mortality rate for Black women, and secondary effects like an unwanted or unexpected pregnancy affecting job opportunities and higher education are all life-altering.
Related: Organizations Supporting Black Women with Infertility
A Note from Our Patient Advocate
Illume Fertility's Patient Advocate Lisa Rosenthal shares her thoughts:
"The overturning of Roe V. Wade will have monumental effects that will go far past what is being predicted or imagined. As a longtime advocate and volunteer, tasked with addressing legislators and legislation and promoting action, I suggest that we consider carefully who our leaders are and acknowledge that there will be new leaders emerging from places and organizations that are unexpected. That leader might be you."
Want to get involved? Explore the work these organizations are doing and donate, volunteer, share information with your community, or find other ways to raise your voice for reproductive justice.
Related: Infertility Advocacy Day: Why It Matters & How to Get Involved
Managing Anxiety & Keeping Perspective
Many patients (and staff) here at Illume Fertility are feeling the impact of the overturning of Roe v. Wade on their mental health. I want to validate the emotional response many of us are having - and reassure you that you're not alone in your anger, frustration, anxiety and concern over how this could impact your own family-building and the future of reproductive healthcare as a whole.
During these times, it is even more important to find ways to practice good self-care and stress reduction methods, especially if you're currently in the midst of a fertility journey yourself. Here are some of the holistic support options we offer at Illume Fertility through our Integrated Fertility & Wellness program, and some additional tips for protecting your peace:
Acupuncture (both laser and traditional)
Mental health counseling (for individuals or couples)
Take a walk outside
Call a friend or family member
Reach out to your therapist for extra support
Focus on a stress-reducing hobby
Engage with your community
Practice meditation or breathing exercises
---
Want more mental health tips?
---
How to Help Protect Reproductive Rights
Want to turn your emotions into action? Here are some ways to get involved in the fight for reproductive justice:
Call your senators and congresspeople
VOTE and make your voice heard
Join a local protest
Donate to organizations in need
Support someone seeking reproductive care
Share information and resources on social media
More Resources
Learn more about the overturning of Roe v. Wade, better understand the potential implications of this ruling, and find ways to advocate for reproductive rights by exploring the links below.
Further reading:
Take action:
Dr. Cynthia Murdock is a staff physician and a fertility specialist at Illume Fertility. She is board-certified in Obstetrics and Gynecology and in Reproductive Endocrinology and Infertility.