After navigating challenges like breast cancer, male factor infertility, and PCOS, parents share their IVF success stories.
October 11th, 2023 | 14 min. read
PCOS & Endometriosis IVF Success Stories
Conditions like polycystic ovary syndrome (PCOS) and endometriosis often lead to fertility issues, but that doesn't mean you won't be able to find success with proper treatment.
Around 30-50% of people with endometriosis struggle to conceive and up to 70-80% of anovulatory infertility cases are caused by PCOS. The following Illume patients share how they were able to overcome these challenges using IVF to grow their families.
High school sweethearts share how they discovered Nicole's endometriosis diagnosis and what it took to meet their baby boy.
In this 3-part series, a PCOS patient opens up about her long and difficult journey to becoming a mother.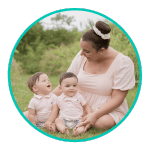 After 2.5 years of fertility struggles and disappointments, Megan and Jeff turned to IVF - and ended up with twins!
A couple shares their emotional journey through a PCOS diagnosis, three failed IUI cycles, and fighting to become parents.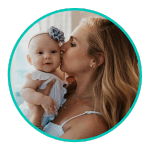 In this story, PCOS patient Virginia shares her and her husband Joe's experience at Illume Fertility on their first embryo transfer day.
Male Factor Infertility IVF Success Stories
When most people think about infertility, they assume the issue lies with the female partner. However, in around 40% of cases, male factor infertility is to blame.
After multiple pregnancy losses, egg retrievals, and embryo transfers, a couple shares what got them through it all.
PCOS and male factor infertility led this couple to IVF treatment after more than two years of trying to conceive a baby.
After struggling to conceive and discovering male factor fertility issues, they turned to ICSI and IVF, which brought a huge surprise.
Single Mom by Choice IVF Success Stories
Thanks to processes like IVF and donor conception, more women are able to realize their dreams of becoming a mother - even without a partner.
A single mom shares why she chose to have a baby without a partner -with the help of IVF and donor sperm.
After an unexpected divorce, Alison knew she wanted to give her son a sibling, so she decided to do it on her own.
IVF for Genetic Conditions Success Stories
In some cases, IVF isn't used to combat infertility, but instead to help parents avoid passing on life-threatening heritable conditions to their future children. In the following stories, three courageous mothers share their experiences with genetic disorders and infant loss.
After a shocking genetic discovery, Alyson and her husband were advised to move straight to IVF treatment.
A mom with cystic fibrosis shares her journey through IVF, twin pregnancy, heartbreaking loss and finding light on the other side.
After losing her infant son to Alper's Disease, Anna sought genetic counseling and IVF to help protect her future children.
Tubal Factor Infertility IVF Success Stories
Tubal factor infertility accounts for about 25-30% of all cases of infertility, and occurs when a blockage in the fallopian tubes will not allow the egg and sperm to meet. The following families share how IVF helped them overcome this frustrating obstacle to become parents.
After a previous ectopic pregnancy and removal of one fallopian tube, this couple turned to IVF for help conceiving their son, Levi.
When fertility testing revealed 34-year old Shiraine's fallopian tubes were damaged, the couple moved quickly into an IVF cycle.
You Deserve the Family of Your Dreams
Whether you're seeking inspiration as you prepare for an upcoming IVF cycle, in need of hope after an unsuccessful embryo transfer, or simply looking for different perspectives as you explore your fertility options, the families featured above offer a transparent account of the challenges - and the joys - that can come from pursuing IVF.
Want to learn more about IVF treatment or speak with a fertility expert? Reach out to our team today or download our Step-by-Step Guide to IVF Treatment. We wish you the best of luck on your family-building journey!