Surprise Twins After Infertility: Stephanie's Story
August 18th, 2021 | 7 min. read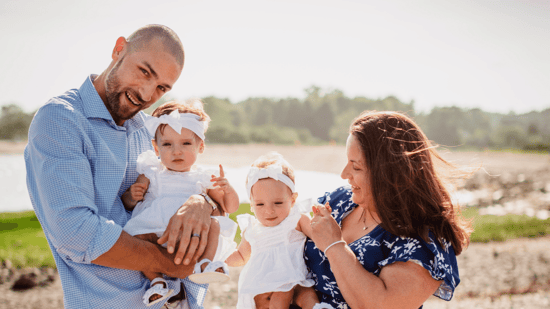 Some people dream of having twins. Some even enter into the fertility treatment process hoping for twins. But no matter what, finding out that you're pregnant with multiples is a shock! In this special Illume Fertility family story, Stephanie shares her journey through unexplained infertility, a high-risk pregnancy, and creating her family of four.
---
The 36th Birthday Promise
After five years of trying (and more ovulation sticks, supplements, books, diet changes, and yoga than I can count) we were still unsuccessful - and I wasn't getting any younger! I told myself that if I wasn't pregnant by my 36th birthday, I would take the next step.
When that day came and I still wasn't pregnant, I stalled. I was scared and didn't want to admit that there was an issue. It took me three months to schedule my consultation at Illume Fertility with Dr. Shaun Williams. Thankfully, I have an amazing friend who was a former Illume Fertility patient that recommended him and helped guide me through all the feelings I was having.
My head was spinning after that first fertility consultation! We got started right away with preliminary fertility testing and bloodwork. Since there was nothing outright that could be found as the cause of our fertility struggles, our official diagnosis was unexplained infertility.
---
Want to know more about fertility testing?
---
I was filled with mixed emotions - grateful that there was nothing further to treat, but also frustrated there was not an "official" reason we hadn't been successful.
We started with IUI as our first treatment.
After two unsuccessful rounds of IUI, our insurance luckily allowed us to move forward with IVF instead of completing a third IUI (this was one time where being a bit older was actually helpful).
Starting the IVF Process
I was completely overwhelmed when all of my IVF medications arrived. It felt like I was living my life in what felt like two-week increments. The day before my 37th birthday, I had my egg retrieval. When I found out how many eggs we had gotten, I cried. A couple of days before, we had counted so many follicles, yet only seven eggs were successfully retrieved during the procedure.
After a few minutes, I told myself "It only takes one!" and we started the wait to find out how many fertilized. Out of those initial seven eggs, only two embryos successfully made it to the blastocyst stage.
We proceeded with a fresh embryo transfer, which unfortunately did not take. We were devastated. Dr. Williams called me and said that he felt I would really benefit from an ERA. I was on board to try anything that would give me a better chance at conceiving.
The results of our ERA showed that I needed twelve hours LESS of progesterone. With our last embryo on the line, I was nervous that we would have to start all over, but also had a little more trust in the process.
Giving IVF A Second Chance
My bloodwork for our second embryo transfer would be on a Friday the 13th - I wasn't sure if that was a bad thing or a good thing (superstitions and all), but I had a good feeling about it.
When my phone rang that day, my stomach dropped. All of the sudden, I was convinced it was bad news...but it wasn't!
I will never forget where I was sitting when I heard the news that my pregnancy test was positive. I cried so hard. I spent the rest of the day at work smiling.
On December 31st, 2019, my husband and I went in for our first pregnancy ultrasound. The Physician Assistant Diana was quiet while she looked at the screen.
She asked us: "Do you see that? And that? The embryo split! You're pregnant with twins right now!" I could have fallen off that table in shock.
Editor's Note: While twins are an exciting, welcome surprise for many families, it's important to understand the risks that come along with a multiple pregnancy. Though Stephanie's twin girls were created by an amazing, natural single embryo split, some patients are curious about why we don't transfer more than one embryo at a time during IVF to increase the chance of multiples. Read more about why we advise single embryo transfers here.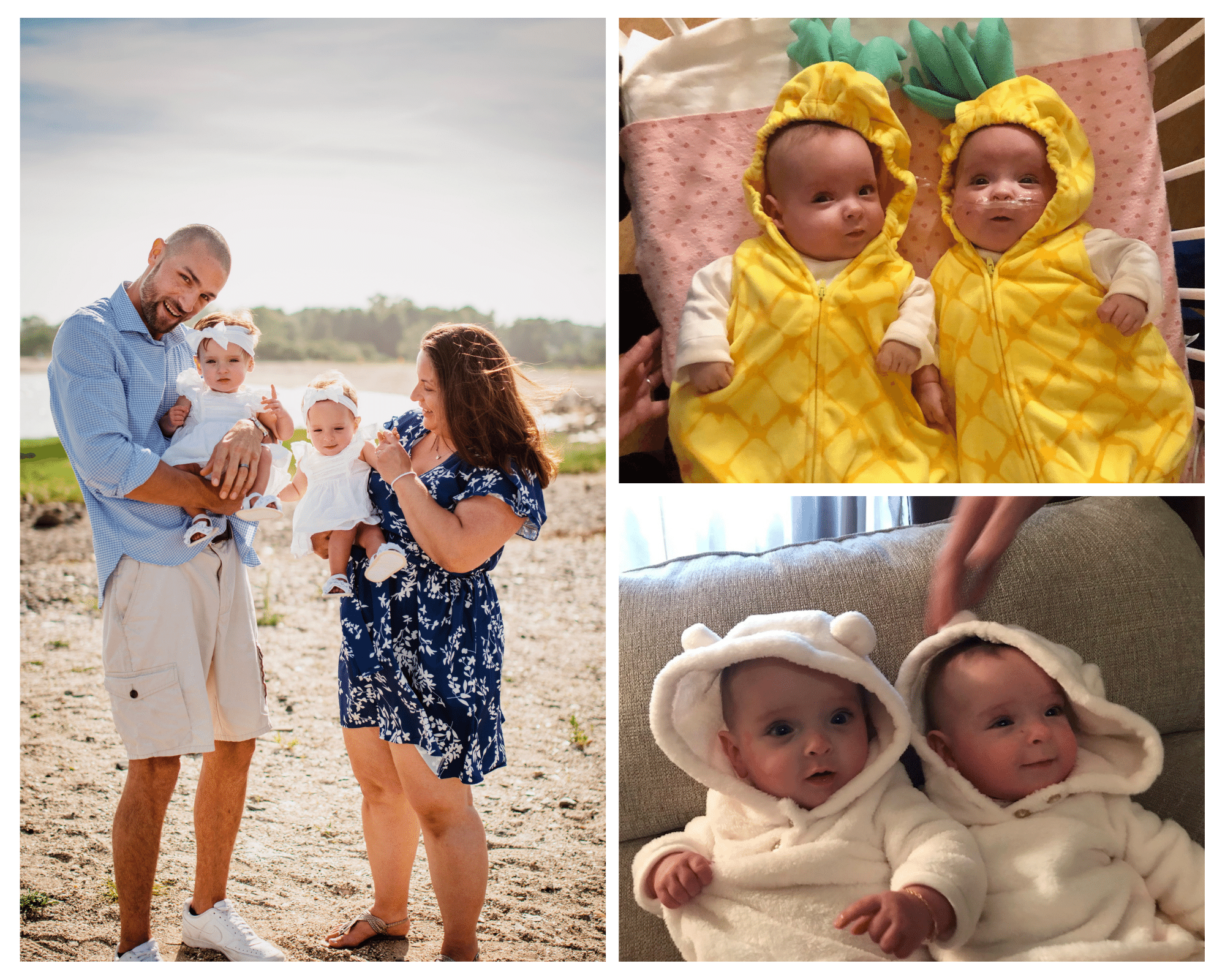 Photo credit: Krista John Photography
---
What happens after you "graduate" from a fertility clinic?
---
High Risk, High Reward
Twin B did have a slower heart rate and we were told it was possible that that twin might not make it. But at our next appointment, both of our twins' heartbeats were nice and strong. A year to the day of our consultation, we graduated from Illume Fertility.
I'm very aware that we are so fortunate to have had some sort of success within a year of fertility treatment, as it can take many people much longer.
I did have a bit of a rough, high-risk pregnancy. I developed preeclampsia and was on hospital bed rest before delivering my twin girls prematurely at 27 weeks, 2 days. We had a very long and difficult NICU stay, but I'm glad to say we are all doing well and making the most amazing memories!
Twin life is definitely overwhelming, busy and awesome - all at the same time! But we wouldn't have it any other way.
Tips for Other Fertility Patients
Finding out you need the help of a fertility specialist to get pregnant is surprising - and not in a fun way. Fertility treatment also puts you through the wringer, both physically and emotionally. Here are some things I learned along the way, and what helped me get through it all.
Surround yourself with good friends and great support

Fertility treatment isn't always a quick fix - it takes some trial and error

Your hormones will be all over the place, and emotions can be overwhelming
Ask your Care Team as many questions as you need to feel confident
Share your story if you're comfortable being open about fertility treatment
I'm so grateful I had a friend who also went through fertility treatment to help guide me and share that common bond with. I do wish I knew beforehand that fertility treatments don't always work the first time, and sometimes not at all!
I also wish I knew how much the medications and hormones you are pumping into yourself really, really throw you for a loop. I was so uncomfortable at times, my emotions were all over the place and I felt scared about what would happen next.
I asked a lot of questions so that I could fully understand what my body was going through. My poor nurse, Linda, was probably so sick of seeing my emails!
The Power of Sharing Your Story
After being open about our fertility journey, I learned that so many other women in my life had also gone through infertility. While I don't go around telling everyone that I went through IVF, I'm also not keeping it a secret.
My hope is that it helps someone else feel less alone while they are going through it. I also hope that if you're in the midst of your own fertility journey, you have someone in your life that understands the feelings associated with everything that goes along with infertility. It makes such a difference.
I'm so grateful for Illume Fertility. I always wanted to be a mother and they truly made our dream come true!
---
Want to give hope to others by sharing your experience?
---
Editor's Note: A big thank you to Stephanie for sharing her journey to becoming a mother with us. We know how personal each person's fertility experience is, and it takes courage to tell your story! We celebrate each and every journey and know just how much hearing these stories can help encourage those on a similar path to parenthood.
Read more Illume Fertility patient stories, join our community or reach out to take the next step on your own fertility journey today!
Sierra Dehmler is Illume Fertility's Content Marketing Manager - and also a fertility patient herself. Combining empathy gained on her personal journey with her professional experience in marketing and content creation, she aims to empower and support other fertility patients by demystifying the fertility treatment process.