Holidays at Home | Managing Seasonal Stress While Going Through Fertility Treatment
December 11th, 2020 | 6 min. read
By Emma Lott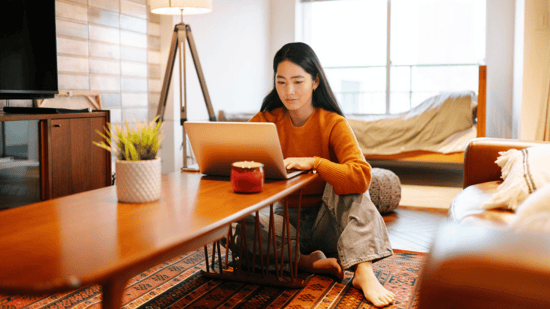 As little children, the holiday season is a time of wonder. Gifts, twinkling lights, and tons of holiday sweets and treats - who could ask for more? However, once we grow up, that childlike wonder is often replaced with financial woes, stress about sourcing the perfect present, and dealing with distant relatives asking far too many personal questions. Aunt Muriel, please stop asking when we're going to have kids!
Speaking of personal questions that cross the line...
If you're trying to conceive or going through fertility treatment during the holidays, the added stress and scrutiny can be overwhelming. Add in this year's specific challenges and it can be easy to feel, well...not very jolly.
Here at RMA of Connecticut, we believe that building a family is about your holistic health and wellness, not just hormone levels. That's why, this year, we're hoping to make your holiday season a little brighter, cheerier, and more manageable. Our team of Integrated Fertility and Wellness experts pulled together a set of easy tips to help you lessen anxiety, tension, and stress during this season with their video series Holidays at Home.
Holidays at Home Video Series
From nutrition swaps and a guided meditation to at-home acupressure and an anxiety quick fix, we've got you covered with real stress-relief tactics you can do at-home, all by yourself.
Keep scrolling for a quick written recap of each holistic Holidays at Home video, or watch the full clips to see our experts demonstrate them for you.
Fertility-Friendly Holiday Nutrition Swaps
We love Registered Dietitian Nutritionist Jill Hickey for giving us realistic ways to incorporate healthy foods into our routine all year round. She suggests some ways that you can swap in fertility-friendly foods for some classic holiday indulgences.
Read her top 3 tips below, or watch the video for all her swap suggestions!
Tip #1:

Add in some color! Opt for sweet potatoes or butternut squash as colorful, nutritious sides to balance your meal.

Tip 2: Opt for spice over sugar. Instead of white chocolate or eggnog, reach for dark chocolate or warming teas (like cinnamon, vanilla, and peppermint) to give you all the holiday warmth without the sugar rush.

Tip 3:

Most importantly, try not to dwell on one day's nutrition. Enjoy time with the ones you love, and don't let the food stress you out. Tomorrow will be a new day.
Quick Trick for Managing Seasonal Stress
While we love the idea of a spa getaway to mitigate some of the stress that accompanies this time of year, it's not always feasible (especially during a pandemic).
In this video, LCSW and Director of Mental Health Services, Lisa Schuman, demonstrates an easy and effective way to recenter - and all it takes is your index finger and your thumb!
This exercise from Lisa will help you shift your mindset and get ready to tackle the upcoming weeks with ease.
A Guided One-Minute Meditation
Did you know that meditation is also a form of yoga?
It is, and for the fertility warrior (or anyone experiencing stress) a quick moment of meditation can help to bring calm and clarity throughout the day.
Patient Advocate and founder of RMA of Connecticut's Fertile Yoga program, Lisa Rosenthal, actually practices a similar meditation multiple times per day! This guided meditation allows you the space to reset your mind and heart, and restore some peace to this time of year.
We invite you to join Lisa and breathe in hope and peace, and exhale worry and stress. Or, set your own timer for one minute and practice on your own - anytime, anywhere!
Acupressure Points to Relieve & Prevent Tension
Acupuncture has been proven to improve implantation rates and relieve stress - which can be key to making it through a fertility journey. In this video, Amy Matton (Acupuncturist and Doctor of Chinese Medicine) demonstrates that you don't have to be an acupuncturist to reap some of those relaxing benefits this holiday season.

The acupuncture point Amy shows us above is used to treat anxiety, stress, depression, and pain, and you can easily tap into this point using at-home acupressure - no needles required. This point can be used to help relieve anxiety or stress, or as a preventive measure.
Holistic Health During the Holidays
No matter where you are in your fertility journey, remember that this time can be stressful for everyone, and you're not alone. Try to take deep breaths, practice self care, wash your hands, and drink lots of water to stay well - on top of everything else, we can't forget that it's flu season!
If you're currently going through fertility treatment or just looking for more support, we encourage you to join one of our virtual support groups.
---
Connect with us one-on-one, or in a group setting! Our virtual groups are a great way to connect, get support, and find community.
---
Many of our virtual support groups (including Ladies Night In and Fertile Yoga) are hosted by Lisa Rosenthal, our longtime fertility Patient Advocate.
To further help with holiday stress management, check out this BONUS Fertile Yoga video. Pssst - this spine series is also good for anyone who's sitting at a desk working from home, not just those trying to conceive!
Happy Holidays from all of us here at RMA of Connecticut!
We hope that this Holidays at Home series and our many other resources help you get through the holiday season with less stress, and more joy and peace. We wish you all the best on your journey - wherever you might be.
Emma Lott is the former brand specialist for Gay Parents To Be and former Project & Events Manager for Illume Fertility. Her efforts focused on supporting and resourcing LGBTQ+ patients on family-building journeys, and project management and event production for our greater Illume community.