5 Fertility Superfoods to Eat While Trying to Conceive
Trying to conceive? Optimize your preconception nutrition with these delicious, dietitian-approved fertility superfoods.
March 31st, 2023 | 9 min. read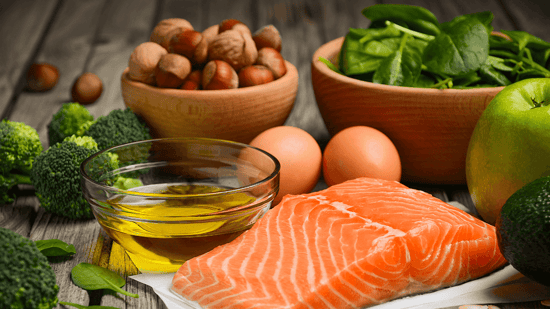 At one point or another, most of us have wondered what "magic" food could help us lose weight, improve our mood or boost our energy levels. For fertility patients, the question becomes "What foods will help me get pregnant?" While there aren't any foods that can guarantee conception, incorporating these fertility superfoods can help set you up for success.
In this article:
What foods will increase chances of conception?
It's a question we get asked often here on the Illume Fertility Nutrition Team, and one I wish I had a magic answer to.
While I can't promise that simply eating pineapple will get you pregnant, I can offer you some foods that give you, as I like to say, a great "bang for your buck" - or in other words, many great fertile-friendly benefits in one bite. After 20 years working in the field of nutrition, I've collected many different fertility diet recipes, snack ideas, and foods to recommend.
Even so, as a registered dietitian nutritionist working with fertility patients, my goal is to not only offer nutritious food options that can help boost your fertility, but also (and some would say, more importantly) empower you with the ability to make healthy choices for yourself that can impact your energy and reproductive health.
Being armed with this knowledge can also help ease some of the stress you may be feeling by allowing you to take back some control in a situation that can feel so out of your hands.
What are fertility superfoods?
Nutritionally speaking, there's no official definition of a superfood, but many companies use the term liberally to market their products. However, there are certain foods that include an amazing variety of nutrients that are beneficial for fertility!
Those are the "fertility superfoods" we'll be referring to in this article.
5 Fertility Superfoods to Eat While TTC
This isn't a magic, all-encompassing list by any means, but here are five delicious foods you can eat to ensure you are giving your body the important nutrients it needs to optimally support fertility and your journey to pregnancy.
1. Salmon
This popular fish is an excellent source of omega-3 fatty acids, as well as protein.
The Fertility Benefits of Salmon
Omega-3's can have a positive impact on your heart health, help reduce inflammation (important when trying to get pregnant), and provide DHA, which is beneficial for baby's brain and nervous system development once pregnant.
Our bodies can't make these beneficial and "essential" fats on their own, so incorporating food sources into meals or snacks when we can is helpful.
There are other great "fatty" fish to choose from, salmon is generally the safest choice when considering mercury levels. Try to choose wild salmon for a cleaner version.
How to Eat Salmon
There are many delicious ways to incorporate salmon into your diet!
Here are a few options:
Grill it up with veggies
Roast it with broccoli and sweet potatoes on a sheet pan for a perfectly balanced dinner
Take the above leftovers to work over a bed of leafy greens for an equally balanced lunch
Choose a grab-and-go "snack pouch" of salmon paired with whole grain crackers for a balanced snack
Not a fan of fish? Try walnuts! They can be a great addition to salads, sauces, oatmeal, and paired with fruit for snacks as a plant based source of omega-3's.
2. Berries
These brightly-colored juicy bites prove good things come in small packages! Berries are loaded with fiber (which is great for helping you feel full) and can satisfy a sweet tooth without the added sugar of a sweeter treat like chocolate.
Fertility Benefits of Berries
Even more importantly, berries are packed with antioxidants (like vitamin C and vitamin A; strawberries even contain CoQ10) which can help fight free radicals, leading to healthier sperm and eggs.
Other great sources of CoQ10? Eggs, nuts, and oily fish!
How to Eat Berries
Berries are a versatile food you can eat fresh, frozen or dried. Blueberries, raspberries, strawberries, blackberries...the list goes on! I recommend the following ideas:
Add them to salads for a fresh new flavor
Toss them in your yogurt or oatmeal for a nutrient-rich breakfast; add some nuts for the perfect balance
Try frozen berries for a sweet after-dinner treat
Pro tip: Be sure to check out EWG's "Dirty Dozen" list to make the choice that is best for you and your family (organic vs not), then rinse your berries well and enjoy!
3. Spinach
You can pretty much choose any dark leafy green vegetable, as they are all low calorie, high fiber, nutrient-packed additions to any meal. These three qualities help you to feel full and satisfied, yet also nourished.
Fertility Benefits of Spinach
Spinach is an especially great source of nutrients like folate and iron, and is also rich in antioxidants (similar to those mentioned above).
Yes, your prenatal vitamin does contain folate, though it may be in its synthetic form, folic acid, or the more bioavailable form, methyl folate. This is an important nutrient needed before and during pregnancy that helps prevent neural tube defects in babies.
Even when you are taking a prenatal vitamin, eating foods that are naturally rich in folate (such as spinach, chickpeas, broccoli, asparagus or lentils) is still beneficial, as they contain other vitamins, phytonutrients and antioxidant properties found in the whole foods as well.
How to Eat Spinach
Blend together with your favorite milk or yogurt, fruit, and nut butter for a smoothie (though the color of your smoothie will be a giveaway, it can be a sneaky, easy way to get your greens in)
Sauté spinach and add to pasta dishes
Add to your eggs for a bright, colorful breakfast
4. Eggs
Yes, eggs! In particular, egg yolks. Despite their bad rap, eggs can be a part of a well-balanced diet and also help you meet your daily intake of choline.
Fertility Benefits of Eggs
What is choline? This nutrient is one that has been under the radar for a while, but with growing research supporting its role in maternal health, as well its ability to reduce the risk of neural tube defects and support baby's brain development, it's becoming more of a "buzz word" and is an important consideration for those trying to conceive.
Don't like eggs? Other choline sources include ground beef, chicken, soybeans and broccoli, to name a few!
One large egg yolk gives you around 147 mg of choline towards your recommended intake of 425 mg/day. This daily choline intake goal increases to 450 mg/day and 550 mg/day during pregnancy and lactation, respectively.
Eating the whole egg is also an easy source of protein, as well as several micronutrients that include vitamin D, B12 and CoQ10. In short, eggs are a fertility-friendly powerhouse!
How to Eat Eggs
Cook eggs up 'your way'- over-easy, scrambled, poached, or in an omelette
Make egg cups ahead of time (use muffin cups!) and take them on-the-go
Put an egg on top of avocado toast - always a crowd pleaser
Add eggs to your salad for easy extra protein
Who doesn't love breakfast for dinner? Try a quiche or frittata with eggs and veggies!
5. Full-Fat Dairy
Yes, full-fat! This isn't necessarily what we have been "trained" to choose for heart health or weight management. However, reframing your thinking around full-fat dairy can be a beneficial shift, especially when becoming pregnant is the goal.
Research has found that one or two servings of full-fat dairy each day are beneficial for ovulatory function and fertility. According to this study, high intake of low-fat dairy foods may increase the risk of anovulatory infertility, whereas intake of high-fat dairy foods may actually decrease that risk.
Another plus? Dairy is higher in protein than most other carbs.
Considering the above, plus its calcium and vitamin D content, including full-fat dairy in your diet can give you great "bang for your buck."
Worried about the extra calories or your cholesterol levels? Understandable!
However, instead of eliminating this nutrient-packed full-fat choice, take a closer look at other sources of extra calories or saturated and trans fats that you could cut back on or modify (such as fried or fast foods) – and keep full-fat dairy, with all its fertile-friendly benefits, as part of your balanced diet.
How to Eat Full-Fat Dairy
Add milk to oatmeal or other whole grain cereal with berries or other fruits for a great start to your day
Try Greek yogurt as a protein source in your smoothie
Include cheese in your sandwich at lunch
Pair cottage cheese with fruit or whole grain crackers for energy-packed snack
Note: Plant-based milks (such as oat milk and almond milk) may not have the same full-fat benefits as their "cow's milk" counterpart, but they still have a lot to offer, as they are often fortified with calcium and vitamin D.
Food sources like salmon, broccoli, tofu and garbanzo beans are naturally rich in calcium. Including 2-3 servings of calcium-rich foods daily can help you meet your daily calcium goals (aim for 1000 mg/day) and also make for healthy bones and teeth.
Eating with Fertility in Mind
It can be tricky to separate fact from fiction and good advice from gimmick when it comes to fertility and nutrition.
While there are no "magic" fertility foods, working to include these superfoods (or any variety of nutrient-rich, "bang for your buck" foods) in your day can help you get some of the nutrients your body needs to support you on your journey to pregnancy and beyond.
We encourage you to reach out to our Nutrition Team for personalized, one-on-one guidance that will help you embark on your fertility journey armed with confidence and the tools you need to succeed. Ask your nurse or navigator to help you schedule a consult today!
Jill is a Registered Dietitian Nutritionist who has been providing nutrition guidance to children and adults for over 20 years. She currently supports both PCOS and fertility patients at Illume Fertility with her broad experience and unique perspective. Jill is passionate about helping people work towards their healthiest selves by providing evidence-based, sustainable, personalized diet and lifestyle guidance.