Summer Salads: Delicious Seasonal Recipes for Your Fertility Diet
July 13th, 2022 | 6 min. read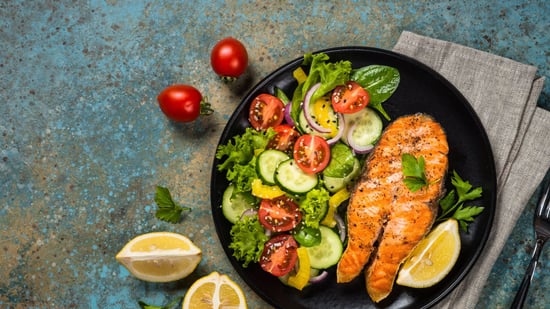 It's that lovely time of year…
Sidewalks are bustling, dining is al fresco, and people are either preparing for a beach vacation or are just getting back from one. Ah, sweet summertime!
What else is sweet about summer? The bounty of fruits and vegetables that are perfectly ripe this time of year. So if you're trying to conceive or simply working on your overall wellness, it's a great time to take advantage of all that fresh produce to create a healthy, balanced plate.
Skip to a section:
Why Eating Seasonally is So Beneficial
Crispy cucumbers, juicy tomatoes, sweet peaches and tangy melons are just a few of summer's great grows and in turn, the best ingredients for your freshest meals. So many yummy fruits and veggies are at our fingertips!
Our nutritionists also recommend considering eggplant, arugula, green beans, zucchini, and corn while you're walking around the produce section of your grocery store or better yet, your local farmers' market. Not only will these crops be the best tasting and help you in your wellness journey, they will also be easiest on the wallet. Choosing in-season produce is a great way to eat healthy and fresh foods!
Did you know? We have a full Integrated Fertility & Wellness program here at Illume Fertility, offering acupuncture, counseling, nutrition, support groups and more. We encourage you to explore your options!
That's not to say that eating seasonally is always easy… it takes preparation, assembly, and a willingness to improvise with what's available. And let's be honest: when you're struggling with fertility and your energy is depleted, any kind of short cut (especially in the kitchen) may seem tempting. We get it!
But what if you looked at food as an essential part of achieving your end goal? What if building a balanced, nutritious plate could also help you build your family? Making fresh, seasonal choices when it comes to food will benefit not only your health, but help you achieve your bigger goals too.
---
Get tips straight from our nutritionists!
---
Try These Summer Salad Recipes
Below are two easy recipes to help you add some seasonal variety into your fertility wellness journey. They are the perfect complement to summer meals, high in nutritional value, and most importantly, delicious!

First up, the perfect side salad for your afternoon barbecue! The Cucumber and Tomato Salad with Yogurt Dressing is like summer in a slaw. Traditional mayonnaise is replaced with full-fat yogurt, supplying a rich dose of calcium and protein. Also in the salad? Vitamins A and B - and a certain crispness you'll only get in the summer.
Did you know? Studies have shown that people who enjoy full-fat dairy products are typically leaner than those who opt for the no-fat/low-fat varieties!
Cucumber, Tomato & Mint Salad with Yogurt Dressing
Makes 2-4 servings
Ingredients:
2 cups plain full-fat yogurt
1 garlic clove, crushed
½ tsp ground cumin
1/8 cup (or more) mint leaves, thinly sliced
1/8 cup cilantro, chopped
1 large cucumber (or 2 medium)
½ cup diced tomato
Salt and freshly ground pepper, to taste
Directions:
In a medium bowl, mix together the yogurt, garlic, and cumin.
Peel and de-seed your cucumber and grate about a cup's worth over a paper towel. Strain the excess moisture out over your sink by wrapping the paper towel around grated cucumber and gently squeezing.
Dump the grated cucumber, diced tomatoes, sliced mint leaves, chopped cilantro, salt, and pepper into your bowl. Mix well.
Serve immediately or store in your refrigerator for up to two days.
Looking for a more robust, entrée level salad? Enter the Salmon and Summer Vegetable Rice Salad. This dish packs a nutritious punch with healthy grains, protein, omega-3s, and conception-friendly folate. What's more, this salad is super versatile, making it a great option for all seasons!
Pro tip: Just replace the veggies below with butternut squash in the fall, Brussels sprouts in the winter, or arugula in the spring. Another variation can be your choice of grain. We've shown it here with brown rice, but quinoa or farro would make great substitutions! As you gain a greater kitchen confidence, this salad will transition through the year and allow you to be more experimental.
---
Want a step-by-step guide for TTC?
---
Hearty Salmon and Summer Vegetable Rice Salad
Makes 2-4 servings
Ingredients:
3 hard boiled eggs
1 cup of dried brown rice
4 ounces green beans
2 six-ounce cans wild pink salmon (or fresh salmon)
1 cup cherry tomatoes, halved
1/3 cup black or green olives, pitted and chopped
¼ cup red onion, finely chopped
3 tbsp olive oil
2 tbsp red wine vinegar
1/8 cup parsley, chopped
Salt and freshly ground pepper, to taste
Directions:
Cook rice according to directions
While rice cooks, prep green beans. Trim and cut into 2-inch pieces. Boil for 3-5 minutes or until crisp tender. Strain and run cold water over the beans.
Add the cooled beans to the cooled rice, along with all the other ingredients.
Serve immediately or refrigerate for up to one day.
Why is fertility nutrition so important?
While there are many factors when it comes to fertility success, many of them often feel out of our control. Focusing on what you can control (like your nutrition) is one of the best ways to lower stress and help you feel more empowered as you work to achieve your fertility or family-building goals.
We say it all the time, but fertility really does start with your lifestyle, and summer is a great time to take your wellness outdoors with the ones you love. Enjoy a walk on the beach or a swim in the lake and toss a delicious seasonal salad into the mix to fuel your adventures! Trying new, healthy foods is just one pathway to wellness, and ultimately, fertility.
Our registered dietitian nutritionist team at Illume Fertility is always happy to help you create sustainable nutrition and lifestyle habits, so don't hesitate to reach out for support from our experts at any point on your fertility journey! If you're a current patient, ask your Patient Navigator or nurse to get you set up with an appointment, or reach out to us to learn more.
---
Feeling overwhelmed? Try these tips:
---
More Fertility Nutrition Resources
Looking for additional information about how nutrition and movement can impact your fertility? We've got you covered! Explore these guides to learn more:
Sierra Dehmler is Illume Fertility's Content Marketing Manager - and also a fertility patient herself. Combining empathy gained on her personal journey with her professional experience in marketing and content creation, she aims to empower and support other fertility patients by demystifying the fertility treatment process.