Flu Season & COVID-19 | Is the Flu Shot Safe During Pregnancy?
October 25th, 2022 | 7 min. read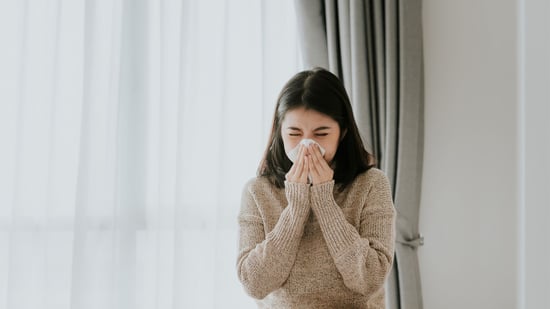 With flu season ahead and COVID-19 still making the rounds, it's more important than ever to safeguard your health. But when you're trying to conceive or pregnant, it's only natural to have additional concerns about vaccine safety. Read on to get your questions answered and stay safe this fall and winter!
In this article:
Is the flu vaccine safe during pregnancy?
Here's everything you need to know about the flu shot and family building.
The American College of Obstetricians and Gynecologists (ACOG) continues to recommend that all women receive the influenza vaccine. ACOG maintains that the flu vaccine is particularly important for pregnant women as pregnancy brings about changes in your immune, heart, and lung functions that can increase the severity of flu-related illness.
As a result, this vaccination has become an essential element of prenatal care.
Catching the flu also increases your chances for serious problems for your developing baby, including premature labor and delivery. Additionally, newborns and babies are among the most vulnerable to the ravages and complications of the influenza virus.
Some complications of the flu, such as pneumonia, can even become life-threatening. This and other complications are a compelling argument as to why it's especially important to obtain the flu vaccine if you are trying to conceive or if you are pregnant or hoping to become pregnant.
Note: If you get the flu shot during pregnancy, the vaccination provides newborns protection through placental antibody transfer. Maternal vaccination is the most effective strategy to protect newborns because the vaccine is not approved for use in infants younger than six months.
When should I get my flu shot?
Flu seasons vary in their timing from season to season, but CDC recommends getting vaccinated by the end of October, if possible. This timing helps protect you before flu activity begins to increase.
Get the flu shot if you are pregnant during flu season—it's the best way to protect yourself and your baby for several months after birth from flu-related complications.
You can ask your doctor about where to get your flu shot if you're uncertain, but most pharmacies (think: CVS, Walgreens, etc.) have flu shots available, as do most doctors' offices, urgent cares and other providers.
Should I get a bivalent COVID-19 booster?
On September 2, 2022, the newest COVID boosters were rolled out - they are referred to as bivalent boosters.
Whether you've been vaccinated previously, had COVID, had a booster...you may qualify for a new bivalent booster shot as well! Check out the CDC's handy online tool to see whether or not you should get one.
You can also watch Dr. Cynthia Murdock explain how these bivalent boosters work and how viruses evolve here!
---
Get all the facts about COVID-19:
---
The Flu & COVID-19: What Do We Know?
Most of us are tired of hearing about (and thinking about) COVID-19.
We're tired of following precautions like wearing masks, socially distancing, washing our hands, testing before seeing friends, and constantly considering risk factors. It's been a long couple of years! But it's essential that we all continue to protect ourselves and those around us as best we can so we all stay as healthy as possible.
Now that we are a couple of years into the COVID-19 pandemic and know a bit more about the virus, there is more data to reference. While there are still some unknowns, the following facts are clear:
You can have COVID-19 and the flu at the same time.
According to Johns Hopkins University, it is possible to carry both viruses concurrently. Having both together can impact the overall severity of how you are affected by each illness, as opposed to having only one at a time.
Flu and COVID-19 symptoms look a lot alike.
Especially because the intensity of the flu and COVID-19 varies so drastically from person to person, the illnesses can expose themselves similarly. If you start feeling flu-like symptoms, you should contact your doctor immediately and assume a self-quarantine. Your doctor will likely conduct a flu or COVID-19 test to determine your exact illness.
Get a flu shot and follow current COVID-19 guidelines.
If you are TTC or pregnant, these steps are especially important, but everyone should do these two things!
Common Flu Symptoms
The flu is much more dangerous than a bad cold, and though the symptoms are often the same, they don't usually appear in the same order or with the same initial intensity. The flu comes on very abruptly, as opposed to a cold, which comes on gradually. Note: A fever is atypical (not common) with a cold in most adults.
Symptoms of the flu include:
Fever
Headache
Fatigue
Muscle aches
Coughing
Sore throat
A cold typically starts with a sore throat and stuffy nose and symptoms start to resolve themselves 3-5 days later. Flu symptoms last longer, often adding on to each other, and often get worse before they start to get better.
However, these look very similar to COVID-19 symptoms, as mentioned above. When feeling any of these symptoms, there is not a clear distinction between the two. We highly recommend contacting your physician and possibly getting a flu and COVID-19 test so you know how best to treat your illness.
Ways to Avoid the Flu (& COVID-19) When Pregnant
Research shows that the single best way to avoid the flu is to get a flu shot. When it comes to COVID-19, experts suggest getting vaccinated and boosted is the best way to prevent serious illness and hospitalization due to the virus. Whether you're trying to conceive or are already pregnant, the benefits of getting vaccinated against both flu and COVID-19 are clear.
In addition to vaccination, there are many more ways to maintain a healthy body and mind.
One simple way to enhance the efficacy of the flu shot and prevent COVID-19 transmission is consistent hand washing. That means soap, warm water, scrubbing each finger completely. How long should that take? According to the World Health Organization, singing "Happy Birthday" twice should do the trick (around 20 seconds).
Also, wearing your mask can not only help protect you, but it can keep those around you safe as well.
---
Get Our FREE 90-Day TTC Checklist!
---
How to Stay Healthy This Flu Season
Just as they do year-round, our concerns for you extend far past your fertility treatment cycle. They extend to your overall wellbeing. Your health. Your needs. We want you to be as healthy as possible as you work towards your family-building goals.
If you have any concerns or questions about the flu or COVID-19 vaccines, ask your nurse or doctor at any visit, or reach out by email or phone any time. We're always happy to provide information or reassurance.
So, here are our key takeaways:
Book an appointment today to get your flu shot
Consider getting your bivalent COVID-19 booster shot at the same time
Mask up indoors around large groups of people to keep winter germs at bay
Wash your hands thoroughly and frequently and use hand sanitizer
Do everything you can to support wellness - eat healthily, get enough sleep, move your body, reduce stress
Ask your doctor if you have any questions about vaccines or staying healthy while TTC or pregnant
Keep these tips in mind to stay as healthy as possible throughout flu season and beyond.
Did you know? We have an entire program dedicated to holistic wellness support here at Illume!
More Resources
With 30+ years experience in the fertility field, as well as navigating her own infertility, Lisa has dedicated her life to advocating for and supporting those struggling to grow their families. Her work includes serving as Illume Fertility's Patient Advocate, Strategic Content Lead, and founder of Fertile Yoga, as well as advocating for those with infertility at RESOLVE and other organizations.