Can You Take a Break from Fertility Treatment?
February 19th, 2021 | 6 min. read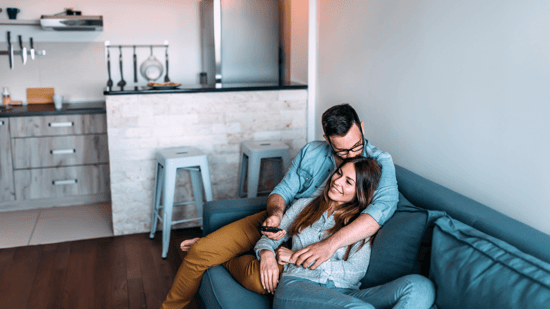 Taking a break during fertility treatment can be a real gift to yourself (if you can bring yourself to actually take the time off). One might even think of "time off" as, gasp, a vacation! A vacation from the doctor's appointments, monitoring, testing, procedures, blood draws, and more.
With everything that's happened over the past year, many vacations have turned into staycations, so we'll also explore if there's a way to turn the everyday into something special, interesting, and more relaxing.
3 Things to Consider When Taking a Break From IUI or IVF
When

—

Fertility cycles can take up to 8 weeks. Give yourself a generous cushion of time so that you don't have to cancel mid-cycle, and so that you can start treatment again when you're ready.

Check with your fertility team about the timing of the cycle you're coming back to.

Where

—

It's likely going to be a staycation these days, whether you're planning your fertility treatment cycle, about to start a cycle, or at the end of one. However, if you are going away, please stay safe! Our suggestion is to take an "off" vacation. For example: Is everyone going north? Then we recommend you go south. Or vice versa.

Speak to your physician about any travel-related restrictions that they may have in place related to COVID-19.
Budget

—

What can you afford? Fertility treatment is expensive, even with good insurance coverage. This is a great time for using credit card "points" for the plane tickets or hotel, or taking advantage of less popular destinations.
Should I Take a Vacation During Fertility Treatment?
So, do you plan a vacation or staycation? Is it frivolous to even consider it?
First of all, no. It's not frivolous to want a vacation, even while you're in fertility treatment. More to the point, you deserve a vacation - especially when you're in fertility treatment.
We all need time off for good behavior! We also need time and space to process disappointing results. Taking time off is not always an easy decision to make when you're trying to conceive. We all want to be taking advantage of each reproductive cycle that we possibly can. And if you're over 35, the feeling that time may be "running out" creates an almost unrelenting pressure. No matter what your age, the thought that "this might be the fertility treatment cycle that works" makes it really hard to take a cycle off.
The Upsides of Taking Time Off From Fertility Treatment
What are the benefits of time off?
No injections
No ultrasounds
No medications
No doctor visits
No testing
No stress from the cycle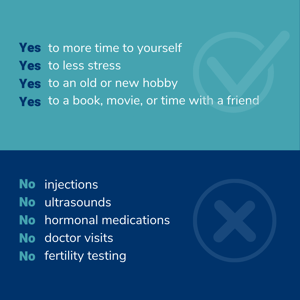 Taking a break from these less than pleasant activities is both helpful and restorative, especially if you have been at it for a while. It may only be apparent how stressful treatment has been when you do take a break and focus on other areas in your life. You may rediscover time for the hobbies that you enjoy, books that you've wanted to read, friends you want to spend time with, or something new that sounds fun – even from the comfort of your own home!
Will you forget about trying to conceive during your time off? That's not actually the point. The gift of taking time off is simply that—allowing yourself to recuperate physically, emotionally, and spiritually from the rigors of treatment. It allows you to take a rest. Many fertility patients who do take time off report it to be restorative and calming. Some even say that they do forget about fertility treatment for periods of time!
Here are some tried and true 30 second breaks you can try. Take one, and see if it helps!
Taking a vacation, whether it's for 30 seconds, a few days, a week, or a few months, usually means going back to fertility treatment less exhausted and more hopeful. Fertility treatment often seems easier after a little time off. Plus - cycles can be more successful if the body, mind, and heart are rested.
How to Plan Your Vacation Around Fertility Treatment Cycles
Fertility programs have down times where they don't do IVF cycles. Find out when they are and take advantage of those times for planning time off or away. (If you are in fertility treatment and there is a wait time to start a cycle, instead of getting frustrated, choose to go somewhere beautiful, or spend that time at home doing something creative and fun.)
If you are a teacher, summers are a great time to cycle, and a spring break vacation might be the best time to get away.
Consider buying trip insurance so that if a fertility treatment cycle goes longer than planned, there will be no reason for panic because your trip can still be rescheduled.
Plan a staycation. Look around at what you can do in your own area with an easy day drive. Rediscover beauty and the fun right where you live.
If you choose to plan a staycation, you'll inevitably save money on flights and hotels. So I would suggest you indulge in at-home spa treatments, materials for a new hobby you've always wanted to try, or online classes that soothe the soul.
Another way to recenter yourself during fertility treatment may be to take a mental vacation – using a mantra. We have an easy guide to how to create your own fertility mantra here.
If you are going to fly somewhere, check the current recommendations from the CDC (Centers for Disease Control and Prevention). You'll need to know about any quarantine restrictions upon coming home. They also have an ever-changing and up-to-date coronavirus section on their website.
Note: Any possible exposure to a virus like Zika will postpone fertility treatment cycles. For men, freezing sperm before your trip may be necessary to eliminate any wait time after potential exposure to a virus.
---
Learn more about protecting yourself from warm weather viruses like Zika & Lyme here.
---
Work With Your Fertility Program
Taking a vacation during fertility treatment is more challenging than it would normally be, no question about that. Our last, and most helpful suggestion, is to work with your patient navigator or fertility nurse when planning a vacation. They will have specific suggestions based on your history that will help you to relax before, during, and after your vacation.
Also, remember that even taking a weekend off can be restorative if you plan it around what you need, which may be swinging in the hammock while reading a novel of your choice, hiking a mountain, or listening to your favorite band.
We know that heightened concerns surrounding travel restriction and COVID-19 can add even more stress to the process of fertility treatment. Learn more about navigating your fertility journey and COVID stress from our holistic wellness team.
With 30+ years experience in the fertility field, as well as navigating her own infertility, Lisa has dedicated her life to advocating for and supporting those struggling to grow their families. Her work includes serving as Illume Fertility's Patient Advocate, Strategic Content Lead, and founder of Fertile Yoga, as well as advocating for those with infertility at RESOLVE and other organizations.