8 Thoughtful Gift Ideas for Those Going Through IVF
December 3rd, 2020 | 6 min. read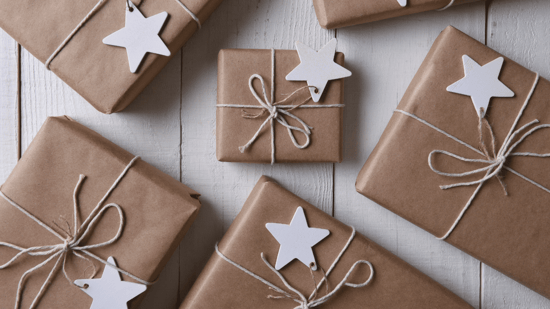 1 in 8 couples experience infertility, which likely means you or someone you know has gone through or is currently navigating this experience. It can be a short journey for some, long for others, but at some point, it's mentally and physically draining for almost everyone going through the process.
2020 Has Been Rough.
End it With Something Special.
The holidays can be especially difficult for those who are experiencing infertility - the extra focus on family can be hard if you're struggling to grow your own. Then take into account that we're in the middle of a pandemic where everyone is dealing with their own financial, professional, family, and added health issues. To put it simply: it's a lot.
If you're looking for some great stocking stuffers, items to add to your own list, or just looking for a reason to spoil yourself during this journey, these items are the answer to a more relaxing and motivational IVF journey.
Gift Ideas For The Fertility Warrior
Calming Candle $8.00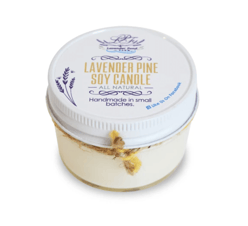 This all-natural soy wax candle has organic lavender buds and is hand poured into a reusable jelly jar. Lavender aromatherapy has been studied and shown to reduce stress, anxiety, and depression for patients. This particular candle has an addition of pine in it to bring out that winter aroma. Available in 4oz and 8oz jars. Support a local Connecticut farm!
Pineapple Boo Boo Pack $8.25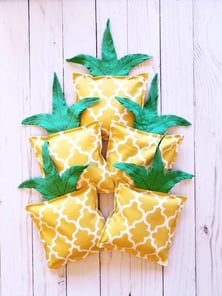 These adorable boo boo hot or cold packs are perfect for soothing those belly shots during treatment. They are made with rice and 100% pure essential oils, and you can choose from lavender, peppermint, eucalyptus, and unscented. Not to mention they are pineapples, a widely-adopted symbol of IVF. Support this family business.
IVF Fertility Milestone Cards $28.00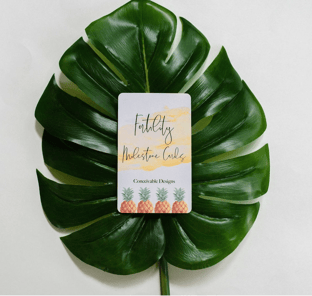 These beautiful milestone cards made by Conceivable Designs bring positivity and assistance to anyone navigating fertility treatment. This deck of cards holds 59 different messages that are tailored to different moments in your fertility journey, giving you a little burst of motivation as you go through each day.
Some Comic Relief eBook $9.99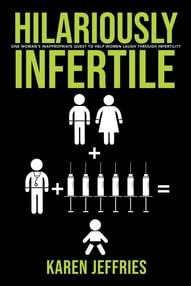 Our dear friend, Karen Jefferies (aka Hilariously Infertile) is an infertility advocate and social influencer. Her mission is to make others who struggle with infertility laugh for a change. In her spare time outside killing the Instagram game and teaching her fourth grade class, she wrote a book titled, "Hilariously Infertile: One Woman's Inappropriate Quest to Help Women Laugh Through Infertility." This is a comedic and self-deprecating look into the harsh, scary, and often sad world of infertility that Karen somehow turns fun. We highly recommend it!
---
Want some comic relief right now?
---
Fertility Caddy $35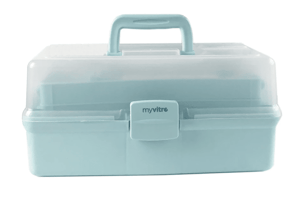 We all know how overwhelming it is to receive all of your IVF injections. MyVitro created this caddy to help you feel in control of your fertility treatments. Now you can organize your medications & other supplies in this storage case at home. The Home Edit has nothing on you!
Pineapple Bandages $4.81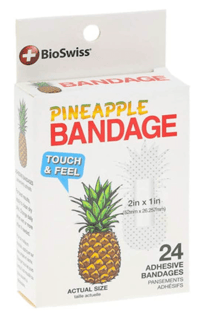 If you're in IVF treatment, it's probably no shock that there are needles involved in the process. Why not rock pineapple bandages so you can feel better after giving yourself an injection? Hard work should get you a fun band-aid, right?!
Positive Vibes Only IVF Shirt $18.12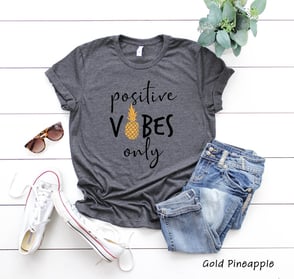 What's an IVF cycle without swag to wear to your appointments? Rock this adorable shirt with jeans and converse to your retrieval or transfer. We believe in dressing for success (and keeping it casual)!
I'm Very Ferris: A Child's Story $14.99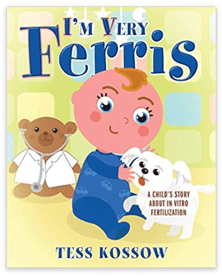 "I'm Very Ferris" is an amazing book for those who are going through IVF for a second time, or for those who want to help their own IVF baby understand the magical way they were brought into the world.I'm Very Ferris takes the unique route of explaining IVF through a child's eyes. This book is a touching way to help little ones in your life (maybe an older sibling or a new cousin) wrap their heads around the IVF process.
BONUS GIFT:
Friends IVF Joke Mug $20.00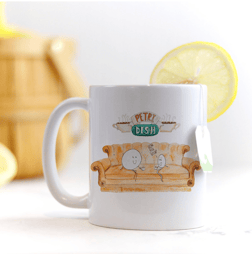 What's better than hot cocoa on a cold winter night? Cocoa with a little IVF humor, to pick you up when you're down. We love a good Friends reference just as much as we love a great IVF pun, and this mug has the best of both. Give this mug to a friend going through treatment as a way to say, "I'll Be There For You"
You've Got This.
IVF can be a difficult journey. If you know someone in treatment, let them know you're there for them by gifting one of these items this year. Or maybe you're trying to conceive yourself... in that case, treat yourself, or send this list to your loved ones to give them hints as we approach the holiday gift season. It's time we all took a deep breath this year, and these might just do the trick.
Happy holidays from your friends at Illume Fertility!
Dina D'Amelio is former Social Media Specialist at Illume Fertility. In 2019 she received her MBA from Western Connecticut State University. Dina managed all of our social media accounts, works on our editorial calendar creation and day-to-day content planner, and executed on-brand graphic design collateral.