Infertility Advocacy Day 2018 with Resolve & ASRM
June 1st, 2018 | 1 min. read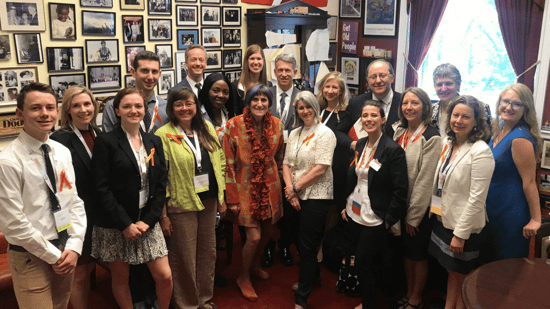 This year, Advocacy Day was a day that made history. "The Access to Infertility Treatment and Care Act" was introduced to Capitol Hill. Written and proposed by Congresswoman Rosa DeLauro (CT03) and Senator Cory A. Booker (NJ), this bill will ensure that most health plans will provide coverage for treatment for infertility and that fertility preservation services will be provided when medically necessary.
Given how frequently fertility treatment is not accessible to those needing it because of the financial cost involved, this piece of legislation is a game changer. Part of how things will change is that insurance coverage and income will no longer be the deciding factors of building a family.
Congratulations to Resolve and ASRM for being the agents responsible for working out the myriad of details in defining this bill.
A standing ovation goes to Congresswoman Rosa DeLauro and Senator Cory A. Booker, for recognizing that infertility is a disease that affects 1 in 8 couples and deserves to be treated as such- with fertility treatment available to all.
Some RMACT team members were lucky enough to experience this day that made history- and they also got to meet some key influencers. Watch the video below to see some amazing pictures and videos taken on Advocacy Day!