The Ultimate IVF Gift Guide for Fertility Warriors
December 6th, 2022 | 11 min. read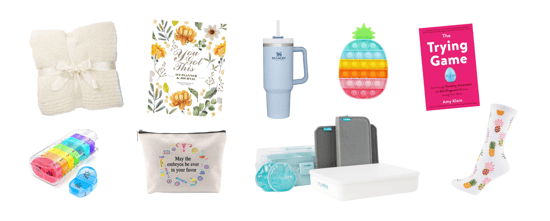 As anyone who's been through in vitro fertilization (IVF) treatment will tell you...it's no walk in the park!
It's an amazing process that results in the birth of thousands of long-awaited babies each year, but it's also physically and emotionally taxing. And while we can't magically take away all the difficult parts of this journey, these practical, comforting gift ideas from an experienced IVF patient will make things just a little bit easier.
Skip to a section:
Meet IVF Warrior Katie
We asked an IVF veteran what she would recommend as the best gifts for those going through treatment, and she personally helped us compile this ultimate gift guide for IVF patients. Whether you're looking for must-have items for yourself as you start a cycle or want to show someone how much you care as they navigate their own IVF journey, there's something for everyone on this list.
Katie is a former patient at Illume Fertility who began her fertility journey back in 2017. She had her fourth embryo transfer in 2022, and welcomed her second Illume baby this fall. Needless to say...she knows what an IVF warrior needs!
Read on for her top picks at each stage of the process (or jump to full gift list here).
⭐ Fun fact: Katie is also our Senior Marketing Manager here at Illume Fertility! Read her story or follow her IVF journey on our socials to learn more about her experience with infertility.

IVF Protocol & Planning Gift Ideas
One easy way to feel more in control during IVF is by storing your medications and other supplies in a way that makes everything accessible and organized. MyVitro's Essential IVF Support Kit includes their Fertility Caddy, Shot Station, Fridge Box, travel case and hot and cold packs to ensure you don't forget any essential items.
Want to keep it a little simpler? Grab a basic pill box!
During your IVF protocol, you're taking multiple pills a day. To help you stay on track, organized, and on time with your meds, grab a colorful little medication box! These individual daily day/night pill containers also make traveling during an IVF cycle a whole lot easier.
These fertility-focused affirmation cards are perfect at any point during IVF, but especially during periods of waiting or anxiousness. With reminders like "I trust my body," these cards help to reinforce that you are capable and worthy of having a baby - and you can do this.
Want something a little more personalized to you? Learn how to create your own fertility mantra with the help of Fertile Yoga founder Lisa Rosenthal.
Created by fertility experts, this IVF-specific planner acts as a comprehensive guide for your fertility journey, complete with coping strategies and treatment plan support!
To numb your injection site before progesterone in oil (PIO) shots, place a cold pack on the area. After injection, a heated pack helps the PIO disperse in the muscle so it doesn't stay in one place. Some patients like to warm up their PIO shot before injecting, which can
Listen, if you have to go through all these injections, you definitely deserve some fun, colorful Band-Aids!
This cute, customizable zippered pouch is perfect for storing IVF protocol supplies: needles, alcohol swabs or other items you may need during the stimulation phase of your journey.
If you're comfortable sharing your story and want to document the process, these beautiful, wooden IVF milestone cards help commemorate each part of your journey.
---
A long journey to a rainbow baby:
---

Embryo Transfer Day Gifts
The big day is finally here...it's embryo transfer day! Every IVF warrior works so hard to make it to this exciting milestone in their fertility journey, and whether it's your third transfer or your first, it's worth honoring and celebrating (even alongside the anxiety that may come with the impending two-week wait afterwards).
These cozy, inspiring gift ideas will help provide hope - and a little much-needed humor!
Transfer Day Socks
Show up to your transfer in style with some "good luck" confidence-boosting socks. There are many socks with humorous IVF sayings, but if you prefer a simple print, pineapples are a classic choice.
Pineapple Jewelry
Wearing a good luck charm on transfer day certainly can't hurt! There are plenty of beautiful IVF and fertility-related necklaces and bracelets to choose from, many of which were created especially to encourage IVF warriors.
🍍 Did you know? The pineapple is a symbol embraced by the fertility community. The idea behind it is that pineapple core contains an enzyme called bromelain, which some theorize could help with implantation on embryo transfer day. While there's no research to back that theory up, we agree that pineapple is a delicious treat on transfer day and can't hurt!
Yep, the name of the game on embryo transfer day is COZY. On this milestone day, you deserve to feel as comfortable and relaxed as possible! A soft, warm blanket is the perfect thing to cuddle up under pre or post-transfer.
Take one thing off your plate after transfer day by ordering in using a service like DoorDash or GrubHub! This is a great gift card idea for anyone around transfer day (or at any point during IVF).
After your embryo transfer, there's nothing better than putting on some comfy, soft pajamas and curling up on the couch with your favorite TV show.
---
How does IVF really work?
---

Gifts for Getting Through the Two Week Wait
Any fertility warrior will tell you just how difficult the dreaded "two week wait" is. For those not in the know, the two week wait is the time period between ovulation, an embryo transfer or day of your intrauterine insemination (IUI) where you're waiting to be able to take a pregnancy test.
This time is filled with uncertainty and anxiety for most who are trying to conceive - so distraction is key to help make the time go by faster. Here are some must-have items to help you get through the two week wait just a little easier.
Embroidery Starter Kit
Creativity is a great way to help distract yourself and ease your mind while in the two week wait. Picking up a new hobby like embroidery keeps your hands and mind busy.
Want another way to stay busy? Join one of our virtual fertility support groups, held weekly. These groups are a safe, respectful space to open up about what you're going through, find likeminded fellow patients, and get support from our Patient Advocate, Lisa Rosenthal.
---
What can (and can't) you do during IVF?
---
Coloring & Lettering Kits
The two week wait is a great time to practice a new skill like lettering or calligraphy, or simply keep your brain focused on something simple like coloring. There are lots of options, from IVF and fertility-focused coloring books to traditional coloring books. Fellow fertility warrior Sarah Shockley even created a coloring book specifically for the two week wait!
Be sure to pick up a pack of colored pencils or pens too!
Fertility-Focused Books
Want to hear some relatable stories from others who have battled infertility? Here are a few of our favorites:
This silicone sensory toy helps ease anxiety and stress on the go or while in the waiting room. Imagine bubble wrap that never needs to be thrown away!
During this challenging two week period of waiting, having a visual reminder to stay hopeful (while staying cozy) can be really helpful - especially on days where you're feeling anxious.
Yep, another pineapple item...we have to keep it on theme! This stress-relieving sensory pineapple is the perfect squishy anxiety reliever - one that's even small enough to fit in your purse for fertility clinic appointments.
---
Want more ideas?
---
You've Got This, Warrior
Whether you're a seasoned IVF veteran like Katie or just about to embark on your very first treatment cycle, these must-have IVF items will help make your journey a little bit more comfortable and doable.
And if you're a friend or family member looking to support a loved one through the roller coaster of infertility - we hope that these IVF gift ideas help you put together the perfect care package! Here at Illume Fertility, we've seen the impact of supportive family and friends on those undergoing fertility treatment (and it's big).
Whether you choose to drop off a meal, send some cozy slippers, or simply reach out to the fertility warrior in your life, know that your efforts to connect and show you care truly make a difference.
Explore holistic fertility care: Check out Illume Fertility's Integrated Fertility & Wellness program, which offers expert fertility counselors, nutritionists, acupuncturists and other mind-body support and resources.
More IVF Resources
Sierra Dehmler is Illume Fertility's Content Marketing Manager - and also a fertility patient herself. Combining empathy gained on her personal journey with her professional experience in marketing and content creation, she aims to empower and support other fertility patients by demystifying the fertility treatment process.