Introducing Our New Website & Fertility Resources [VIDEO]
May 10th, 2022 | 7 min. read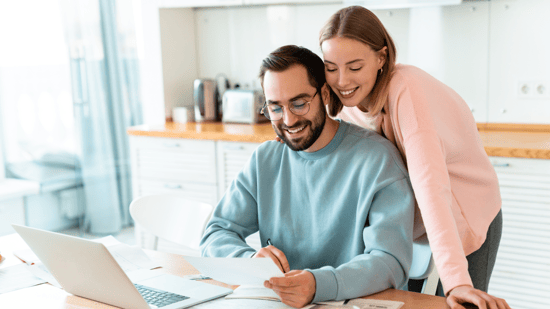 Along with our new name, we're excited to introduce you to our new website! We've redesigned the site to be more accessible, convenient and user-friendly, so you can easily find all the information you need to help you navigate your fertility journey. Let's take a virtual tour together!

Skip to a section:
How We're Evolving to Meet Your Needs
Illume Fertility's new website features a wealth of resources for each patient's unique journey, including a robust Learning Center with new articles released weekly, free eBooks and step-by-step guides on topics like IVF and donor conception, a diverse collection of family-building stories, and a modernized patient portal allowing easier access to medical records, treatment plans, and Care Team communication.
But we didn't stop there! Our newly formed Patient Experience Team dedicated to advocating for patients in treatment provides 360-degree support. With these unique enhancements, we hope to demonstrate our full commitment to continuing to evolve and grow as our patients' needs change.
A note from Robin: "With the launch of an entirely new website, collection of patient stories and other helpful resources, our goal is to help patients navigate the often challenging and confusing world of fertility with clear, actionable guidance and information - straight from real experts," said Robin Mangieri, CEO of Illume Fertility. "We want fertility patients to feel supported, encouraged and empowered with evidence-based information that can help them make important, life-changing decisions."
So, what exactly can you expect as you explore our new website? Let's dive in and find out!
---
Want a video tour of our new site?
If you're more of a visual learner and prefer to watch a video tour of our new website, we've got you covered! Check out the highlights to see what we think you'll find most valuable by clicking play on the video below.
---
Fertility 101: Your Guide to Getting Started
Making the decision to begin fertility testing and treatment is a big one. It can feel overwhelming and is often accompanied by lots of tough emotions. We're here to help break it all down for you and make it just a little bit less intimidating.
At Illume Fertility, we believe that educating, empowering, and holistically supporting fertility patients leads to greater success. That's why we created our Fertility 101 Guide, a comprehensive rundown of what you can expect on your fertility journey. And you have options: you can explore the guide on our site or download it to read later!
Note: While this guide contains lots of helpful details specifically related to Illume Fertility, the information provided will be useful whether you're a patient with us or a patient at another fertility clinic.
Your dedicated Care Team - who's on it, who to bring your questions to and more
What to do before your first appointment
Our doctors and other providers
What to expect from your first consultation
Your fertility testing and treatment options
How to access holistic treatment support and how it can help you
Illume Fertility FAQs like "How do I request my medical records?"
Other fertility-related resources for the journey ahead
Fertility Education & Resources
Whether you have a specific question you can't find an answer to, want to meet Illume Fertility families, read our FAQs or something else, we've got you covered.
Meet Our Doctors & Care Team
Want to get to know our team of eight physicians a bit better or learn more about our Patient Care Team and Integrated Fertility & Wellness Team? Check out our "Meet the Team" page.
Your Holistic Fertility Support Options
Illume Fertility is the only fertility practice in Connecticut with a full in-house fertility wellness team, offering acupuncture, mental health counseling, Fertile Yoga, nutritional counseling and more. Learn more here.
Financing Resources
Getting the fertility care you need can feel financially daunting - we're here to help you understand your insurance coverage, explore our Opportunity Plans, find grants and other tools to ensure you have access to treatment.
Fertility Treatment Guides
Whether you've decided to move forward with fertility treatment or are simply exploring your options, our fertility treatment guides will help you get the information you need to achieve your goals. We have a variety of guides available to download (all free!) and highly recommend checking them out to understand what lies ahead.
Learn About LGBTQ+ Family Building
From IUI to INVOcell to surrogacy, Illume Fertility is here to support you on your unique path to parenthood - however you choose to welcome your baby. Understand your options and learn more:
---
Plan for the healthiest pregnancy possible:
---
Downloadable eBooks to Support Your Journey
In addition to the guides above, we offer other free downloadable eBooks to help you navigate fertility and family-building challenges with ease while maintaining your wellbeing.
Your Guide to Financial Planning for Fertility Treatment
Fertility treatment costs can be complex, and there is a wide range of factors that influence pricing. At Illume Fertility, we want make your journey as smooth as possible by answering these important questions first.
The PCOS Handbook
This comprehensive guide (written by Nurse Practitioner Monica Moore and nutritionists Jill Hickey and Jennifer Walsh) contains an in-depth education about PCOS and insulin resistance, meal plans, PCOS-friendly workouts, grocery lists, mindfulness exercises and much more to help you thrive with PCOS.
More Resources
We encourage you to explore our full website to discover more great tools and information. Want to dive deeper? Here are some of our most popular blog posts, as chosen by our readers!
Sierra Dehmler is Illume Fertility's Content Marketing Manager - and also a fertility patient herself. Combining empathy gained on her personal journey with her professional experience in marketing and content creation, she aims to empower and support other fertility patients by demystifying the fertility treatment process.