Helping LGBTQ+ Families Grow | Meet Our Gay Parents To Be Program
June 6th, 2022 | 8 min. read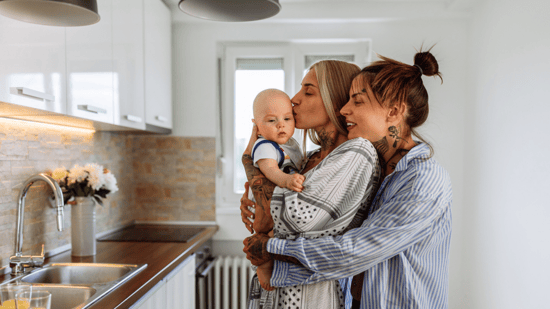 Did you know that Illume Fertility has a dedicated program created just for LGBTQ+ patients called Gay Parents To Be? Read on to learn more about why we created this special resource, what our Gay Parents To Be program offers, its special connection to our Medical Director, Dr. Mark Leondires, and more.
Skip to a section:
---
Meet Gay Parents To Be
While many fertility clinics treat LGBTQ+ patients, very few have a designated resource for LGTBQ+ parents-to-be. You may be thinking, "Wait, doesn't having a separate program just for LGBTQ+ people seem a little discriminatory?" It's actually quite the opposite! Let's explore why.
For parents-to-be who identify as members of the LGBTQ+ community, there is a lot of information out there on the internet. But not all of it is truly helpful, and a good amount of it is either misleading or intimidating. In fact, many LGBTQ+ individuals and couples hoping to grow their families may feel discouraged from even starting the process or daunted by how overwhelming it may seem.
"What are gametes?"
"Why do I need legal representation?"
These are just a few of the (very common) questions that hopeful LGBTQ+ parents-to-be may have after starting to do their research on family-building options. Enter: Gay Parents To Be!
---
Want to learn more?
---
Why was Gay Parents To Be created?
Not too long ago, our Founder & Medical Director Dr. Mark Leondires was in a similar position - ready to become a parent alongside his partner, Greg, but not exactly sure where to start. Even as an OB/GYN and Reproductive Endocrinologist with his own medical practice, Dr. Leondires found it challenging to find answers to all of his questions and plot the path to parenthood.
Today, they are dads to two amazing kids through egg donation and surrogacy. But when Dr. Leondires and his husband began the process many years ago, they realized that it was still fairly complicated for a gay couple to have a baby. Dr. Leondires looked around and thought, "I work with IVF clinics every day, and I still don't really know where to begin as a gay man trying to build my family." So he decided to come up with a solution!
Dr. Leondires created Gay Parents To Be as a special program offered through our main fertility clinic, Illume Fertility. Gay Parents To Be serves as an informational resource, a springboard to parenthood, and a helpful starting point for anyone in the LGBTQ+ community who wants to grow their family.
Why do you have a separate program for LGBTQ+ patients?
Due to the unique challenges and complexities involved in LGBTQ+ family building, we feel it's important that each patient has access to specialized resources and treatments that take their needs into account.
Gay Parents To Be is dedicated to helping all people (gay, lesbian, and transgender people and those who identify in other ways) realize their dream of parenthood. With the support and resources of Illume Fertility, we offer a full range of services — from low-tech to highly advanced — to help you achieve success and grow your family.
To provide the highest level of care to each patient, we pair the resources and information offered by Gay Parents To Be with Illume Fertility's family-building experts and cutting-edge assisted reproduction technology.
In short, Gay Parents To Be simply offers an added layer of support for LGBTQ+ parents-to-be!
---
Connect with other LGBTQ+ parents:
---
How are Illume Fertility & Gay Parents To Be connected?
Gay Parents To Be is made possible by the resources and experts at Illume Fertility (our fertility clinic).
Some LGBTQ+ patients choose to make use of the additional support offered by Gay Parents To Be, and others don't. Either way, we strive to provide every patient with the personalized, inclusive fertility and family-building care they deserve.
When it comes to treatment and support, our LGBTQ+ patients have the same access as any other patient - including all five Illume Fertility locations, all available treatment methods, eight fertility doctors, Third Party Reproduction Team, Integrated Fertility & Wellness program, support groups and other resources.
What is the Third Party Reproduction Team? A specialized team that includes medical professionals with extensive experience guiding patients through donor conception and surrogacy journeys. This includes any family-building pathway that includes an egg, sperm, or embryo donor or a gestational carrier (surrogate).
What Gay Parents To Be Offers
With so much of our time being spent online, we strive to make important LGBTQ+ family-building information accessible to everyone. From our Resource Center to our monthly newsletter, The Voice, we share news and information about all paths to parenthood to help you achieve your dreams. We offer real LGBTQ+ family-building stories from actual patients, insights from experts and community members and much more.
We are also able to help members of the LGBTQ+ community with biological parenting pathways, with the support of the staff, laboratories, and resources of our medical practice, Illume Fertility.
For LGBTQ+ moms-to-be (often cisgender single women and same-sex female couples), those parenting pathways usually involve IUI, IVF, reciprocal IVF or INVOcell, with one or both women carrying a pregnancy at some point.
For LGBTQ+ dads-to-be, a biological family-building journey involves completing an IVF cycle with a chosen donor's eggs, cryopreservation of embryos, and then an embryo transfer into the uterus of a gestational carrier.
The process for both moms and dads-to-be also involves mental health professionals and a reproductive attorney, to make sure parental rights, donor rights, and the rights of your future child are all protected.
At the end of the day, we know that LGBTQ+ parenting journeys can be complicated, and we want to offer as much dedicated support as possible for all parents to be. Our practice also truly values LGBTQ+ inclusivity, which is evidenced by the Human Rights Campaign "Healthcare Equality Leader" designation that we've earned for six consecutive years.
Illume Fertility Provides LGBTQ+ Inclusive Care
The Healthcare Equality Index (HEI) is the national LGBTQ+ benchmarking tool that evaluates healthcare facilities' policies and practices related to the equity and inclusion of their LGBTQ+ patients, visitors and employees.
By choosing to participate in this movement towards LGBTQ+ healthcare equality, we get the opportunity to affirm that we comply with the requirements of the Human Rights Campaign, and stay 100% committed to LGBTQ+ patient-centric care and staff treatment.
We also provide comprehensive training for staff in LGBTQ+ inclusivity and healthcare needs.
---
Learn about our LGBTQ+ leader status:
---
Some of the other areas evaluated by the HEI include benefits offered for LGBTQ+ persons, and involvement in LGBTQ+ community activities and events. We do our best to make members of the LGBTQ+ community feel welcome in our offices all year round, and always look forward to celebrating the month of Pride each year.
Whether we represent our inclusivity with rainbow buttons and colorful gear during Pride, Human Rights Campaign equality pillows in our offices, or more importantly, in our day-to-day interactions with LGBTQ+ patients, we know that even little details can make a big difference.
A note from our CEO, Robin Mangieri: "We're extremely proud to have the HEI designation six years in a row and to be the leader in the state of Connecticut as the only stand-alone fertility center with this appointment. We've dedicated resources to making sure we meet these standards year after year and we are committed to providing inclusive care to our LGBTQ+ patients."
More LGBTQ+ Family-Building Resources
Want to find information and support for your family-building journey or explore the different paths to parenthood for LGBTQ+ parents-to-be? We've got you covered!
Sierra Dehmler is Illume Fertility's Content Marketing Manager - and also a fertility patient herself. Combining empathy gained on her personal journey with her professional experience in marketing and content creation, she aims to empower and support other fertility patients by demystifying the fertility treatment process.