Pregnancy After Loss: Laura & Ben's Story
October 8th, 2021 | 8 min. read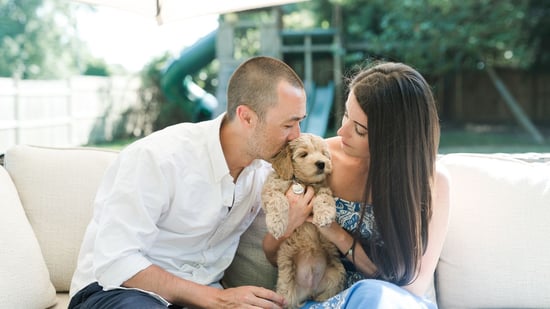 In honor of Pregnancy & Infant Loss Awareness Month, we asked one of our patients to share her and her husband's journey through fertility struggles, multiple rounds of IUI, how they coped with the heartbreak of losing a pregnancy and where they are now.
Note: This story includes mentions of pregnancy loss (miscarriage) that may be difficult for some to read. Please take care of yourself and skip this post if this topic is too tough to revisit right now.
Meet Laura & Ben
Laura and Ben are both teachers, and children have always been a big part of their lives. They also have three nieces and a nephew who they adore and love spending time with. "I truly can't imagine our life without children in it," says Laura. "We've talked about becoming parents for as long as I can remember!"
After a few months of trying on their own, Laura began to notice how sporadic her ovulation was. "Most months, I wasn't even able to detect it using the at-home ovulation tests," Laura says. "At that point, we had some bloodwork done with my regular OBGYN, and we decided to try and let my body figure itself out."
Laura was proactive about optimizing her preconception health holistically as they tried to conceive. She got acupuncture treatments regularly, saw a naturopath and made some dietary changes to boost fertility. "Once we hit the one-year mark in June of 2020, my OBGYN urged us to see Dr. Spencer Richlin at Illume Fertility," Laura says.
Even after being referred to a fertility clinic, Laura says she doesn't regret taking the extra time to try on their own, as she learned a lot about her body in the process. "But we knew it was time [to seek additional help]," Laura says. "After our first Zoom consultation with Dr. Richlin, we felt like we were in great hands."
They chose Dr. Richlin because Laura's OBGYN noted that he has the "most fun" personality ever. "She wasn't wrong!" says Laura. "He has this ability to support us when we're feeling down and make us laugh when we need it most."
Taking the Next Step
Just walking through the door at Illume Fertility was a huge deal for Laura, as someone who has always valued Eastern medicine and felt confident that would be what would help them get pregnant.
Laura admits she had a preconceived notion that IVF was the only thing a fertility clinic offered. "I have been so impressed with Dr. Richlin's ability to listen to our wishes and figure out an approach that works best for us," she says.
"In the year that we tried on our own, I was naively optimistic," Laura says. "One big lesson I've learned during our time at Illume Fertility is that we don't have to choose between Eastern medicine and a more traditional fertility approach."
"Dr. Richlin has been very understanding of our wishes to keep things as natural as possible," she says. "He validates every question or concern and arms us with all of the important information we need when making decisions for our family."
One thing Laura wishes she knew before starting this journey? "That it doesn't have to be a rush," she says. "I was so terrified that things would move too fast, and I wouldn't feel mentally ready for each step!" Laura and Ben have always felt in good hands with Dr. Richlin, who has been great about respecting their timeline and desire to take things at a pace that works for them and preserves their mental health.
---
Explore RMA of CT's holistic support offerings:
---
First Stop: IUI
After completing their diagnostic testing in the fall of 2020, Dr. Richlin suggested Laura and Ben begin trying to conceive with the aid of medicated IUI cycles. They had six medicated IUIs over three cycles, with one IUI in January of 2021 resulting in a pregnancy that sadly ended in loss.
The Devastation of Losing a Pregnancy
Throughout their fertility journey, Laura and Ben experienced many highs and lows.
The lowest point, however, was when Laura had to walk through Illume Fertility's doors alone for a D&C after losing their baby boy in February. "It killed me that Ben had to wait in the car and couldn't be there to hold my hand [due to the COVID-19 pandemic]," she says.
"In those moments waiting to go into surgery, I feel like I gained so much personal strength," Laura shares. "I also had a whole new appreciation for all of the nurses and staff at Illume Fertility who helped make things as comfortable as possible."
"Dr. Richlin was there for us to validate our pain, but he also reassured us that a healthy baby was in the cards for us someday," Laura says. Her relationship with Ben also strengthened during this heartbreaking time. "There is no doubt in my mind that we can't handle whatever life throws at us in the future," she says.
The high point of their journey was something Laura says she didn't fully appreciate until weeks after it happened. "When we went in for our 8-week ultrasound in February, Dr. Meyer told us the horrible news that our baby had stopped growing," she says. "That news was the worst news we had ever received and was absolutely devastating - those moments were so confusing as we had seen our little growing baby on the screen just seven days earlier."
After their loss, Laura spoke to many women who lived through the same news. "Their stories were different from ours," she says. "I heard stories of technicians turning off machines and coldly saying, 'Not sure what is going on. The doctor will call you.'"
"I truly can't imagine going through that additional trauma and confusion," Laura says. "I will always remember Dr. Meyer's kindness, warmth, and incredible empathy in those few moments as our world fell apart."
And the kindness continued - Kat, the medical assistant helping Laura on that difficult day, also wrapped her in love and support during those heartbreaking moments.
"We are forever grateful that we received such support during those moments and the days and weeks that followed...I think it is what allowed us to keep pushing through," Laura shares. "This is what sets Illume Fertility apart, and this is why I always say, 'We are the best hands here.'"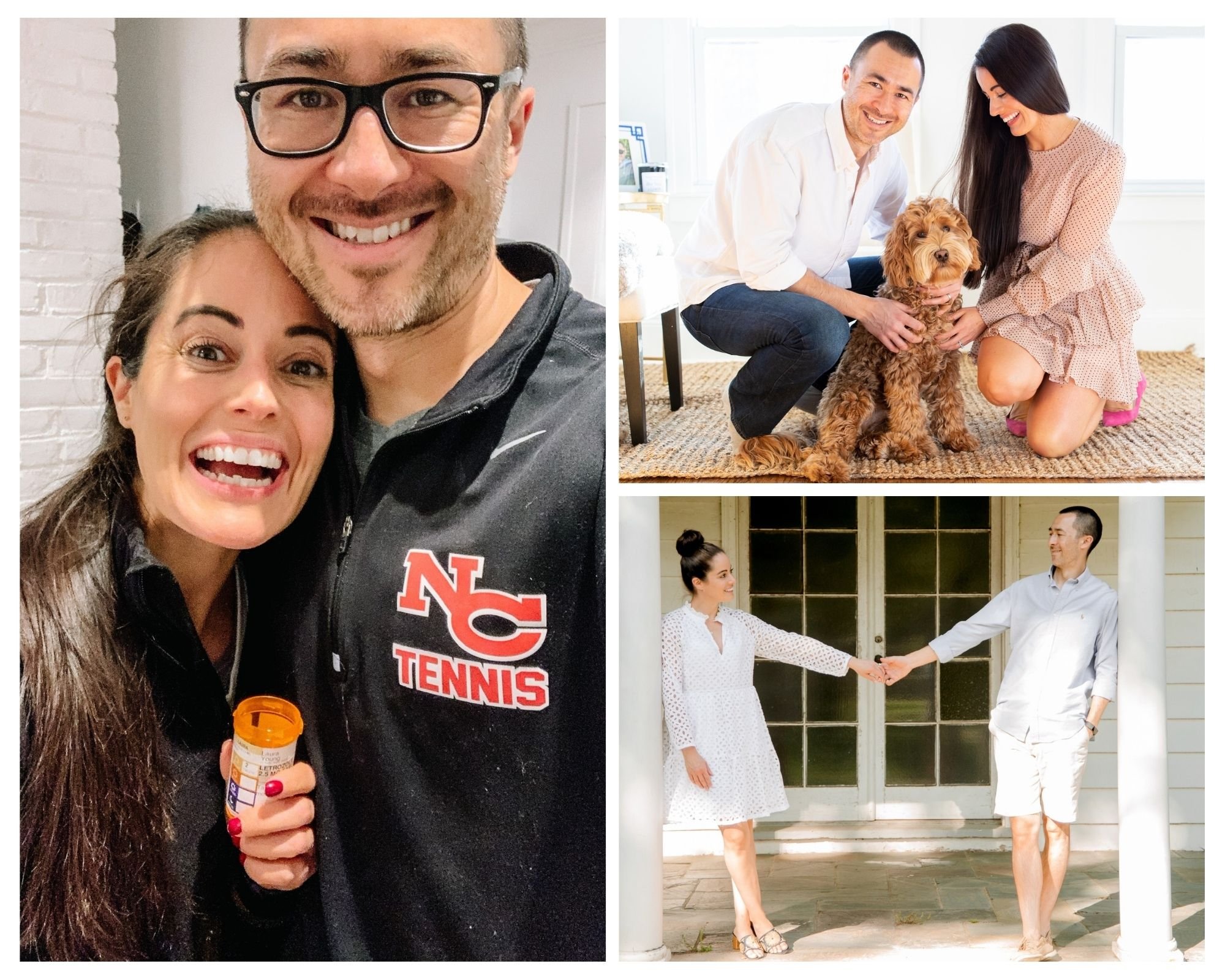 Laura and Ben in the midst of fertility treatment and with their dog, George.
Looking Towards the Future
Due to Laura's stubborn HCG levels after their pregnancy loss, they had to wait several months before trying again. This was an incredibly difficult time for them, with lots of unknowns, waiting and uncertainty about what lie ahead.
Thankfully, happy news wasn't too far off - Laura and Ben recently announced they are pregnant! After one final, last-ditch round of IUI before moving on to IVF, they received the news that they'd been waiting for: a positive pregnancy test result and a healthy pregnancy.
They are incredibly grateful to be expectant parents yet again and look forward to welcoming their baby boy in February 2022.
"I can't wait to watch Ben as a dad," says Laura. "He is going to be an incredible one for sure!" Laura continues to openly share her journey via Instagram and her blog, though she is mindful when sharing pregnancy content, knowing that much of her community is still grappling with fertility struggles.
As anyone who has had a successful pregnancy after infertility knows, it is an often challenging road to walk. On the one hand, you're thrilled to be pregnant. On the other, you're filled with dread and anxiety about what might go wrong, which can lead to difficulty being present and enjoying your pregnancy.

If you're currently dealing with these conflicting emotions, we encourage you to attend an upcoming Pregnancy After Infertility support group, which will connect you to other fertility warriors who "get" what you're going through.
Self Care During Fertility Treatment
Laura regularly sees her own acupuncturist at Intuitive Wellness who she says has been instrumental in maintaining her mental health over the last few years of their fertility journey.
Pssst...we offer a robust fertility acupuncture program here at Illume Fertility for anyone working to optimize their health or fertility, reduce anxiety and stress throughout the process or even increase embryo implantation rates!
Therapy has also been a helpful tool for Laura, who began seeing a therapist via Zoom each week after their pregnancy loss in February 2020. "It has been so powerful to work through my emotions," she says.
"Exercise has always been a big part of my life too," Laura shares. "Navigating fertility treatments while listening to my body has been the most challenging part for me," she admits.
She still finds exercise an essential part of her routine but has had to learn how to dial it back a bit and incorporate gentler activities into her daily life when needed.
Tips for New Fertility Patients
One of Laura's first pieces of advice to someone starting fertility treatment is to remember that it's okay to cry or show emotion. "I don't consider myself an overly emotional person, but infertility and loss have definitely made me a softy," Laura says.
The anxiety leading up to the diagnostic testing can also be very challenging, she admits. "I think I stressed over it for weeks," Laura says. "While my HSG and saline sonograms were no walk in the park, they truly only last a few minutes and a huge weight was lifted once we checked those off our list."
She also recommends doing something special on the days where you have tough appointments or procedures. "Get a manicure, make sure you have your favorite snack, or plan for an afternoon on the couch to reward yourself for getting through a tough day," she advises.
"Finally, stay away from Dr. Google...he's almost never right and always sure to invoke unnecessary fear!" Instead, trust your Care Team, ask questions and don't be afraid to seek out support throughout your fertility journey.
---
Want to encourage others with your own fertility journey?
---
Connect with Laura
If you'd like to chat with Laura about her experience or get plugged into a local group of Connecticut fertility warriors, she welcomes anyone to reach out to her via email, Instagram or her website.
She meets regularly with current and former Illume Fertility patients and remains a vocal member of and advocate for the fertility community.
Sierra Dehmler is Illume Fertility's Content Marketing Manager - and also a fertility patient herself. Combining empathy gained on her personal journey with her professional experience in marketing and content creation, she aims to empower and support other fertility patients by demystifying the fertility treatment process.