Meet Illume Fertility's PCOS Program and Team
September 7th, 2022 | 9 min. read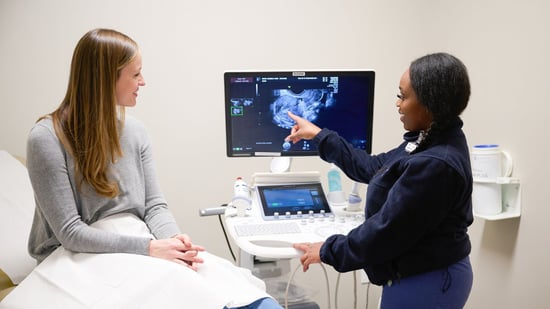 Polycystic Ovary Syndrome (commonly known as PCOS) can be a life-altering diagnosis with symptoms that are difficult to manage - especially without proper guidance. For the up to 15% of women who struggle with the condition, finding the right support and care can spell the difference between surviving and thriving with PCOS.
Skip to a section:
What is PCOS?
Polycystic Ovary Syndrome (PCOS) is a common condition in women of reproductive age that causes hormonal imbalances which can then cause a plethora of related, challenging symptoms. Think: hirsutism (unwanted hair growth), acne, weight gain, hair loss, insulin resistance, and sub-fertility (trouble conceiving).
It is often discovered after a person experiences irregular periods, high androgens (male hormones), and/or has cystic-appearing ovaries. Not every patient will have all three markers, but they must exhibit two out of the three to be diagnosed with PCOS. If not properly cared for, PCOS can cause long-term problems, such as diabetes, heart disease, high blood pressure and high cholesterol. Additionally, women with PCOS are at higher risk for anxiety and depression.
Considering that this condition attacks both your physical and mental health, it's vitally important to seek professional care to get PCOS symptoms under control and ensure your healthiest, happiest future!
Is there a cure for PCOS?
Unfortunately, there is no cure for PCOS. We can't even pinpoint what causes it. Until research gives us those answers, experts recommend making sustainable changes in lifestyle and self-care (including nutrition, exercise, meditation, etc.) so you can be the boss of your PCOS, instead of the other way around.
Whether you already know you have PCOS, think you have PCOS, or are just here to learn more about it, you're probably thinking, "We have to get this under control!" We couldn't agree more.
Let's take care of your PCOS together.
---
Do all PCOS patients struggle with weight?
---
Get to Know Our PCOS Program
Apart from all of the great resources we provide online, we also have an in-house, multidisciplinary PCOS program strictly devoted to patients seeking help with their PCOS. Whether patients are trying to conceive or not, this dedicated team is passionate about evaluating, treating, supporting, and managing their care.
Let's break down exactly what Illume Fertility's PCOS Program provides:
Clinical Care for PCOS
In order to take full control of your PCOS, you need to be properly evaluated and diagnosed. Illume Fertility's clinical care team have been treating PCOS patients for many years, and are passionate about taking these first steps with you and explaining everything along the way. We want you to feel confident throughout the process!
Once our Reproductive Endocrinologist or Physician's Assistant meet with you and understand your particular situation, they can help you build a game plan to manage your symptoms. This may include medication (depending on your goals) but will always include lifestyle adjustments that will vastly improve your mental and physical health.
PCOS Management for Younger Patients
Our team treats all types of women who are dealing with PCOS, starting with adolescence. Younger patients who are not looking to get pregnant but are simply looking to control their symptoms are encouraged to meet with our team who will help create a personalized plan for them.
Our team knows how to expertly navigate the unique hurdles of a PCOS patient who is going through high school or college. Getting properly diagnosed and finding ways to manage symptoms young can help tremendously as teens and college-aged PCOS patients move through life, even helping them avoid future PCOS-related issues.
Did you know? We also provide support for parents of adolescents with PCOS. We want the parent(s) to feel as involved and helpful as they can be. A PCOS diagnosis can be overwhelming for a teenager or young adult, so we recommend following along with our support programs so that home life can be a healthy life.
PCOS-Related Infertility Support
Did you know that PCOS is one of the leading causes of fertility issues? In fact, up to 90–95% of anovulatory patients seeking treatment for infertility actually have the condition (and may not even know it).
Most PCOS patients have irregular menstrual cycles, elevated levels of luteinizing hormone (LH) and reduced levels of follicle-stimulating hormone (FSH), which is often coupled with elevated levels of androgens and insulin. For those trying to conceive on their own, these factors combine to lead to frustration, anxiety, hopelessness and even the thought that they may be completely infertile.
The good news? The majority of patients with PCOS do find success on their family-building journey! With the right diagnosis and treatment, the chances of someone with PCOS having a healthy baby are high.
In addition to fertility treatment options like ovulation induction, intrauterine insemination (IUI), and in vitro fertilization (IVF), we offer the same lifestyle guidance to help complement these therapies. Because one of the main challenges faced by those trying to conceive with PCOS is irregular menstrual cycles or lack of ovulation, one of the most common first-line treatments offered is ovulation induction (which involves taking fertility medications to induce ovulation).
So, if you're trying to conceive and know (or suspect) you have PCOS, don't struggle in silence - contact a board-certified reproductive endocrinologist for a proper assessment and treatment plan so you can achieve your goals while getting the support you need to succeed!
---
Need some hope and inspiration?
---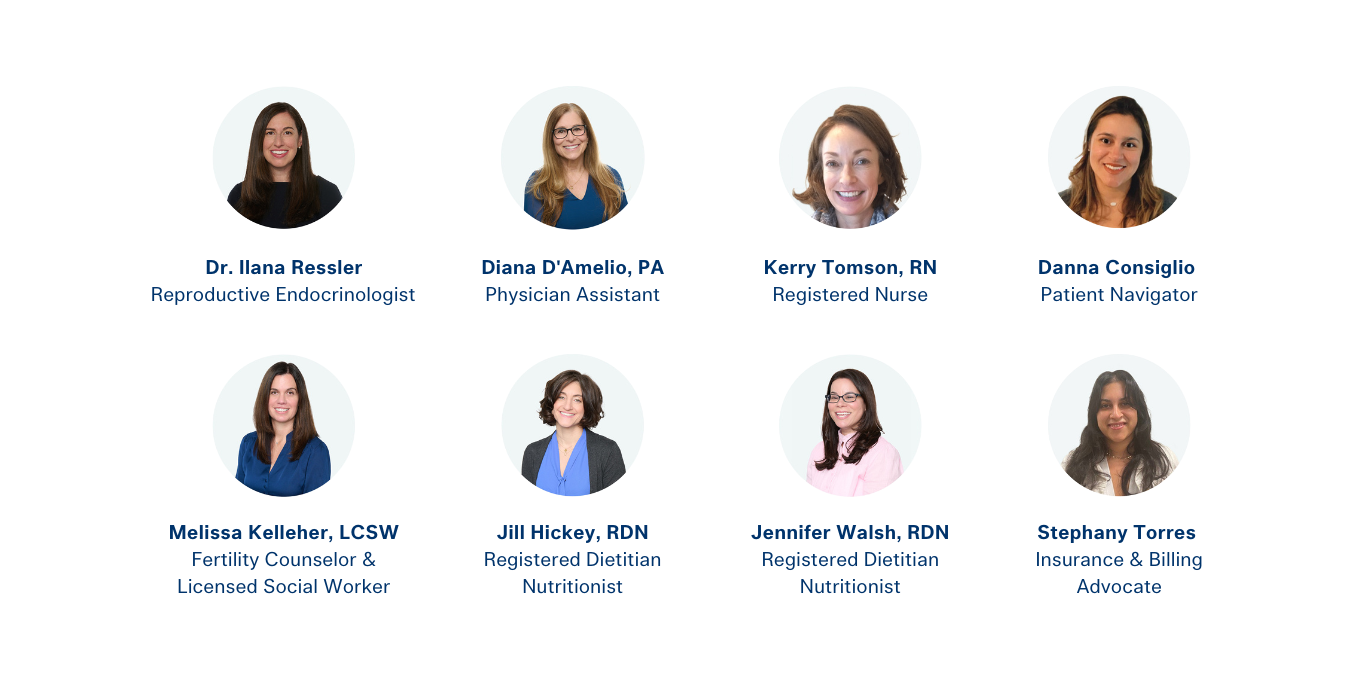 Meet Illume Fertility's PCOS Team
Our PCOS team meets weekly to discuss each patient's progress, fine-tuning their care and making sure they understand every unique need. Treating the whole patient is the secret to their success and why so many PCOS patients lean on Illume's PCOS team to help manage this complex condition.
As a collective, this team works diligently with each patient to reduce symptoms and increase quality of life.
Our multi-disciplinary PCOS Team includes:
Working together to provide 360-degree care and support, our PCOS Team offers evaluation, guidance, management and resources to help you live your very best life with PCOS. In addition, all of our PCOS patients have access to our full Integrated Fertility & Wellness Team who provide additional holistic support!
Holistic PCOS Offerings
Eating a balanced, healthy diet and exercising are important for anyone, but especially so for those with PCOS. Why? Well, for many reasons! Most broadly, diet and exercise help the body regulate important hormones, manage stress, get the nourishment it needs, and keep everything on track and functioning as it's meant to.
At Illume Fertility, our PCOS team is proud to offer a wide variety of holistic support options, each of which zero in on a specific lifestyle challenge to help you live your healthiest, most fulfilling life possible.
PCOS Nutrition
Our two registered dietitian nutritionists, Jill Hickey and Jennifer Walsh, provide nutritional guidance and lifestyle support for those with PCOS, focusing on small, sustainable changes - no crazy fad diets here!
Mental Health & PCOS
Melissa Kelleher, one of our licensed clinical social workers, puts her many years of counseling experience to work by helping PCOS patients work through any anxiety, depression, frustration and other emotional hurdles.
Acupuncture for PCOS
Our experienced team of four licensed acupuncturists offer gentle acupuncture treatments to help those with PCOS reduce stress, increase blood flow, and stay in tune with their bodies.
Free Yoga Classes
Registered Yoga Alliance Teacher Lisa Rosenthal offers free, virtual Fertile Yoga classes that are specially-designed with PCOS and fertility in mind, providing a calm space for relaxation and restoration.
Virtual Support Groups
We offer free, virtual peer and professionally-led support groups on a wide range of topics. Learn more here. We also encourage you to join our PCOS Boss Support Group on Facebook to connect with our community!
---
What's the best workout for PCOS?
---
PCOS Care Begins with You
…but Illume Fertility is here to support you every step of the way. Managing this condition can be tough - we know that firsthand. That's why we try to make our PCOS program as comprehensive as possible. PCOS affects everyone differently, so it takes a team that listens, learns, and supports the patient to achieve the best results.
If you are in need of PCOS support, we encourage you to reach out to us! We can evaluate your situation, give you a specific care plan, and then help you follow through with it. If you're not ready to schedule a PCOS consultation quite yet, we have plenty of expert advice, education, and support on our Learning Center.
We wish you the best on your PCOS journey and are here for you whenever you're ready!
More PCOS Resources
Explore the articles, eBooks, webinars, support groups, and other tools below to take action:
Sierra Dehmler is Illume Fertility's Content Marketing Manager - and also a fertility patient herself. Combining empathy gained on her personal journey with her professional experience in marketing and content creation, she aims to empower and support other fertility patients by demystifying the fertility treatment process.