Find Your Voice: Fertility Patients Share Their Stories | NIAW 2023
A diverse group of Illume Fertility patients open up to share their experiences with infertility and family building in honor of National Infertility Awareness Week.
May 2nd, 2023 | 11 min. read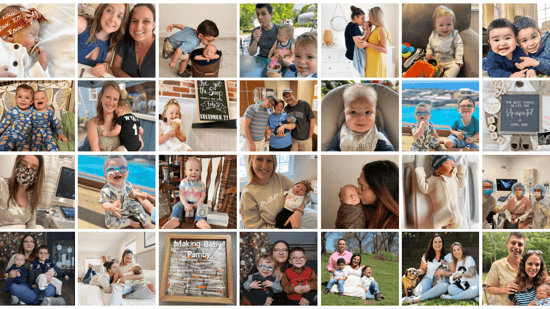 According to newly released data from the World Health Organization (WHO), 1 in 6 people globally now experience infertility, meaning millions of individuals and couples all over the world are struggling to grow their families. In honor of National Infertility Awareness Week, seven Illume Fertility patients opened up to share their own stories.
Skip to a section:
What is National Infertility Awareness Week?
Created by RESOLVE: The National Infertility Association in 1989, National Infertility Awareness Week (NIAW) is an interactive, virtual event held each year in April that highlights infertility and family-building challenges in support of the following goals:
To raise our voices and increase awareness for those struggling with infertility
To talk about the issues facing the fertility community
To make sure we continue to support those most in need
To turn infertility awareness into action by joining Advocacy Day efforts
To ensure everyone who wants to grow their family gets the chance to do so
What is Advocacy Day? This annual one-day event brings infertility advocates, families and legislators together to offer a forum for sharing stories, showing why infertility matters, and pushing for increased access to fertility care for all. This year, for the first time ever, Advocacy Day was during NIAW (on April 25th).
Every Family Has a Unique Journey
This year, the theme of NIAW was #FindYourVoice, with the goal of encouraging those who have experienced fertility or family-building challenges to use their story to create awareness and bring change.
While not everyone feels comfortable sharing about such a personal topic, those that do can help others struggling in silence feel less isolated as they try to grow their families.
We were lucky to have seven amazing families open up about their unique paths to parenthood for NIAW 2023, including two of our own Illume Fertility team members, proving that while each family has their own unique journey, there are some universal truths about infertility and family building.
Mayra's Story
IUI | PCOS | Spontaneous Pregnancy
After years of living with undiagnosed PCOS, Mayra sought the help of the fertility specialists at Illume to conceive her two sons. She and her husband thought their family was complete, until they got the surprise of a lifetime, conceiving their third baby without fertility treatment.
Why she shares her story:
Like many couples challenged by infertility, Mayra didn't feel comfortable sharing her journey with many people at first. "At the time, I felt embarrassed," she says. "And as much as my husband supported me, I felt I was letting him down [by not being able to have a baby]."
She has now become more comfortable sharing her story, in the hopes that it will help other PCOS and fertility warriors feel less alone in their own struggles.
What she wants others to know:
Emily & Staci's Story
Reciprocal IVF | Genetics | Pregnancy Loss | LGBTQ+
After 693 injections and two years of genetic testing, financial obstacles, unsuccessful IVF cycles and a pregnancy loss, hopeful moms Emily and Staci make the difficult choice to stop pursuing IVF and begin to reimagine their future family through fostering-to-adopt and embryo donation.
Why they share their story:
"We wish we had truly understood that sometimes it just doesn't happen, no matter how hard you work for it. All that time and money and the physical pain of IVF is truly just for a chance at parenthood, and we were naive in hoping it would be a guarantee - for us, it wasn't."
What they want others to know:
"You are meant to be parents, and you will be parents - it just may not be how you envisioned it. Everything you have been through and will go through will bring you the child that's meant to be yours."
Watch Emily & Staci's video recap for a shortened version of their story or watch their Instagram Live with Dr. Kucherov on reimagining your path to parenthood when things don't work out as planned.
Dr. Kucherov's Story
Ovulation Induction | Primary Infertility | Irregular Cycles
As a fertility specialist, Dr. Alexander Kucherov never expected to encounter his own roadblocks when he and his wife Sabrina were ready to grow their family.
After undergoing extensive diagnostic testing, ovulation induction helped them conceive their two sons. "While it wasn't an easy journey," he says, "it allowed me to gain a new perspective on infertility that has given me even more compassion for my patients."
Why he shares his story:
"I tell our story because it's important to know that infertility affects a lot of people. With 17.5% of all couples worldwide being affected by fertility issues, being challenged by family building is more common than you might think."
What he wants others to know:
"You're not alone. Stick with it, hang in, and eventually, you'll get there!"
Watch Dr. Kucherov's video recap for a shortened version of his family's story or watch his Instagram Live with Emily & Staci on reimagining your path to parenthood when things don't work out as planned.
Taylor & Holly's Story
IUI | Reciprocal IVF | LGBTQ+
Moms Taylor and Holly opened up to share their LGBTQ+ fertility journey, which included both IUI and reciprocal IVF, as well as how they navigated the ups and downs of treatment, their advice for other two mom families, and what life looks like for them now as a family of four.
Why they share their story:
"We were very lucky to have gotten pregnant quickly with both children," Holly says, "but in navigating this sometimes confusing, overwhelming process, we were very fortunate to have friends who had been through IVF themselves and were ready and willing to answer questions - or just talk."
What they want others to know:
"It's especially helpful to have other LGBTQ+ couples who have been through the process and can answer questions or provide resources," Holly says. "Also, don't hesitate to make connections with people on social media - most people we have reached out to were so warm and willing to talk!"
Watch Taylor & Holly's video recap for a shortened version of their story.
Arianna's Story
Unexplained Infertility | Egg Freezing | Genetics | Single Mom
Upon learning she carries the BRCA2 gene, which puts her at high risk for breast and ovarian cancer, Arianna made the difficult decision to undergo major, life-altering surgeries to protect herself.
As a single mom of two confronted with an uncertain future, she shares her journey through infertility, coping with a rare genetic disorder, and why she chose to pursue egg freezing while working as a medical assistant at Illume Fertility.
Why she shares her story:
"The reason I chose to share my unique journey is because no matter now much I searched, no one ever seemed to have a similar situation. People freeze their eggs for so many different reasons, but I never came across a story that resonated with me. With that in mind, I hope that me sharing my story can help someone else who may be feeling alone."
Sierra Dehmler is Illume Fertility's Content Marketing Manager - and also a fertility patient herself. Combining empathy gained on her personal journey with her professional experience in marketing and content creation, she aims to empower and support other fertility patients by demystifying the fertility treatment process.