Lisa Rosenthal Receives RESOLVE's 2023 Risa A. Levine Advocacy Legacy Award
Illume Fertility's Patient Advocate Lisa Rosenthal honored with prestigious RESOLVE award for her decades of advocacy work.
August 29th, 2023 | 7 min. read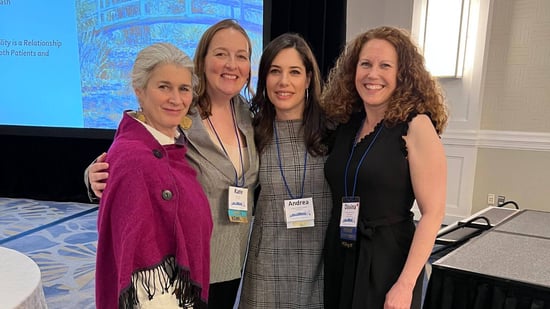 After decades of advocacy work in the fertility and family-building space, Illume Fertility's Patient Advocate Lisa Rosenthal is being recognized with a prestigious RESOLVE Hope Award.
In this article:
Honoring a Dedicated Advocate
For the past 16+ years, Lisa Rosenthal has served as Patient Advocate for both Illume Fertility and Gay Parents To Be, supporting patients one-on-one, advancing family-building legislation at both the state and federal levels, hosting support groups, building community, and encouraging countless others to embrace fertility advocacy.
Illume Fertility is one of the only fertility practices with a dedicated in-house Patient Advocate, offering hopeful parents a much-needed additional resource before, during, and after their journey as a fertility patient.
In her unique role, Lisa is able to serve as a communication bridge between patients and their Care Team, provide a listening ear for those struggling to make big decisions or process difficult emotions, and spearhead advocacy initiatives within the practice to increase employee engagement in major advocacy events, such as National Infertility Awareness Week (NIAW) and PCOS Awareness Month.
About Lisa Rosenthal
Why is Lisa so passionate about this work?
In the 1980s, Lisa Rosenthal found herself blindsided - at age 26, she was having trouble getting pregnant. Throughout her six-year struggle to conceive, she encountered harmful misconceptions about fertility and witnessed how stigma around the topic kept others from sharing their stories - even with their own mothers and friends.
Seeking meaning from her fertility challenges and dissatisfied with the limited resources available, Lisa began volunteering with a former chapter of RESOLVE: The National Infertility Association.
She embraced hands-on roles such as working the telephone support helpline, leading peer support groups, and organizing fundraising efforts. Volunteering not only provided Lisa with community and support, but also led to a permanent career change.
Since 2007, she has served as Illume Fertility's dedicated Patient Advocate and Senior Content Strategist, as well as facilitating ongoing support groups and founding our Fertile Yoga program.
A History of Fertility & Family-Building Advocacy
For decades, Lisa has been a tireless advocate at both the state and federal levels, and her passion for advocacy has inspired many others to follow in her footsteps. In 2022, she was honored with the Rise to the Challenge Award by PCOS Challenge.
In 2023, Lisa was selected as co-chair for RESOLVE's Advocacy Day, in partnership with the American Society for Reproductive Medicine (ASRM).
Her passion for advancing accessible family-building care for LGBTQIA+ and single individuals led to Lisa's recent involvement in the passing of a 2023 bill that removed discriminatory language from insurance coverage in Connecticut.
Ongoing Research & Leadership Roles
As principal author of several IRB-approved research papers and ASRM posters, Lisa continues to explore ways to support all people as they seek to build their families.
She continues her advocacy work with not-for-profits through board seats at Resolve New England, Building Military Families, and the New England Fertility Society. She is also a longstanding member of the American Society for Reproductive Medicine.
What is RESOLVE?
Established in 1974, RESOLVE: The National Infertility Association is a non-profit organization with the only established, nationwide network mandated to promote reproductive health and to ensure equal access to family-building options for all people who struggle to build a family.
One in six people globally will experience infertility, while one in seven women in the U.S. have trouble getting pregnant. RESOLVE addresses this public health issue by providing community to those impacted, connecting them with helpful resources, empowering them to find resolution and giving voice to the need for access to all family-building options. 
For more information or to get involved in this important work, visit RESOLVE's website.
What are the Hope Awards?
RESOLVE's Hope Awards recognize professionals, companies, volunteers, and media who truly impact those struggling to build a family.
Included in the 2023 recipient list is Illume's longtime Patient Advocate, Lisa Rosenthal, who is being honored with the Risa A. Levine Advocacy Legacy Award for her tireless efforts to advance access to fertility and family-building care for all people who wish to become a parent.
These prestigious awards are a celebration of the passionate people and organizations who bring RESOLVE's mission to life in the work they do.
"RESOLVE celebrates and appreciates our Hope Award honorees for their remarkable dedication to ensuring that all people challenged in their family-building journey reach resolution through being empowered by knowledge, supported by community, united by advocacy, and inspired to act."

- Barbara Collura, President & CEO of RESOLVE
2023 Hope Award Honorees
The recipients of RESOLVE's 2023 Hope Awards include a wide variety of advocacy leaders who all embody the spirit of RESOLVE's mission. Honorees include:
Barbara Eck Founders Award – David Sable, MD
Risa A. Levine Advocacy Legacy Award – Lisa Rosenthal
Hope Award for Access – Amazon
Hope Award for Advocacy – Chiquita Lockley/Eggs Over Easy: Black Women and Infertility
Hope Award for Innovation – EngagedMD
Hope Award for Service – Sarah Ekis
Hope Award for Social Influence – Brandy Lytle/Not So Mommy
What is RESOLVE's Night of Hope?
The Hope Awards are presented at RESOLVE's Night of Hope, which will be held Monday, November 6, 2023, at Cipriani's in New York City. The Night of Hope is RESOLVE's premier fundraising gala and a must-go event for those in the family-building community.
The Night of Hope brings together more than 550 leaders and influencers in the family building community to honor the collective achievements and work in making access to care and support a reality.
Past Hope Award honorees include USA Today, Starbucks, The View, National Public Radio, Self Magazine, CNN Anchor Alisyn Camerota, Chloe Melas (former CNN reporter), ABC News, Target, LinkedIn, Bravo TV's Andy Cohen, actor Kellee Stewart and the American Society for Reproductive Medicine (ASRM).
Sharing Our Gratitude
The following are quotes from just a few of the patients, colleagues, and other community members who have expressed their appreciation for Lisa's advocacy work:
"There is no appropriate title that could sum up all Lisa has done for patients. She is an advocate, a talented writer, group leader, yoga teacher and the most inspired and involved person I have ever known in this industry, in my more than two decades of working in fertility treatment." — Lisa Schuman, LCSW
"Lisa Rosenthal is a true gem. She has endless enthusiasm, energy, persistence, and empathy for all that she does so that people can build the families they yearn for. Lisa never hesitates to call a patient in need of a shoulder to lean on, no matter how busy she is. She is loved by patients and staff alike. We are so lucky to have people like Lisa in this world." — Diana D'Amelio, Physician Assistant at Illume Fertility
"Lisa has been such an incredible model of what patient advocacy and support should be. Her heart, her tenacity and her motivation are inspiring and promote best care practices for patients and providers alike." — Ashley Levinson, CMA, CST
"Lisa Rosenthal works tirelessly to advocate on the behalf of men and women battling with infertility. She is a leader and a true inspiration to those who have challenges having children. Lisa's advocacy efforts both educate and bring awareness to help women and men affected by infertility and to also bring positive effective change in the community." — Frances Jones, Author
"Lisa is such a strong foundation in infertility awareness and support. She truly dedicates her work to making sure every single person going through the difficult journey of infertility has resources, community, and support. She works tirelessly to make sure people's stories are heard." — Nikki Wehmeir
A few words from fertility patients:
"Lisa is always there for us. She runs Fertile Yoga, tons of support groups and Facebook groups. She has answered my texts at any time of day or night. Fertility patients go through a lot of loss, and Lisa is such a bright light for us. It is so refreshing to have someone who cares be so accessible."

"Lisa tirelessly advocates for her patients, takes her free time to check in with them, and was instrumental in keeping me sane during my six-year long fertility journey!"

"Lisa is the complete package. She leads, she inspires, she advocates, she fights with strength and perseverance for the marginalized, she listens, she nudges, she pushes, she stands up and stands out. While being the voice for so many, she also inspires others to find (and use) their own voice."

"Lisa is the perfect balance between a fierce patient advocate and a soft, calm voice during the storm of infertility."
A Note from Illume Fertility
Lisa Rosenthal's impact on the fertility and family-building community cannot be understated.
By providing direct support to those struggling to expand their families, mobilizing advocates, leaders, and politicians to increase access to care, sharing her own experiences, and speaking out about issues like reproductive rights and mental health, Lisa has helped to decrease stigma around these important topics and create space for important conversations and connection.
We are grateful to have such a powerhouse advocate on our team here at Illume Fertility, and we celebrate Lisa's well-deserved recognition as RESOLVE's 2023 Risa A. Levine Advocacy Legacy honoree!
Sierra Dehmler is Illume Fertility's Content Marketing Manager - and also a fertility patient herself. Combining empathy gained on her personal journey with her professional experience in marketing and content creation, she aims to empower and support other fertility patients by demystifying the fertility treatment process.