Nest Egg Foundation Offers $10,000 IVF Grants to Local Families
June 16th, 2022 | 9 min. read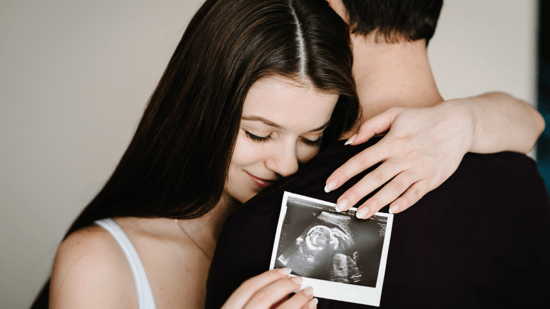 Even with 1 in 8 couples facing infertility, many health insurance providers exclude or limit coverage for this treatable condition - meaning many people don't even get the chance to grow their family. Organizations like the Nest Egg Foundation are stepping up to help.
Skip to a section:
---
The State of Infertility Coverage in the U.S.
If the American Medical Association (AMA) classifies infertility as a medical disease and acknowledges that treatment is required, why do so many individuals and couples still struggle to access the care they need to help grow their families?
Those who are lucky enough to have infertility coverage still have to navigate strict limitations on usage of that coverage, including restrictions on what types of fertility treatment they can receive. They also frequently have to cover a significant portion of the out-of-pocket expenses incurred for necessary medical treatments. Seems a little crazy, doesn't it?
Insurance Coverage Mandates for Infertility in CT & NY
Good news for Connecticut & New York residents: you live in one of the 19 states that has a mandate!
The CT state infertility mandate is helpful for many people trying to conceive. It specifically covers up to 3 IUI cycles and 2 IVF cycles. After that, Connecticut state residents with no other insurance coverage are on their own to pay for fertility treatment.
The NY state infertility mandate requires all large group insurance providers to cover up to 3 cycles of IVF for people with a medical diagnosis of infertility. The mandate also requires insurance plans to cover egg and sperm freezing for medically necessary purposes, including, but not limited to, sickle cell anemia, cancer diagnosis and surgery for endometriosis.
While there are now 19 states in the United States that have insurance mandates (bills or laws) in place to require certain insurers to provide varying levels of infertility coverage, we still have a long way to go before all fertility patients get access to the care they need. Learn more here.
As advocates like RESOLVE: The National Infertility Association continue to fight for the rights of all families, other organizations have thankfully stepped in to help. One of these organizations is the Nest Egg Foundation!
---
Should I try "low cost" IVF options?
---
What is the Nest Egg Foundation?
The Nest Egg Foundation Inc. is a 501c(3) not for profit that provides financial grants for IVF to primary infertility patients who have been unable to start their families due to financial need. The grants are up to $10,000 and can be used at either Illume Fertility (formerly RMA of CT) or the Center for Advanced Reproductive Science (CARS).
Founded in 2015, Nest Egg Foundation is a collaborative effort between medical and financial professionals, attorneys and others who care about building families and want to help those who cannot afford fertility treatment. Nest Egg Foundation aims to give opportunities to those struggling with infertility via education and access to treatment.
This organization is extra close to our hearts - Illume Fertility's Founder & Medical Director Dr. Mark Leondires, our Integrated Fertility & Wellness program coordinator Dr. Amy Matton, and our CEO Robin Mangieri all serve on the board of the Nest Egg Foundation.
I have always struggled with the fact that not everyone who needs it has access to fertility treatment, and that is why I got involved with Nest Egg Foundation. Being mother to my daughters has been the greatest joy of my life, and I want everyone to have that opportunity.

- Dr. Amy Matton, Vice President, Nest Egg Foundation
At Illume Fertility, we believe that no one should have to stop medical treatment before having the baby they're dreaming of simply because they don't have the health coverage or financial means to continue. This belief drives our participation in advocacy work and organizations like the Nest Egg Foundation.
Curious if you qualify for one of their IVF grants? Read on!
FAQs About Nest Egg Foundation Grants
At this point, you probably have some questions about this whole process - like "Do I qualify for one of these IVF grants?" and "How does this actually work?" We've got answers for you!
Am I eligible for a Nest Egg Foundation Grant?
The first requirement for a Nest Egg Foundation grant is that you must reside in Connecticut or New York and both partners (if applicable) must be U.S. citizens. If you do not meet these requirements, check out these resources, which include other fertility grants where you may meet the eligibility requirements.
How much does the Nest Egg IVF grant cover?
Each Nest Egg Foundation grant will cover up to $10,000 in treatment costs. Any costs that exceed that amount will be the responsibility of the recipient.
Are LGBTQ+ patients eligible for this grant?
Yes! The Nest Egg Foundation has a strict nondiscrimination policy, and believes in assisting ALL families.
---
What if I don't qualify for a Nest Egg grant?
---
I'm single, can I still apply?
Yes, all fertility patients are welcome to apply, whether you are single or partnered.
Are patients using an egg donor eligible?
Yes! There is actually a grant available through The Nest Egg Foundation specifically for those using egg donation called The Ryder Grant.
Which parts of IVF treatment are covered by this grant?
The Nest Egg Foundation grant can cover your IVF treatment cycle, embryo, egg or sperm cryopreservation, embryo testing, cycle costs related to egg or embryo donation, surrogacy, and cycle medications (up to $10,000).
Are there any age requirements?
Grant applicants must be between ages 25-44. There are also specific requirements about test results, which can be found here.
When will I find out if I've received a Nest Egg grant?
It may take up to 12 weeks to review all qualified applications. Nest Egg staff will notify you if you have been selected to receive a grant.
Do I have to go to a specific fertility clinic to use this grant?
Yes, grant funding can only be used at Illume Fertility or at the Center for Advanced Reproductive Services.
I have secondary infertility, can I still apply?
Nest Egg Foundation grants are only for those challenged by primary infertility (no previous live births).
Have past grant recipients been successful?
Yes! As of 2022, more than twenty families have received Nest Egg Foundation grants, and over ten babies have already been welcomed into the world. Read one Nest Egg family's story here.
Note: Complete information on eligibility requirements can be found on Nest Egg's website.
---
Need an IVF grant?
---
How to Apply for a $10,000 IVF Grant
After carefully reviewing Nest Egg Foundation's eligibility requirements, you can submit your application for an IVF grant. Nest Egg Foundation's Evaluation Panel, which consists of medical professionals, financial advisors and clinical psychologists, will then review all completed grant applications.
Grant recipients will be notified directly. Have any questions? Email the Nest Egg team!
You Deserve the Opportunity to Grow Your Family
Whether you're struggling to conceive your first child or need the support of fertility treatment to add another member to your family, you deserve the chance to make those dreams come true. Grants like those provided by Nest Egg Foundation don't just offer financial assistance, they offer hope. And everyone deserves hope.
Over my 30-year career as a physician and my own family-building journey, it has always distressed me when people cannot afford to take advantage of in vitro fertilization to have a child. This led to the birth of the Nest Egg Foundation. I am so proud of the little lives that have begun and the families we have helped start. I look forward to more joy entering the lives of our deserving recipients!

- Dr. Mark Leondires, Board Member, Nest Egg Foundation
Until the day comes when all people have access to the fertility care they need, organizations like Nest Egg Foundation will continue to find ways to support those dreaming of building a family.
If you're looking for financial support on your own path to parenthood, we encourage you to see if you qualify and apply for a Nest Egg Foundation grant. Be sure to get your applications in by July 31, 2022!
More Financial Resources
Explore the articles below to learn more about how to pay for IVF without insurance, the Opportunity Plans offered by Illume Fertility, and other organizations offering financial assistance for fertility treatment.
Sierra Dehmler is Illume Fertility's Content Marketing Manager - and also a fertility patient herself. Combining empathy gained on her personal journey with her professional experience in marketing and content creation, she aims to empower and support other fertility patients by demystifying the fertility treatment process.