Family Building Options for LGBTQ Parents-to-Be
June 11th, 2020 | 2 min. read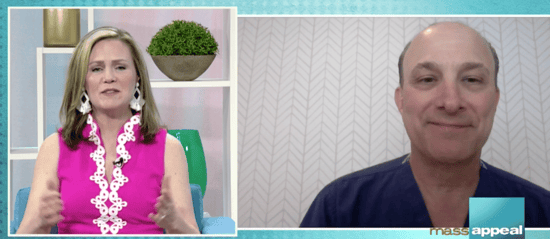 Dr. Spencer Richlin was recently on Mass Appeal to kick-off Pride month with a discussion on LGBTQ family building options.
Has there been an increase in the number of LGBTQ parents-to-be?
Absolutely. So many hopeful LGBTQ parents-to-be want to family build, and the numbers are going up. So, what's important is to welcome them into our offices with respect and open arms to help them family build.
What options are available to LGBTQ singles and couples who wish to pursue biological family building?
We have three or four really cool options. For moms-to-be, they can utilize a sperm source to achieve pregnancy - the sperm donor can be known or anonymous, or a family-friend. Options include artificial insemination, also known an intrauterine insemination (or IUI), in addition to in vitro fertilization (IVF), and reciprocal IVF. For same-sex male couples and single men, we offer surrogacy as an option. For trans parents-to-be, we can freeze gametes (egg or sperm) to preserve their fertility prior to transitioning, which enables them with the option to have biologically children down the road.
Take us through a patients' journey...
Becky and Katie are local Connecticut natives. They were sweethearts in High School and got married in 2014. In 2018, they came to us and utilized IUI (artificial insemination), then IVF (in vitro fertilization). What's so cool about them is that they say that one of the best days of their lives was when they received the phone call from us telling them that they were pregnant. What I love is that I became friends with them; they come to our events, I've met their parents. They are really special people.
What kind of advice would you give to an LGBTQ couple that is hoping to start a family?
For LGBTQ+ patients looking to start their family, they really want to be in an HEI center (Healthcare Equality Index designation from the Human Rights Campaign). For example, in our state of Connecticut, we're one of eight centers, and the only IVF center. You want to go to a center that is inclusive. That knows how to take care of you and your loved ones from the minute you come in; that have policies and procedures that are very conducive to helping you. For example, outreach is very important, like community engagement. At RMA of Connecticut, we have our Gay Parents To Be program with great events, talks, and information. You want to be in a center that will respect and love you, and help you family build. So, I encourage everyone to find the right center.
---
Did you know Gay Parents To Be has its own, dedicated website?
Dr. Spencer Richlin is Surgical Director and Partner in reproductive endocrinology at Illume Fertility. In addition, he is Division Chief of Reproductive Endocrinology at Norwalk Hospital. Dr. Richlin is board certified in both Reproductive Endocrinology and Obstetrics & Gynecology. He joined the team at Illume Fertility in 2004.